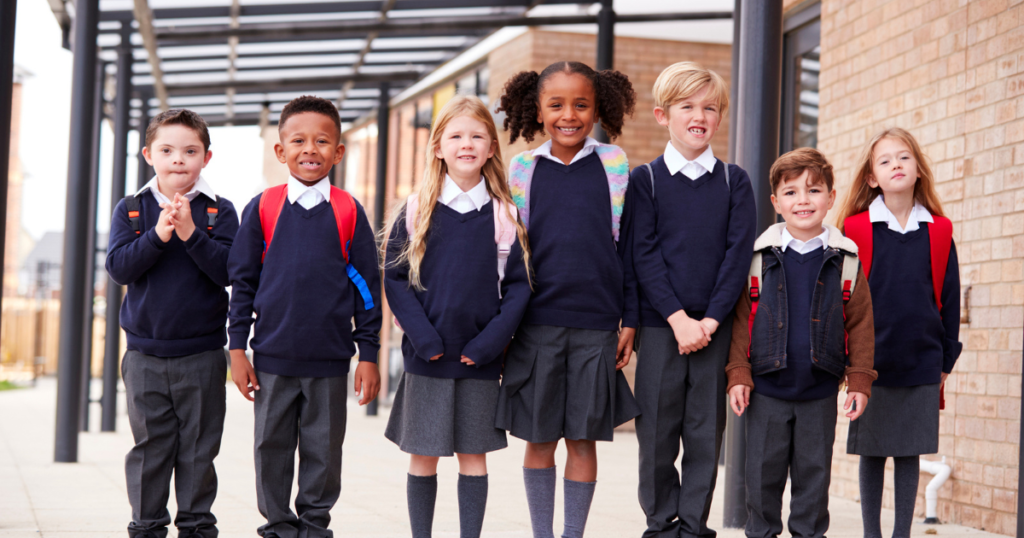 We rounded up the best stores to buy school uniforms for your kids and teens!
Although school uniforms make it easy in the mornings for your kids to pick out what to wear to school each day, they sometimes are a pain to get the exact ones that your school requires. Luckily many stores are now carrying a wider range of the most popular school uniform styles whether it be for girls or boys, teens or tweens and for various body types. Also check out our list of Tax Free Holidays to see if your state has one. These are the best days to stock up on school shopping.
We have picked out the top 10 most affordable places to buy school uniforms. These stores not only have great prices and quality, but a wide range to choose from chinos, skirts, shorts, button-downs, jumpers, polos, socks, hair accessories, shoes and even backpacks!
Old Navy/Gap/Gap Factory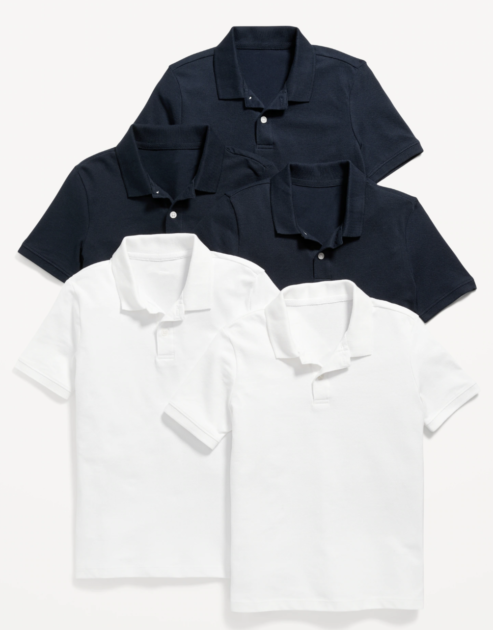 Old Navy and Gap Factory are two of the more popular places to buy school uniforms. The brand is a pretty mid-level where they aren't super expensive and still are good quality. They have sales all the time, so you really just have to keep looking daily if you are wanting to grab some uniforms from these stores. Often times you can get free shipping too. I would recommend signing up for their emails so you can be in the know when they have a big sale going on and free shipping. One word of advice though is they sure do send out a lot of emails each day, so beware. You may need to set up a filter in your inbox so that you don't get over loaded!
Both stores have extended sizing available for kids of all sizes, which can be really helpful when you have older kids needing school uniforms too. They pretty much carry everything you could need here in basic colors and styles. You aren't going to get the most heavy duty uniforms here but with their additional % of sales and free shipping, it should be a pretty good bang for your buck!

JCPenney
JCPenney is another great place for affordable school uniforms. You'll find numerous school uniform options here like French Toast, IZOD, Therabouts and more. Their polos come in 16 colors so hopefully they have one that you need for your specific school requirements. I feel like JCPenney's brands that they carry are more durable than the ones that you will find at Old Navy or Walmart. Brands like Therabouts and French Toast are very durable brands that should last most of the school year.
Keep your eye out for mailers and check each day for promo codes, especially leading up to back-to-school shopping. JCPenney has lots of styles like polos, long sleeve shirts, pants, skirts, shorts, tops, blazers, and many other options as well. If you sign up for the JCP Rewards, you'll receive coupons and reward certificates for cash.

Target
Target's uniform section is quite vast – with a lot of variety for cute and affordable school uniforms. By far the most popular uniforms at Target are going to be Cat & Jack. They also carry Land's End uniforms and French Toast that are very nice quality and affordable. And keep in mind when you use your Target Red Card you can save 5% on your purchases and get free shipping. This savings could definitely add up!
The best time to purchase school uniforms from Target is when a sale or Target Circle offer is going on. You get a percentage off and it's such a nice savings. Keep your eye on the weekly ads and plan accordingly. I would recommend shopping early as sizes sell out quickly and I don't usually see them restock.
The Children's Place
The Children's Place seems like they are always having a sale. They often will offer free shipping site wide, so if you are interested in their uniforms, keep your eyes peeled for a free shipping promotion. I feel like the quality isn't as good at The Children's Place as it is at other similar retailers. And I have also heard from reviews that their clothing shrinks quite a bit when you wash and dry them. I would probably pick up some items here when they are marked down and ship for free, but as far as the staples that you want to last all year, this may not be the best place. I could be wrong, so let me know if you have had a different experience with them.
One perk for The Children's Place is they also offer extended sizing. Since their clothing does seem to shrink a lot, I would recommend going up a size or two in the shirts so that they fit for longer throughout the year. They also have shoes, accessories, cardigans, chino pants, shorts and lots more. Not tons of colors to choose from here, but a lot of different styles.

Walmart
Okay, let's see, who does not shop from Walmart? It's a huge superstore that already is known for affordable rates for all the items. You can check out our Complete Walmart Shopping Guide here.
Since you probably shop at Walmart quite often, it would be a great place to consider grabbing some school uniforms from. You can always keep your eye on the racks and grab a few things when you see the prices rollback. It's a great store with nice prices, nice quality and pretty much a one-stop shop. I have heard good things about the quality of the polo shirts from Walmart that are from the brand George. They have lots of different quantity packs you can grab online, so it may be good to figure out sizing then go home and do your shopping online. If you have Walmart + you can also score free shipping!
Walmart is a great place to buy uniforms also because while you're out there shopping for other numerous things, you can easily pick out the shoes and other matching school items, and other school supplies as well. Everything is available in one place instead of visiting different stores.
Macy's
If you're looking for name-brand school uniforms with higher quality threads at affordable rates then look no further. Macy's has got to be the best option for you!
Macy's offers a variety of quality school uniforms with name brands including Polo Ralph Lauren, Epic Threads, Tommy Hilfiger, and others. The uniforms are higher quality and will last a longer time and have high durability, no matter how many times you wash them.
If you like uniforms at Macy's, it's highly likely that you will be able to score some great deals and opt for store pick up to save on shipping costs. Or if your shopping cart is above the threshold you can get them shipped to your home. They always have a back-to-school sale and lots of active promo codes, so I'm pretty sure you will be able to find good prices.
Amazon
One of the most popular places to buy anything you could possibly want is Amazon. It probably wouldn't be my first choice for school uniforms because I feel like department stores are going to have better pricing, but if you are in a pinch and need something fast, Amazon is a great place to look. Amazon may have some hard to find items that are not in stock at the preferred department store, or a certain color of sock you need for the dress code. It's also a great place for accessories like belts, underwear, backpacks etc. Be sure to watch out for some 3rd party sellers that aren't sold and shipped by Amazon, just to be safe. You can't always count on those items as much as you can those sold directly from Amazon.
Amazon usually has free return options as well, so if you're not satisfied with your purchase, you can always send it back (if it has the option), and purchase a new one from another store.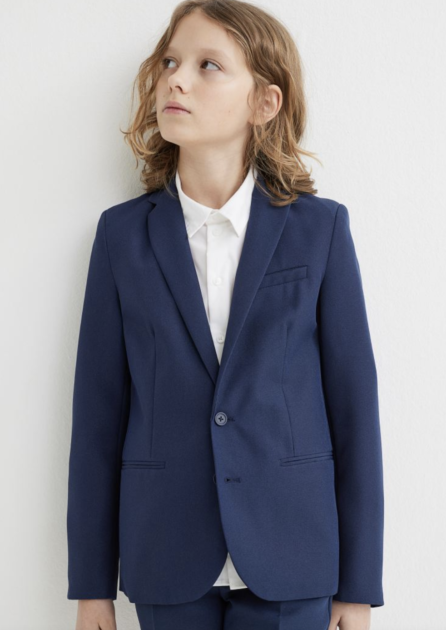 H&M
Most people may be surprised to know that H&M carries school uniforms as well and at affordable rates! Most of the H&M school uniforms go from casual to formal. This means you can find all sorts of school uniform options here whether you're looking for track pants for gym class or dress shirts.
There's usually a sale during the summer for school uniforms, but you can also rely on coupon codes when the sale's not on yet. With codes, you can get 20 – 25% off, which is a big save! Another idea is to download the H&M app as they often will add coupons to your app you can use online and in-store.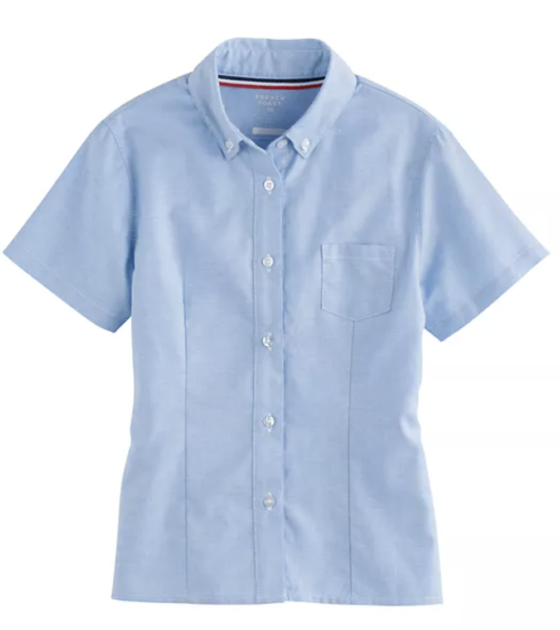 Kohl's
Kohl's is one of those places that can be hit or miss. Kohl's sometimes will have a great sale and pricing will look really good, but then the next day you look they have raised the prices drastically and offer free shipping instead. My advice would be to shop when there are 30-40% off codes and then opt for store pick-up. This way you don't feel like you have to purchase a certain amount to get free shipping or you don't have to pay shipping costs, if free shipping isn't available.

Be weary of Kohl's though because of the price fluctuations that often happen there. Visit the site often so you know what the low price typically is for what you need, then you will know when to grab it when it's on sale. They also have many plus-size uniforms if that is something you are looking for.
If you are a Kohl's card member, they love to throw extra promo codes and free shipping your way, so using the credit card on uniforms would be a smart move for extra savings. Keep track of your Kohl's Cash and mark them on the calendar so you can be sure to use it before it has expired.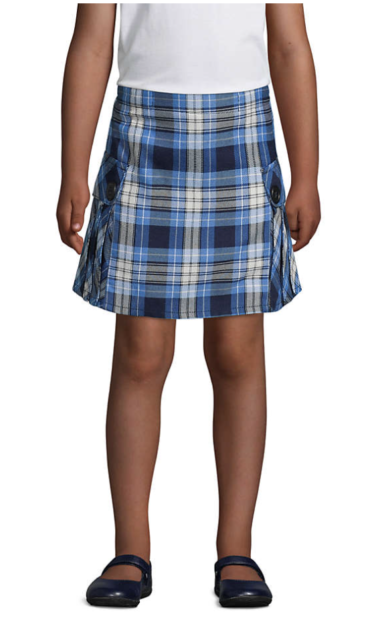 Land's End
Land's End is one many don't think about often because their brand is sold in other retailers. However the Land's End site is very helpful because they have a database of many schools and you can locate your school and see exactly what styles and colors are approved for your child. This makes it much easier to narrow down what you need as you will see the exact color red or blue that is approved and cuts back on many returns. Land's End is a reputable brand with great quality. Prices are going to be higher than Walmart or The Children's Place however they will probably last longer.
Best of luck to you parents trying to shop for the right pants, shorts, shirts, shoes that are required for your child's school. It can be overwhelming, however I recommend that when you find something your kids like and are comfortable in, buy a bunch of them when they go on sale. Stock up on maybe 1-2 sizes incase they grow throughout the year. Also grab shorts for the warmer months and long pants for the cool ones if your dress code allows it. Reviews will be your best friend, so get familiar with those and also if you are new to a school with uniforms, ask other parents in a group forum or in person where they have the best luck finding their school uniforms.
Hey and when the school year is over and your uniforms are still in great shape, check out our list of Craigslist Alternatives For Selling Your Used Stuff. If you still have plenty of summer left, we have a list of The Best Summer Reading Programs and 100 Fun Things To Do With The Kids!
Have a great school year!