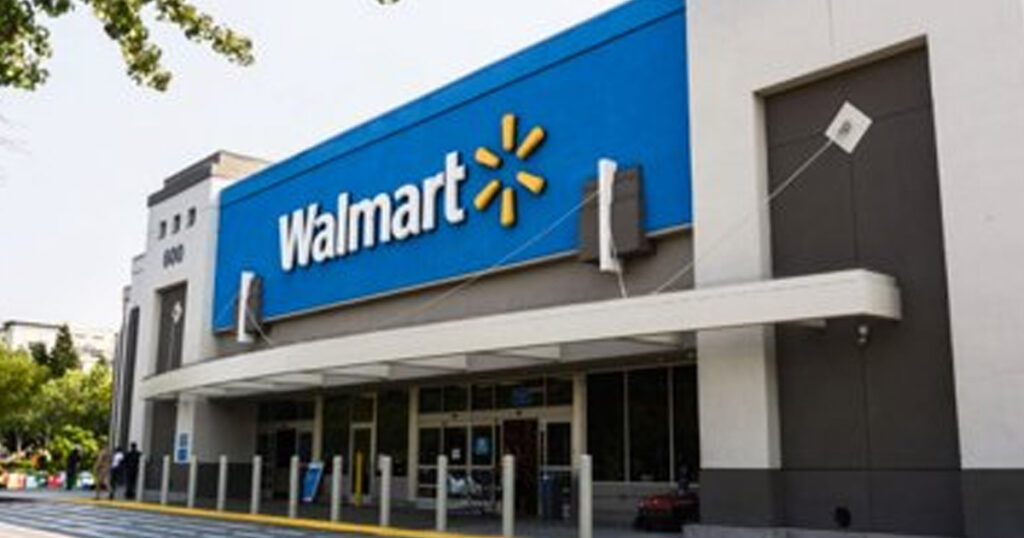 Walmart shopping tips are something we can all use right now!
With the cost of living rising, saving money is at the forefront of everyone's mind, especially those with families to feed, and Walmart has such great prices. It makes sense to shop for groceries, clothes, household items, and even gas all in one store, like Walmart.
Don't let the fantastic prices fool you into thinking there are no more savings to be had at Walmart.
Learning a few tricks can save you a lot of money while shopping at Walmart. If you are into getting the best deals, bargains, and being smart with your shopping, check out these 14 Walmart shopping tricks and tips for you.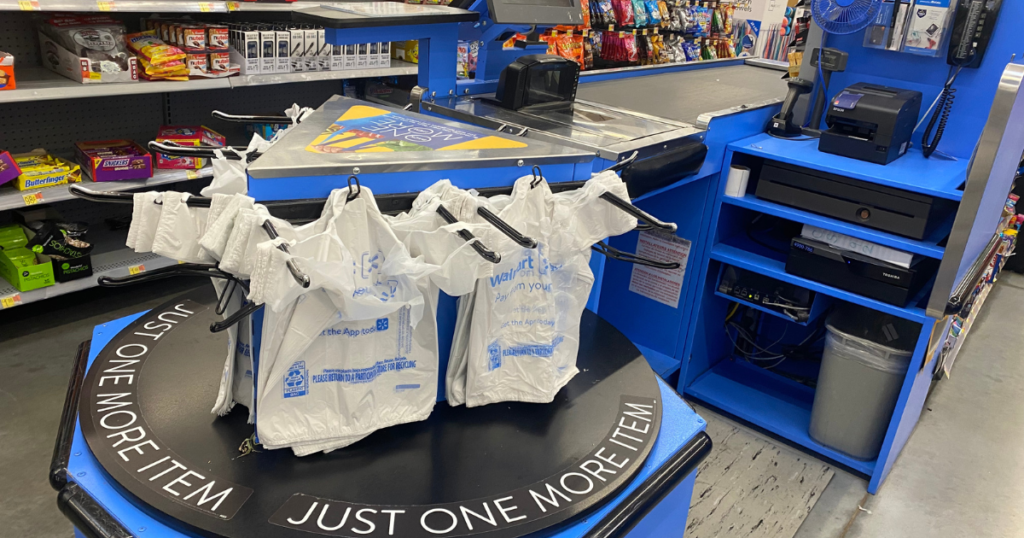 Walmart Shopping Tips and Tricks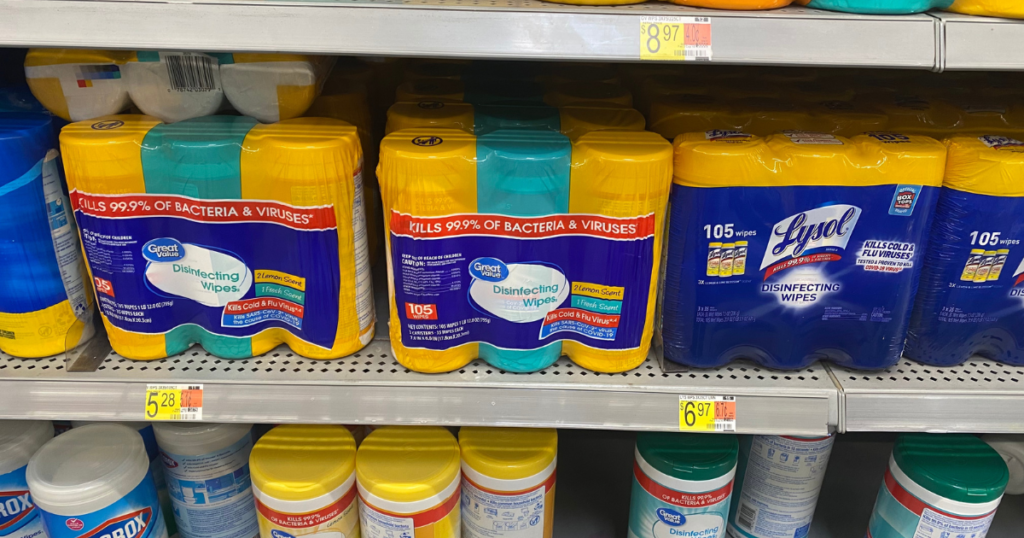 Compare brand names to Great Value products
Walmart has their own line of groceries called Great Value. These products are generally just as good as the name-brand items but come with a lower price tag.
If you haven't tried out the Great Value brand, next time you're at Walmart, check out the prices of items you usually purchase and make a little comparison. You may find the prices to be drastically different.
The quality of these products is good too. If you're unsure, maybe pick up one or two Great Value products to try and see how you like them.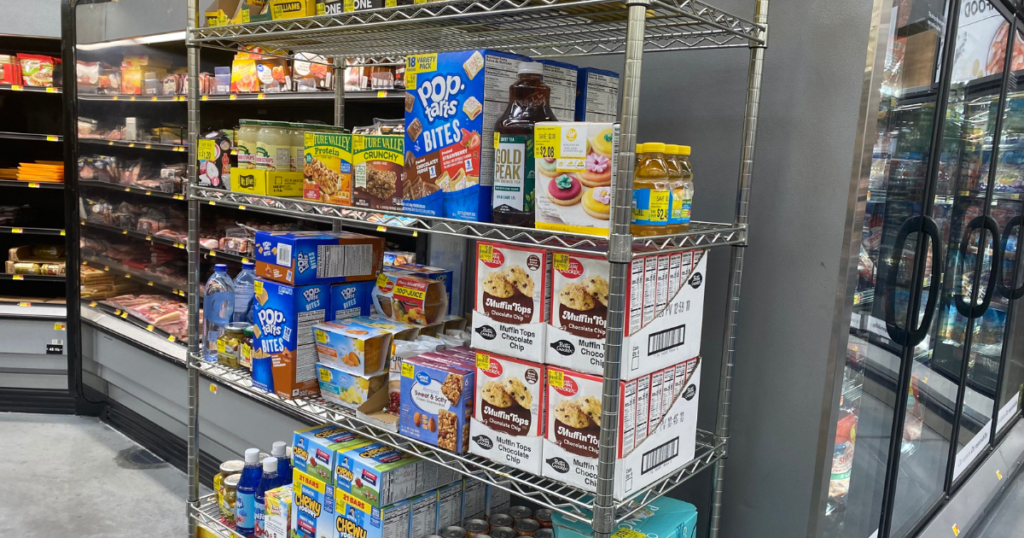 Shop the Clearance
When Walmart puts something on clearance, you can be sure it's a good bargain. Since they already offer good deals shopping, the clearance sales will save you even more money. One tip is to be sure to scan each clearance item with the Walmart app because pricing may be even better than what it is marked as. Also if you see the item for less on Walmart.com, be sure to have them price match it for you.
If you can plan ahead for and buy clothing out of season, you will strike a good deal. You can view our Walmart Clearance past hauls here.
Some Walmart stores have sections dedicated to clearance items, while others have discounted items throughout the store. You can also shop clearance sales on the Walmart website; there's a category devoted to clearance items. Here is our Beginners Guide to Walmart Clearance Shopping. Also we would love for you to join our Walmart Clearance Facebook Group.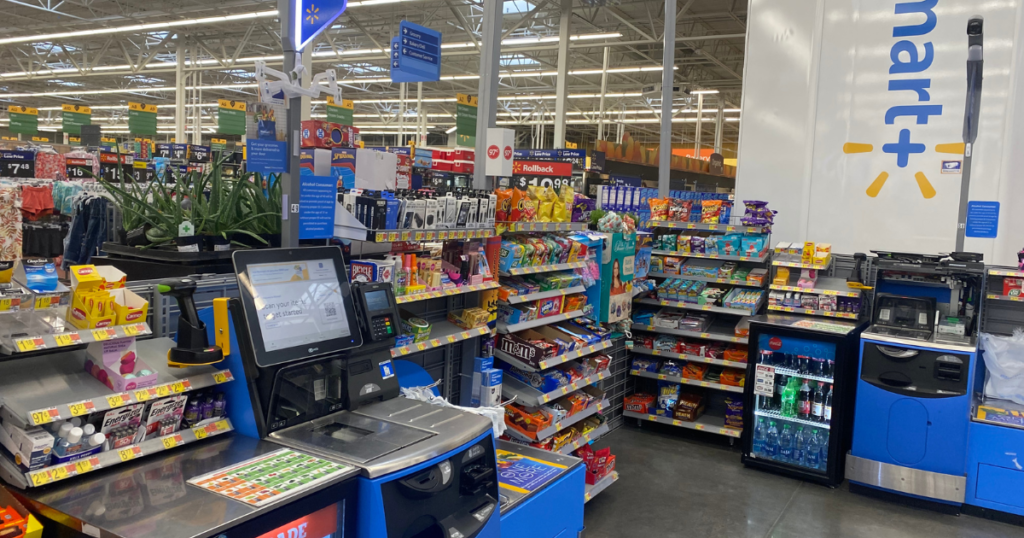 Join the Walmart + Program
If you sign up for Walmart +, you will gain several benefits like free same-day grocery delivery, next-day/ two-day shipping on Walmart.com, and savings at the gas pumps at Walmart, Murphy's, and Sam's Club.
The membership does cost a monthly fee, or you can pay a lump sum for a yearly membership, but the amount of money you will save in shipping, delivery, and gas (especially now) will pay for the membership itself.
Being part of Walmart + also allows for easier checkouts when shopping in the store. You can use your smartphone to scan at self-checkout to make the process faster.
After signing up for the Walmart+, you will receive a digital discount card to use at all Walmart pharmacies. This discount card offers some serious savings on prescriptions and over-the-counter meds, with the average discount being between 65% all the way to 85%.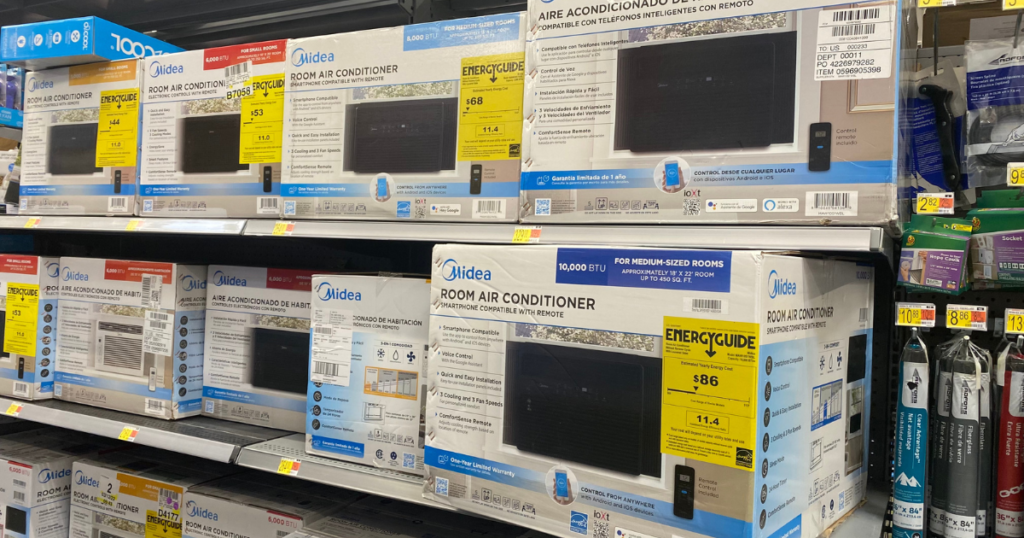 Do some online price matching
You may not be able to price match in Walmart anymore, but they do offer price matching online. They will match any big online grocery store, including Amazon, to ensure you are saving the most money on groceries, furniture, and electronics. Be sure that you scan everything in-store because you can also view the online price and if it's cheaper online, you can have Walmart price match it for you. The only catch is it has to be sold and shipped by Walmart.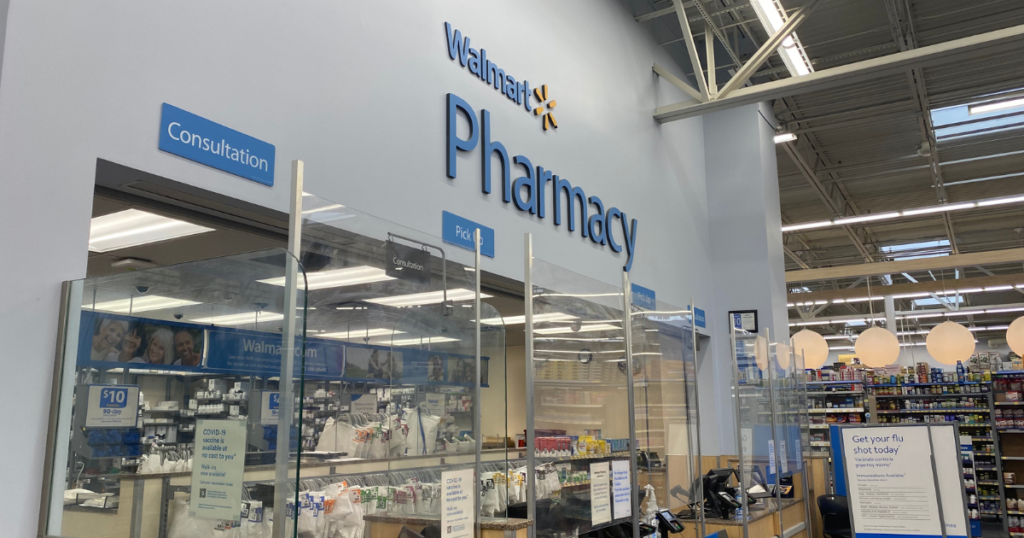 Prescription program
If you take a medication regularly for the foreseeable future, it is worth signing up for Walmart's $4 prescription program.
With everything on the rise, saving money whenever we can is a good idea, and opting for a generic brand of your medication instead of the brand name can add up to substantial savings.
Walmart offers generic medication for $4 to help reduce your monthly medical bills. If you are worried about generic brands being inferior to the brand name, be sure to talk to your Walmart pharmacists, but in general, they are the same medication. One just has a much heftier price tag.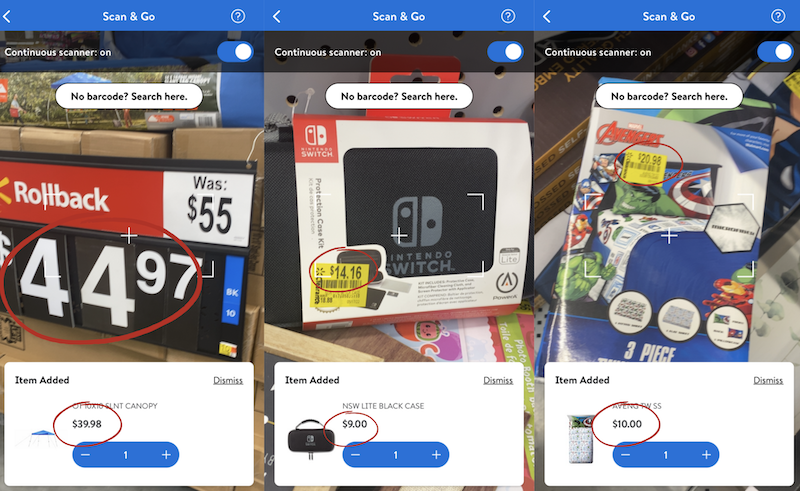 Use the Walmart app, scan, scan and scan
You can download the Walmart app for free either from the Apple App Store or Google Play Store. You can create grocery lists in the app, check the availability of an item at your local Walmart, use the store locator, sign up for push alerts and receive updates on rollbacks and set up an in-store pickup for your grocery order.
One of the best features of the Walmart app is you can scan the items in-store and see what the prices are, and often times it's cheaper than what it's marked as. This is great because you can also view the online pricing of the item and Walmart's policy states that they will match the online store's price (must be sold and shipped by them). So if you find that the online price is less, have them match it for you. This is a great way to find hidden Walmart clearance! If you find some Walmart clearance, scan the barcode with your app and see what the price shows up as. Often times it will be less expensive and the store is just not up to date with the markdowns on the items. They key to finding the great clearance is scan, scan, scan!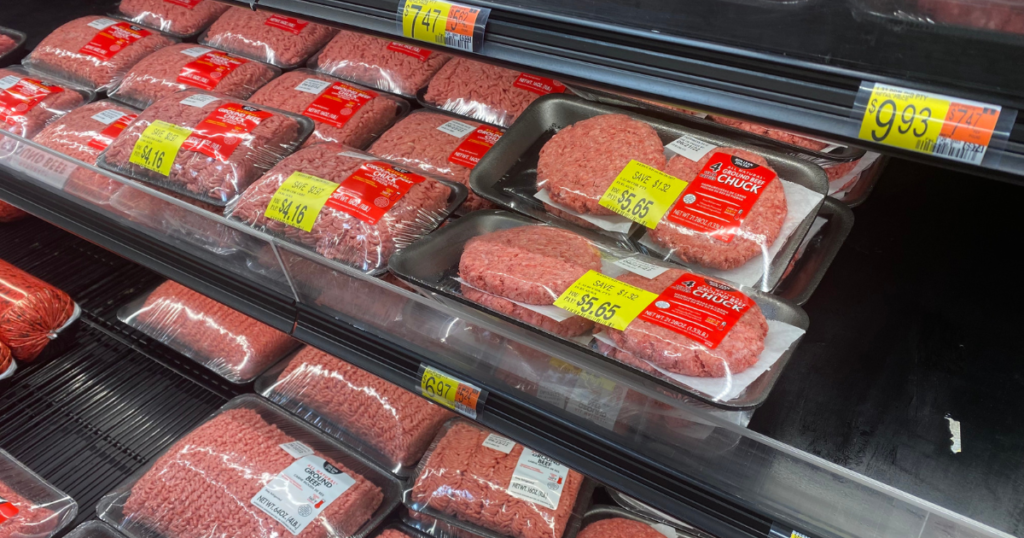 Do your shopping in the morning
Generally, Walmart staff restock the shelves in the morning. Putting anything on sale from the day before that didn't sell and needs to be used up, like meat, bread, and other perishable food items. Planning to get to the store early in the morning will give you the chance to scoop up some good deals. Another reason to shop in the morning is it's usually when department managers are in doing markdowns, I find the best clearance in the mornings! And it's also less crowded and easier to shop in the morning. Not only can you save, but it's a better experience IMO!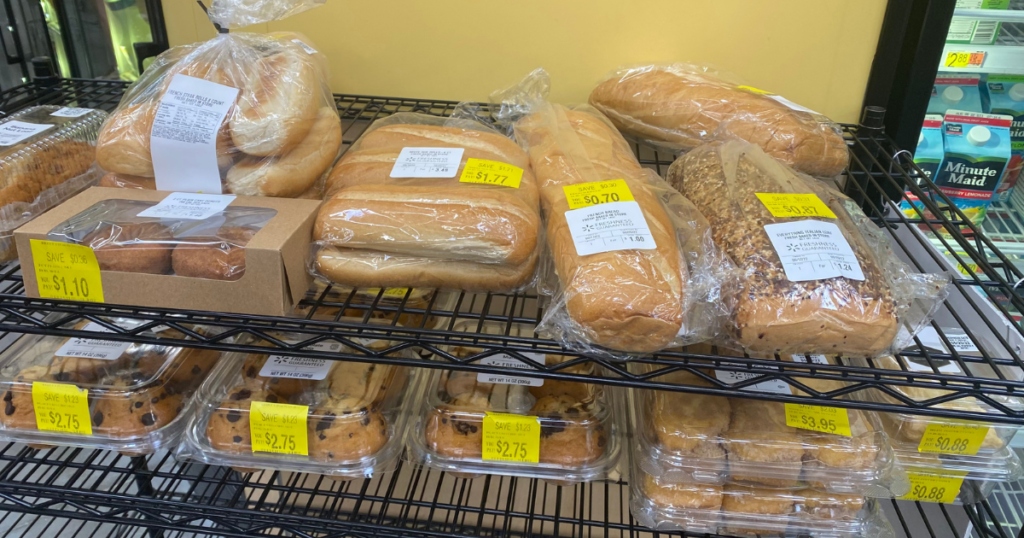 It is worth checking out the bakery area for even more deals to find day-old bread on sale. You can find significant markdowns on your favorite loaves of bread and pastries. Walmart wants these items to move fast so they can be replaced with the fresh product making it a perfect opportunity for you to save some cash.
Take advantage of free pick up
Shopping online has become very popular in the last couple of years, and Walmart has kept up with this trend. Grocery pickup is free, and you can find some great deals that are only offered online.
Placing an order online is simple on the Walmart website or on your app, and then you need to pick a timeslot to pick it up, and then a Walmart employee will bring it out to your car. You can save money on the delivery fees by picking it up yourself, and you save time and energy from not having to walk around shopping yourself; sometimes, you are just too tired to grocery shop.
Walmart offers free shipping
There are ways around having to pay shipping fees on your Walmart order. Becoming a Walmart + member is one way. You will qualify for free shipping if your order is over $35, and don't mind waiting a day or two for delivery.
You can find a massive selection on Walmart's website, and if for whatever reason you are not able to make it out grocery shopping or pick up an order, it is nice to have the option of delivery, and if you can get that delivery for free even better.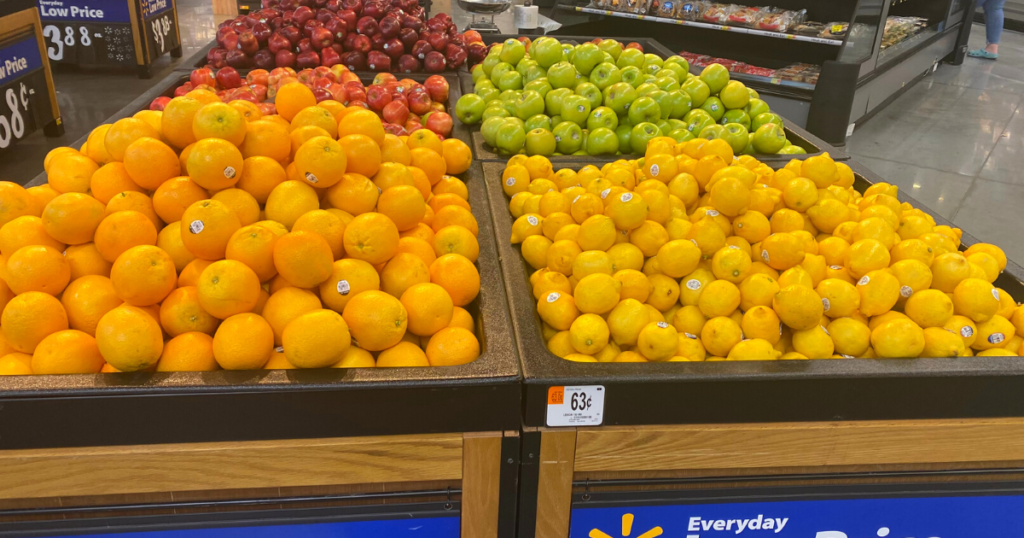 Shop seasonal produce
This isn't a Walmart specific shopping tip but an overall money-saving tip. Shopping for seasonal produce will cut down on what you are spending on fruits and vegetables, as well as give the freshest produce available.
Use coupons
Good old coupons are still a great way to save money on your Walmart shopping trips. One of the most popular apps to use while shopping, besides the Walmart App, is Ibotta. You can read more about other digital coupon apps here.
Ibotta offers cash back to shoppers from various categories, including beauty, health, travel, entertainment, sports, and groceries. The app is partnered with over 300 retailers, including Walmart, Whole Foods, and Kroger.
Ibotta is straightforward for users to get their cash back. Before shopping, users can search the app for deals, select the products on the app, make the purchase in-store or online, and verify the purchase by uploading a receipt to the app.
Ibotta deposits the rewards into the user's account within 48 hours, and the cash-back can be redeemed in several ways after reaching $20.
Ibotta has some of the highest rebates and variety in the grocery rewards app industry. It might take a few grocery trips to reach the $20 payout. But users can link store loyalty cards to the app and automatically earn cash back and discounts on eligible products. Read more about Ibotta here.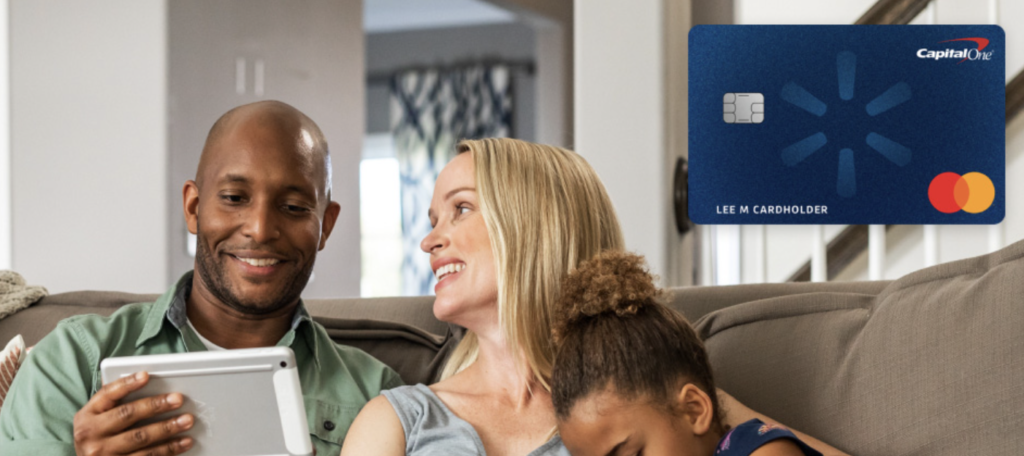 Apply for a Walmart Mastercard
Signing up for a Walmart Mastercard is a smart move if you're a frequent Walmart shopper. Some of the key features of a Walmart Mastercard are:
$0 annual fee
5% cash back on Walmart store purchases for the first 12 months, and then 2% cash back after the 12 months.
5% cash back when you shop on Walmart's website or use your Walmart app for in-store purchases or pickup.
You only need to have an average credit score to obtain this credit card, which is excellent for someone who is interested in building their average score to a more substantial score.
Buy refurbished electronics
If you are not picky when it comes to electronics and don't mind buying refurbished, then you should definitely check out Walmart's refurbished electronics.
Walmart has very strict criteria that must be met for an item to be sold as a refurbished product. They are inspected thoroughly, cleaned, and restored to new condition. You will also receive a 90-day warranty for any refurbished items you buy from Walmart.
Some electronics you can buy refurbished from Walmart include:
Laptops
Tablets
Smartphones
Headphones
Desktop computers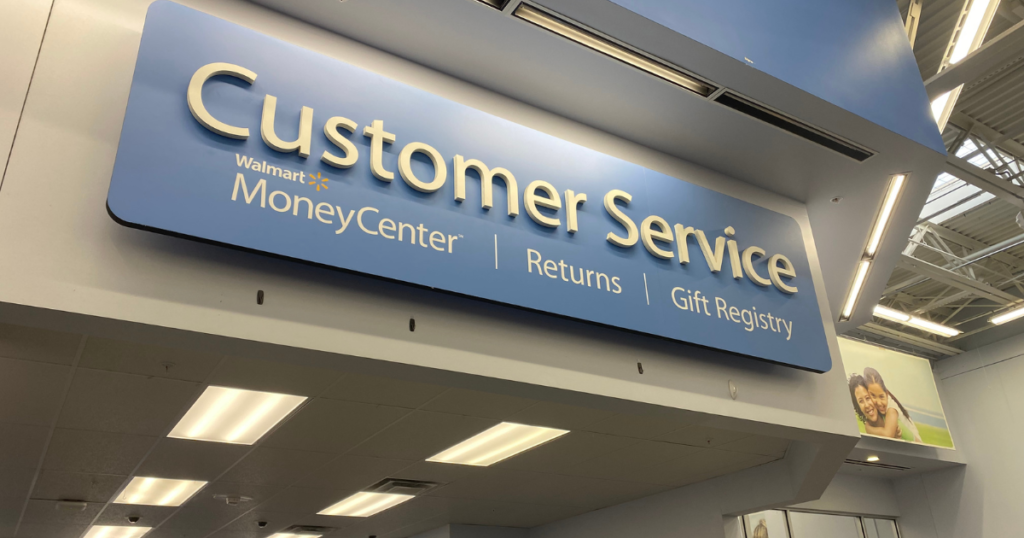 Watch out for price drops
Walmart has a policy that many people may not know about. If you buy an item and within the seven days following your purchase, the price of that item drops, you are entitled to a reimbursement of the difference in price. All you have to do is hold onto your receipt and keep an eye out for price drops to cash in on some savings. One tip is to set up a price alert on the Walmart app, where you will be notified if a product's price drops.
Inflation these days is out of hand, and we need to save whenever we are able to. Having a family to feed and clothe can leave you feeling like you don't have enough, but shopping at stores like Walmart with these shopping tips, gives you the best bang for your buck and taking the time to learn a few money-saving hacks will help stretch your budget even further.