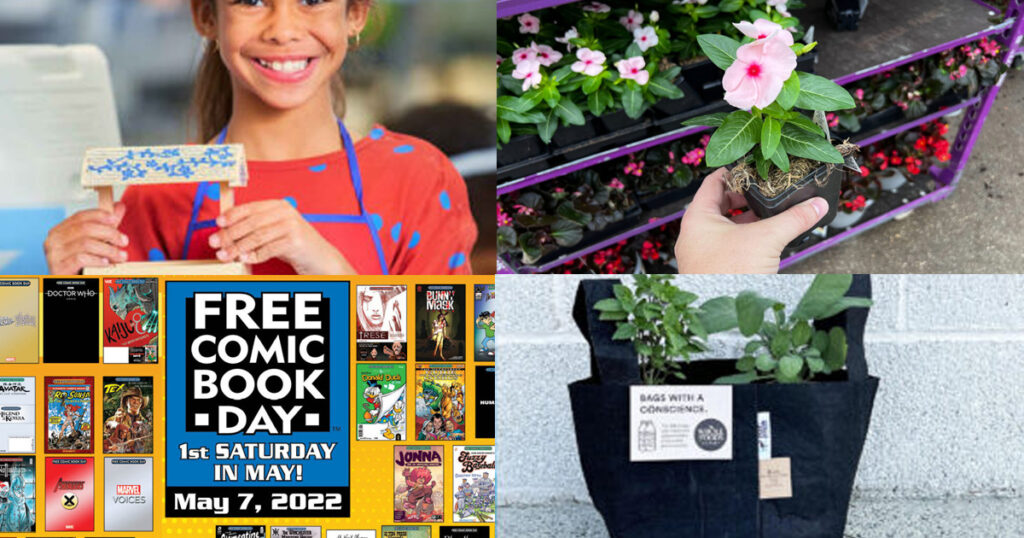 So, May 7th, 2022 has all sorts of fun free events going on, so we decided to put them all here on one post to make it easier for you! Check em' out!
Free Annual Flowers at Lowe's for Mother's! You will need to have pre registered for this one, but if you did sign up to reserve your free flowers, you can pick them up on May 6th, 2022 (between 5pm and 7pm) or you can pick them up on May 7th (between 7 am and 9 am).
Free Comic Book Day! On May 7th only, you can free comics at participating Comic Book stores near you! Check our full post on this event if you're interested, to find participating locations near you!
Free Bird Feeder Kits at Lowe's for Kids! Stop by Lowe's on May 7th, 2022 between 9 am and 12 pm to participate in the FREE Bird Feeder Built Kit event! If you'd like to skip the in store participation part, you can also simply ask for a free kit at the Customer Service Desk.
Free Sew & Stuff Rainbow Take Home Kit at Joann's! Swing into Joann's and you can grab a free sew and stuff rainbow craft kit, while the supplies last. At my store, they just set these out right in front of the door, and you can just swing in and grab one.
Free Planting Kit at Whole Foods! – Swing by Whole Foods between 10 am and 12 pm if you're a Mother, and you can grab a free planting kit with a tote and seedlings, while supplies last. This event is only at participating locations, but you can see our full post to check the link and see if there is a location near you.
Free Picket Fence Planter Kids Workshop Kit! Stop into Home Depot, and head to the Customer Service Desk and ask for the month's featured kit! The kit for May is a Picket Fence Planter Kit!