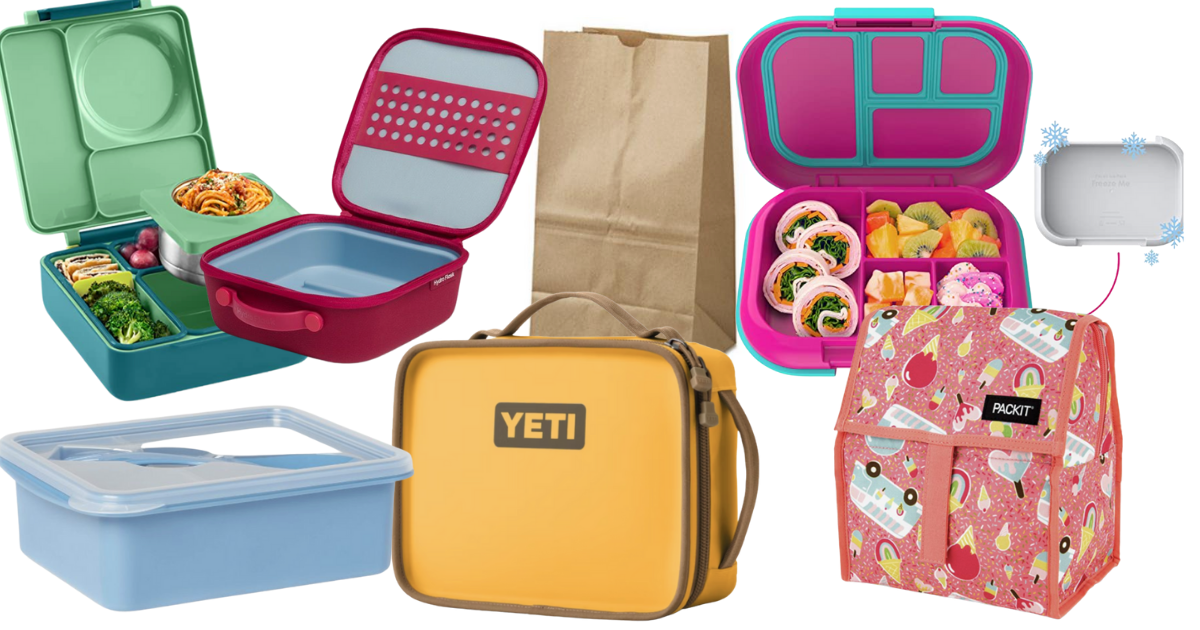 Regardless of what you pack your kids lunches in for school, one thing we want to make sure of is that we get something that's going to last the whole school year. You need one that is sturdy enough to handle your kid throwing it in and out of the backpack every day for months. You also need to find a system that works best at keeping the lunch warm/cold, whatever the plan is for the particular meal. Now if your kid is prone to lose their lunch box, I probably wouldn't spend too much money on a fancy lunch box and maybe stick with the brown paper sack.
Picking out the lunch box is a fun part of back-to-school shopping for kids and hopefully you can find one that fits your needs. Here are some that our readers say are their favorites.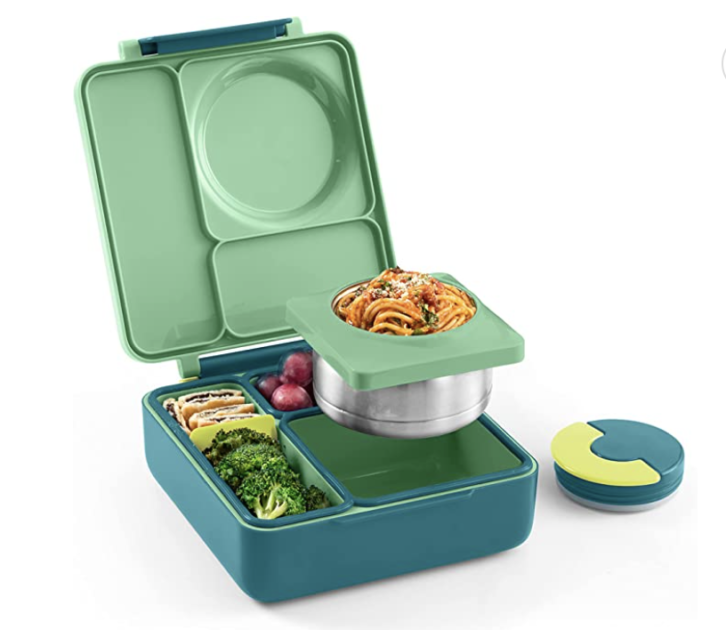 OmieBox Bento Box – Amazon – $44
This box is a good pick for the picky eater. You can pack a variety of healthier lunches from sandwiches, pasta, and casseroles to soup. Your kids get to eat warm lip smacking food. Its a compact, one-box -fits-all lunch box made of stainless steel vacuum insulated thermos to keep food hot for hours with walled and air-insulated trays. The plastic used is safe BPA free. Omnibox comes in different sizes and there are over 5,000 positive reviews. The lid features a chunky handle that is easy to open for kids. It's easy to clean and dishwasher safe.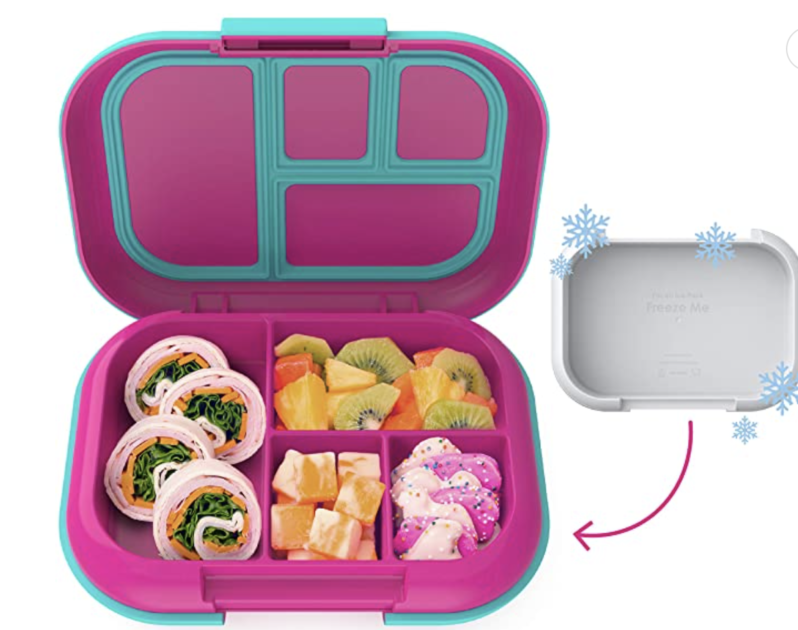 Bentgo Kids Chill Lunch Box – Amazon – $29
This is the perfect lunch box for kids of all ages and even adults. It's also a great one if your kid is a snacker. The box comes with 4 compartments to keep foods separate. There is plenty of room for sandwiches, fruits, veggies, and snacks. The lid is devised with rubber-coated edges to help prevent leaks, lock in freshness and keep lunch bags mess-free. It comes with a built-in ice pack tray to keep food fresh and cool. Your kid won't have to eat warm and soggy fruits and vegetables. You can use it with or without an ice pack tray. Bentgo Chill lunch boxes are free from BPA, vinyl, lead, or PVC. It is slim, lightweight, and fits perfectly in backpacks. You do not need extra lunch bags. Kids love this this lunch box! You can sometimes score a great deal on these at Sam's Club or Costco in a 2-pack, so keep your eyes peeled.
Bentgo Kids Prints – (Reader fave) Amazon – $27
This is one that many parents voted as their favorite lunch box and is similar to the Bentgo Kids Chill one but has 5 compartments. There's room for the main course, fruits and veggies, snacks, dips, and sauces. The box is durable and leak-proof. It has rubber-coated lid that is contoured to each chamber of the box. This helps to prevent leaks, lock in freshness, and keeps bags mess-free. The Bentgo lunch boxes are microwave & freezer safe. It comes with a popping tray. You can simply freeze or microwave the tray. Bentgo Kids lunch boxes are free from BPA, vinyl, lead, or PVC.
Mackenzie Lunch Boxes – Pottery Barn Kids – $25-$30
Mackenzie Lunch boxes are the classic lunch box. You can get one in pretty much any design or color based on what your child likes. You can also get it personalized with their name embroidered on it in hopes of it helping not get lost as much. These are very durable, fabric lunch boxes with a zipper. You can opt for the more expensive one with a cold pack if you prefer. The fabric used is a water-resistant polyester exterior made from renewed plastic bottles and an easy-to-clean interior with wide straps on the back. There is a divider compartment for the ice pack. The zippered pockets are given to hold napkins and cutlery. These lunch boxes spot clean with a damp cloth.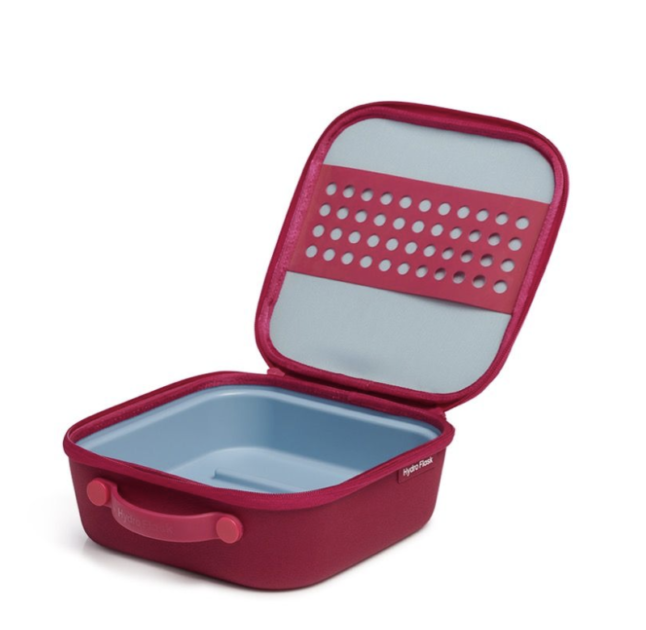 Hydro Flask Kids Insulated Lunch Box – Hydro Flask – $45
This lunch box is great for all ages and they even make adult ones too for a little bit more. These are very durable and simple but definitely on the pricy side. I am pretty sure if your child doesn't lose it, it should last them for years. The lunch box is lightweight and features a fun, child-friendly design and a sturdy build fit for school lunchtime. The thermal walls help to keep the food cold for up to 4 hours. It has a fully lined interior that is easy to clean up. It comes in lots of colors and has a flexible handle that makes it easy for juniors to carry. The easily accessible zippers secure the cover and prevent leaks and spills. Kids are going to love this lunch box!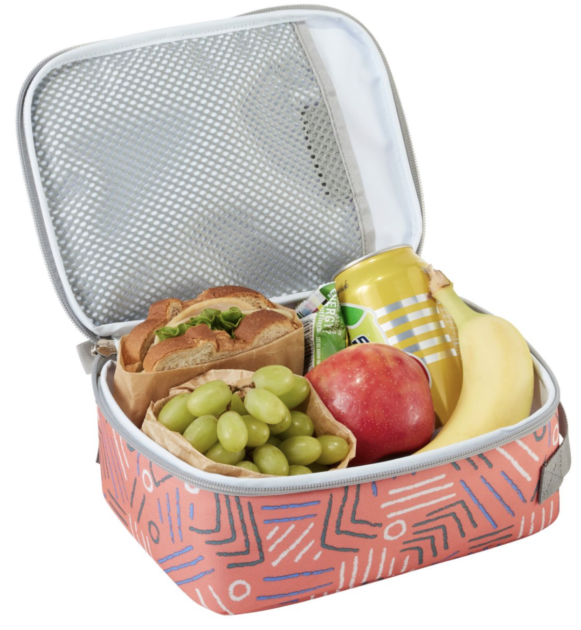 L. L. Bean Lunch Box – L.L. Bean – $19.95
These are a good price for the quality. You have lots of fun designs to choose from and L.L. Bean is a trusted brand. These are sure to last throughout the school year and for less than $20 it's one of the more affordable ones out there. It is made from durable polyester fabric and an inner mesh pocket ideal for napkins and cutlery, plus a zippered front pocket for a quick munch or dessert. It also comes with an internal mesh pocket that fits the ice pack. This lunch bag is spillproof and capable of handling anything. All parts are lead-safe, BPA-free, and phthalate-free.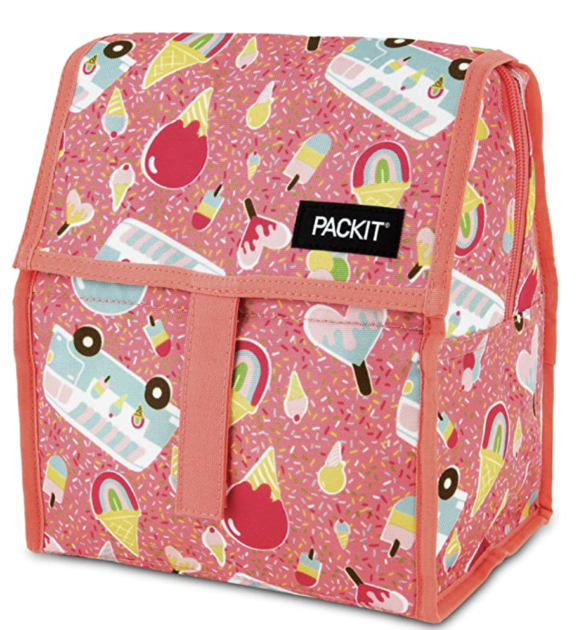 PackIt Freezable Lunch Bag – Amazon – $20
The Lunch Bag features Packit's groundbreaking cooling design. Non-toxic freezable gel is built into the walls of the bag: the entire bag freezes! Fold, freeze, pack and go! This is a foldable classic, secure, durable leakproof compartments bento lunch box for school kids. You can tuck, freeze, fill and go! It can keep food cold for up to 12 hours. There is a zip lock given to lock in chilled, dry air. The buckled handle on the back of the lunch bag snips onto school bags for hands-free comfort.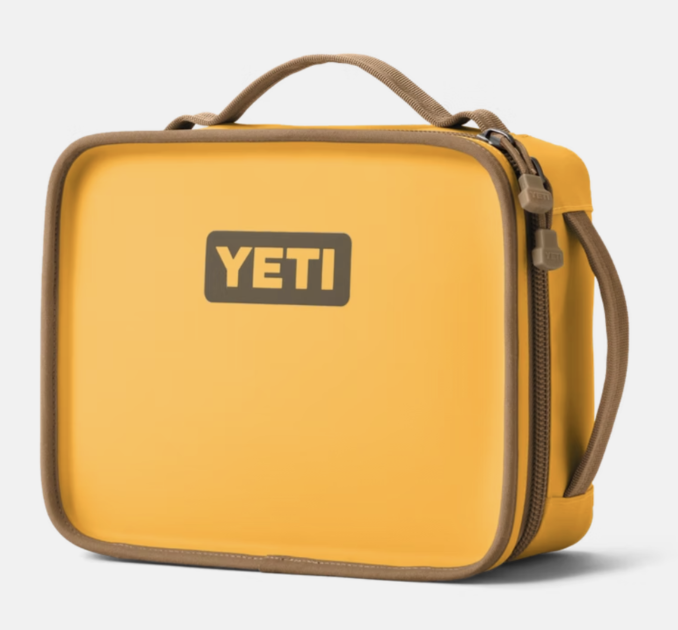 Yeti Lunch box – $80
This is a very pricey option for a lunch box and probably one geared more towards adults than kids. It seems to be extremely durable, rock solid outer shell and leakproof, and apparently can hold 6 beers! This would be a great lunch box for an adult who works somewhere outdoors or where the possibility of their lunch getting squished is a reality. It is very expensive though and not one you would want to replace if you child loses it. There is also a 3 year warranty that comes with this price tag.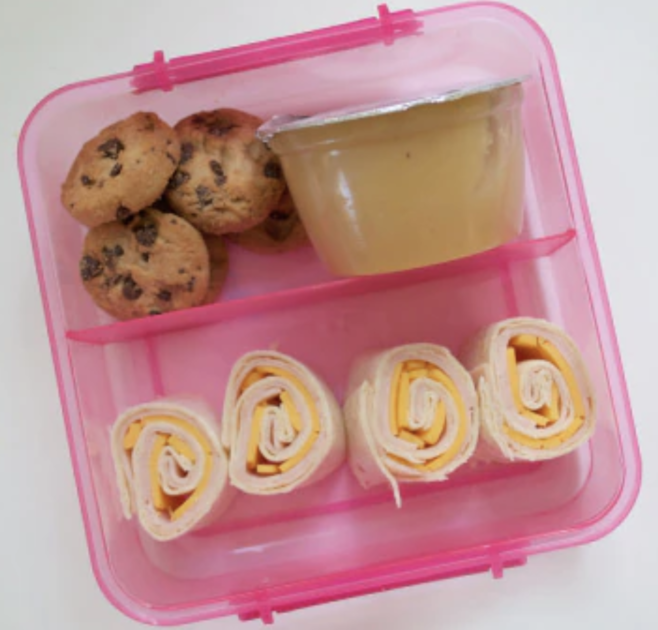 Dollar Store Bento Box – $1
Many parents are smart and know that it's highly likely their kid will lose their lunch box during the year so they don't want to spend much money at all on a higher priced one and rave about the Dollar Store bento box that is available. This would be a great alternative to a higher priced bento box and you could afford to buy a few of them to have on hand. Dollar Tree also has a blog post with lunch ideas if you are looking for a few for the bento box.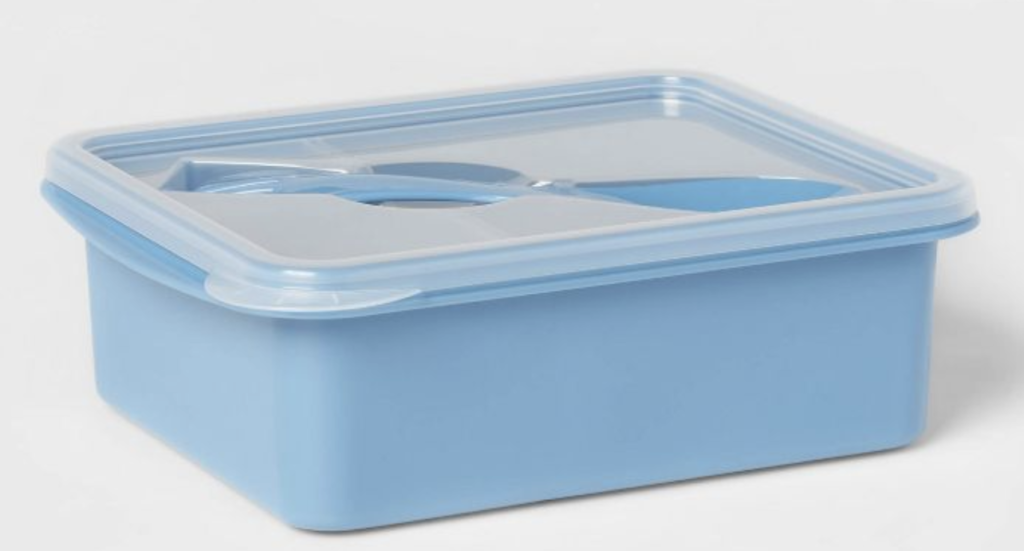 Plastic Bento Box with Utensil – Room Essentials™ – Target – $3
Parents love this bento box from Target. It's only $3 and also comes with a utensil that snaps to the top. Great price for the kid that loses lunch boxes a lot or maybe if you want to stock up on a few to have on hand.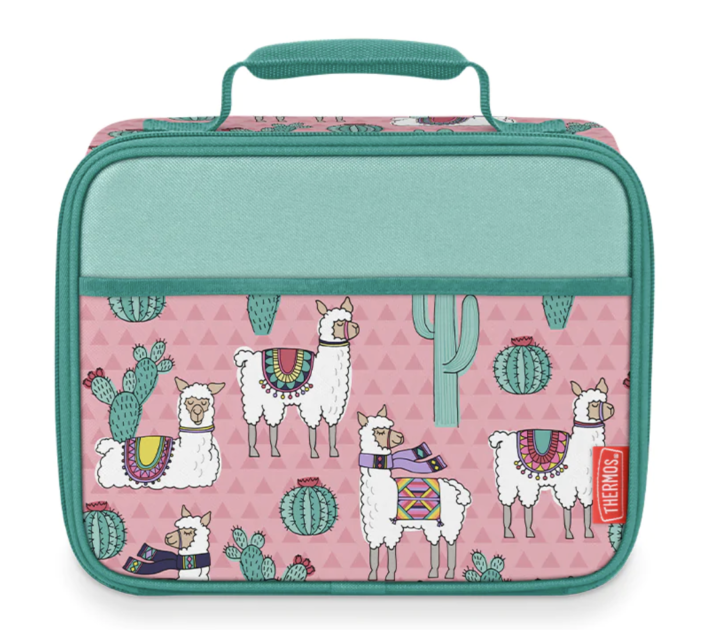 Thermos Dual Compartment Lunch Box – $9.99
This double compartment lunch box from the popular Thermos brand is offered at a great price starting at only $9.99 and gives your child lots of fun designs to choose from. Thermos boxes are made with an easy-to-clean anti microbial closed cell foam insulation liner that keeps food fresh for longer. The handle is padded which makes it easy to carry and the kids' friendly zipper locking makes food accessible for those little fingers.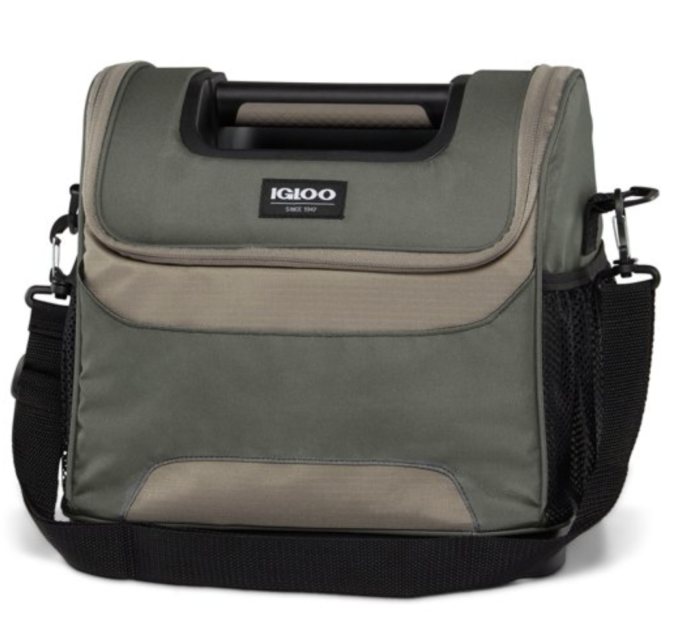 Igloo 18 Can Gripper Soft Sided Cooler Bag – Walmart – $19
The Igloo lunch bag from Walmart is very popular amongst many families. There are lots to choose from but here is just one example. There is a soft grip handle and shoulder strap to make it easy to carry. You can fit up to 18 cans in this lunch box so if that's too big for what you are needing, maybe take a look at the other Igloo brands sold at Walmart.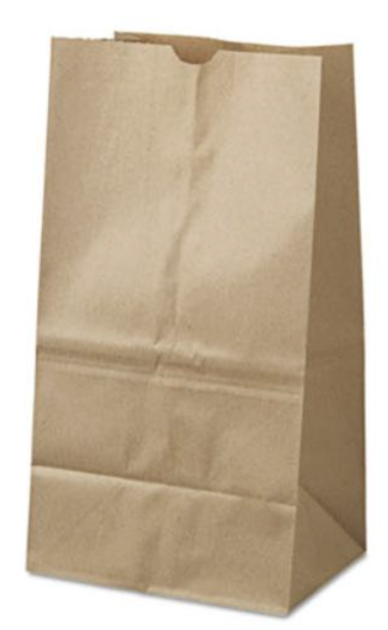 Brown Paper Bag – Walmart – $2 for 50 ct.
And the brown paper bag was a very popular response by many parents. They probably hate having their kids come home without their expensive lunch box they just bought and decided it's easier to just have them throw it away once they are done. It also saves time by not having to wash it every day, however some will say it's not as earth friendly to keep using a different bag each day. Also nothing will stay cold in a paper bag, so keep that in mind. But hey, you are the parent! It works!
Need help finding great places to buy school uniforms for the kids?