We rounded up tips on how to save at Great Wolf Lodge!
We answered some popular questions about Great Wolf Lodge and how to save money when booking your vacation there.  Let us know if you have stayed there before and have other tips for us to add!
Why Should I Plan a Family Vacation at Great Wolf Lodge?
Weather can be so unpredictable most of the time. If you are trying to plan a fun family vacation in an area with questionable weather, it may be smart to plan that vacation someplace with lots of fun indoor spaces for the entire family. Then, no matter if it rains, snows or shines, your family vacation can continue as planned.
Another reason to book a vacation at a fun indoor spot is if you live in an area where winters are cold and snowy, but just need to get out for a while and escape the cold, a place like Great Wolf Lodge would be a great option. Get the kids out of the snow and to an amazing indoor play land and resort hotel.  It's so cool to be indoors at a giant water park while the rest of the world is buried in snow.  You can check out the latest Groupon deals for Great Wolf Lodge here, or keep reading for more tips!
---

What Is Great Wolf Lodge?
Great Wolf Lodge is an amazing chain of resorts located in 20 cities across the US and Canada that features various large indoor water parks. Each resort also has amazing themed restaurants, arcades, spas and fun children's activities for all ages. Find a Great Wolf Lodge by you. Each lodge has an outdoorsy theme and even the couch and beds are carved out of logs to bring the outdoors, inside. Every location is different and features a different style of waterpark and restaurants. Once you visit one, you are going to want to start touring them all! Great Wolf Lodge specializes in family vacations, so you can rest assured knowing that your kids are going to have a blast!
---
Can I Take My Family to Great Wolf Lodge for the Day But Not Stay at the Resort?
YES! As of recently you can now purchase Day Passes at Great Wolf Lodge! This was never the case before, so this is new. It may vary by location, so be sure to call first. With the new day passes, you can enjoy unlimited splashes at their 84-degree indoor water parks, access to over 50 activities and more all under one roof, and be back in your own bed by bedtime.
Your Day Pass includes:
All-day fun at our 84-degree indoor water park
Free life jackets for all the family
Free passes for kids aged 2 years and under.
Day Pass Details
Purchase passes online or through Customer Service at 800-905-9653.
Towels are available upon request.
Free passes for kids aged 2 years and under.
Coolers and outside food will have to stay in the car! Our lodges offer a number of delicious dining options.
---
We Came Up With Some Tips on How To Save on your Great Wolf Lodge Vacation –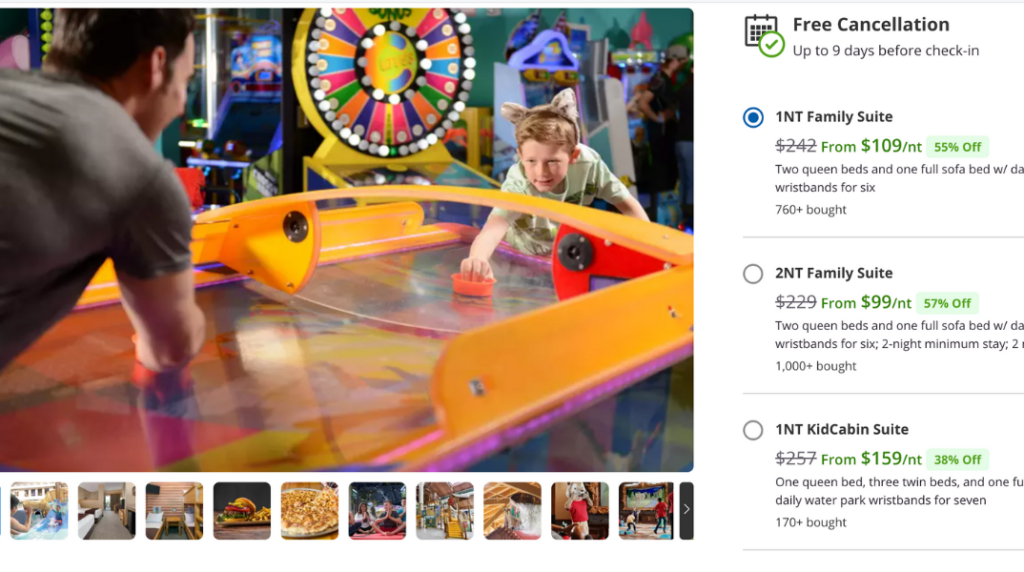 1 – Check and See if Groupon is Offering a Deal or Discount on Great Wolf Lodge.
We often promote all of the hot Groupon deals for Great Wolf Lodge on TheFreebieGuy, so bookmark this post and keep your eye out for the latest deal. You can sometimes get a room for only $99/night, depending on the time of year and location. So check back often!
---

2 – Pick The Location You are Traveling To, and Find the Deals and Coupons For That Particular Resort.
After you have decided what city you are wanting to visit, go to the top of the navigation bar on the site and click on DEALS. This will give you all of the current deals available for that particular location. Keep in mind that deals vary depending on the location chosen. So one tip is to first pick a few cities and see which one may have the best deals available. You can also check for any coupons they may be offering.
Example: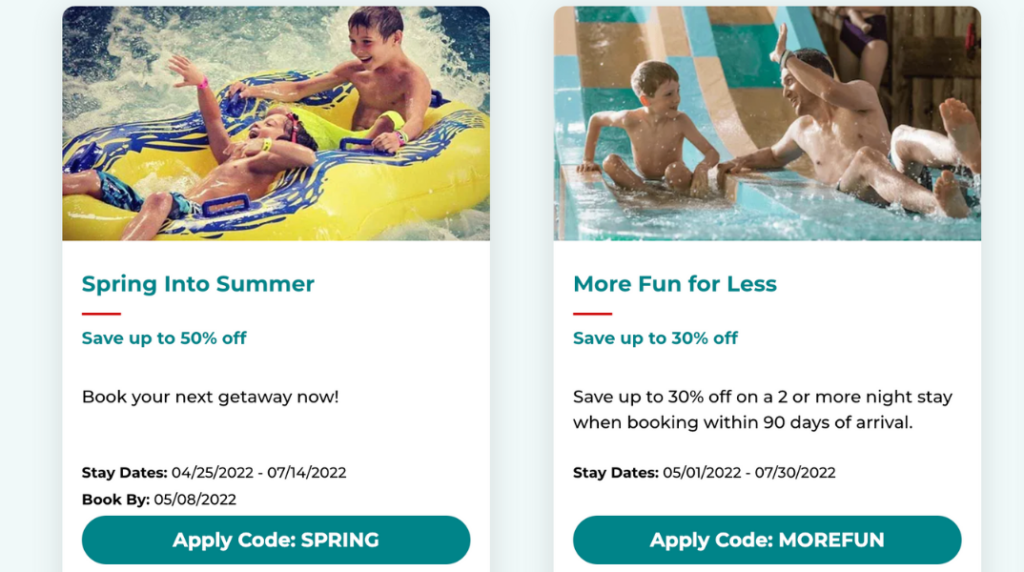 ---

3 – Bring Your Own Food and Drinks to the Resort – Get an Amazon or Walmart Order Delivered to the Hotel
Although you can't bring your own food or drinks into the waterpark area, you sure can pack snacks, food and drinks and take them into your room. Each room has a little mini fridge and a microwave, so you can cook some microwave popcorn or small meals and keep your drinks cold at least! One thing that helps a lot when traveling is to get a delivery of drinks and snacks sent from Amazon or Walmart+ grocery delivery. They will usually deliver your packages and keep them at the bell desk and you can grab them when you get there. Check with your specific location first to make sure this is allowed. One thing that is nice to get delivered are bottles of water. It's no fun hauling cases of waters around and no one likes to spend a lot of money on them when you can get an entire pack for $3.00.
---

4 – Stay Just One Night, But Play at the Waterpark for 2 Days!
Before you even check-in to the resort, you can play at the waterpark. They have change rooms there so you can get ready for the fun before your room is even ready. Give your resort a call and find out what time you can head to the waterpark and begin your vacation early. Then the day you leave you can also stay and play all day that day too. That gives you 2 full days of fun! That is if you and your kids can handle 2 full days of a waterpark.
---
5- Stay in a Regular Room – No Need to Upgrade to a Themed Room
Sure the deluxe and themed rooms are fun, but not really necessary. You are in the actual room for such a short amount of time because there is so much to do at the resort outside your room. It just doesn't really matter much what your room is like, if you are trying to save money. One thing you can do is keep your eye on the prices and if there is an upgrade you are really wanting, there may be times you can stay where the upgrade is less costly and stays more in your budget. Some upgrades are things like adding a fireplace to your room, big family suites and bunk beds for the kids.

6 – Enter Your Email and Sign Up For Their Newsletter
One way to make sure you see any new promotions or updates from Great Wolf Lodge is to sign up for their email newsletter list. You will most likely see a pop-up on your computer after browsing the site that will ask you to enter your name and email. Do that and hopefully some great deals will land in your inbox!
---
We sure hope you are able to take your family on a trip here one day! Be sure to check our Great Wolf Lodge Deals post to keep up on all of the latest Groupon offerings. Enjoy!
Never miss another HOT RUN DEAL AGAIN! Join my Telegram Group where I post tons of online deals at 70-80-90% off!