Add Best Buy Outlet to the list of places to shop for electronics!
If you have a Best Buy Outlet nearby, you will want to add it to your list of places to check if you're in the market for new electronics are appliances! With 19 locations nationwide, and expansion plans, I found the Best Buy outlet worth my time!
This is a true open box / scratch & dent outlet! Tags on the products typically indicate any damage or missing items, so make sure to be checking those tags when exploring this store!
Check out all the Best Buy Outlet locations!
What is a Best Buy Outlet?
Stepping into a Best Buy Outlet store is like entering a treasure trove of electronics delights! You can expect to discover high-quality brand-name products, such as TVs, appliances, computers, accessories, and more, marked down by as much as 70%. The selection available at each location varies, encompassing a wide range of Best Buy categories. And the best part? The inventory is constantly being replenished with fresh finds, so be sure to drop by often.
Not only do you save big, but you also have peace of mind knowing your purchases are protected by their Return & Exchange Promise, along with comprehensive warranty coverage. And if you need a helping hand, their Geek Squad is always on standby to assist with any questions or concerns regarding your purchases. For more of your questions answered, you can always checkout the Best Buy Outlet Store FAQ.
What is the difference between Best Buy Outlet brick-and-mortar stores vs. Best Buy Outlet online?
Shopping for electronics at Best Buy Outlet is like going on a journey filled with savings! You can wander for hours, I sure did! Keep in mind most everything in the brick-and-mortar outlet store is a scratch and dent item. They have all been tested though and work just like new, but you may have little dents and scratches. Some will be obvious and some hardly noticeable at all. Often times these are just floor models that got a little dinged up. And sometimes it's items that were delivered to a home and dinged up or scratched while moving it and they had to return it to the warehouse and send them back out a new one. So the product is not used.
Best Buy brick-and-mortar outlet stores offer a wide range of open-box and clearance products, while the online Outlet features four categories of discounted delights: clearance, open-box, refurbished, and pre-owned.

Let's take a closer look at each type of product:
Clearance: These are brand-new items that are either end of stock or discontinued by the manufacturer. You can find them in-store and online, and they're factory sealed and ready to go!
Open-box: These are products that have been returned by customers or used as in-store displays. They've been rigorously tested and inspected to ensure they're in excellent working order and physical appearance. They come with a condition rating, ranging from Excellent-Certified to Fair, so you can pick the one that's right for you!
Refurbished: Only available online, these items have been repaired and restored to a near-new state. They may have some minor scratches, but they've been verified to work properly and come with a warranty.
Pre-owned: These are used products that have been acquired through our Trade-In program and restored to like-new condition. They've been verified to work and come with a warranty.
For more information on the various types of products you can find at Best Buy Outlet, be sure to check out their outlet shopping guide.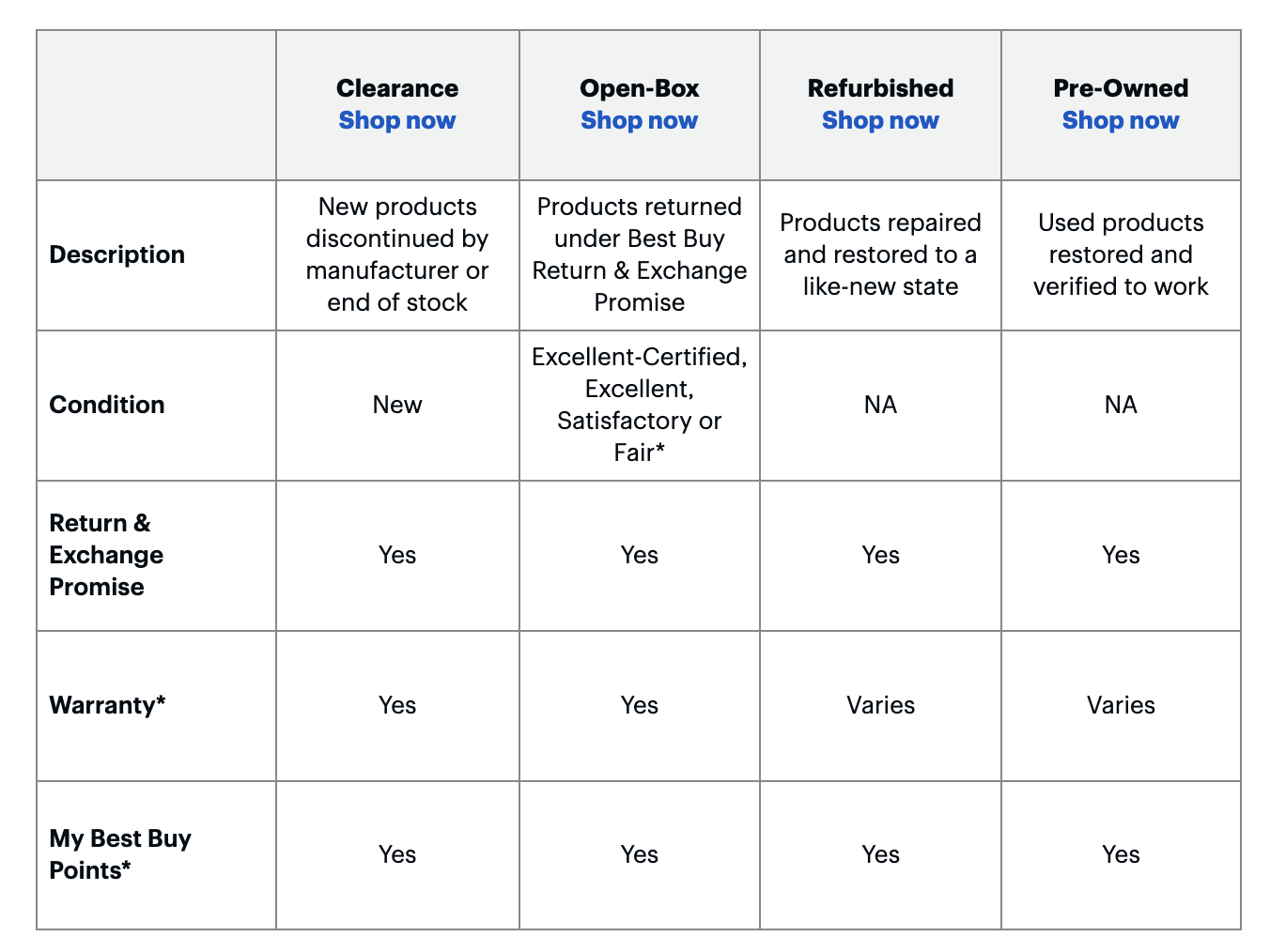 How else can I save money online at Best Buy?
Fine print I found on the website: Markdowns taken from regular or Was prices. Minimum savings is 5%. Offer limited to in-stock items. Selection varies by location. Outlet assortment changes weekly. No rainchecks. Not valid with any other offers. We reserve the right to limit purchase quantities.
Where are Best Buy Outlets Located?
ARIZONA
CALIFORNIA
COLORADO
ILLINOIS
MASSACHUSETTS
MARYLAND
MISOURRI
TEXAS
17776 State Highway 249, Suite #1
Houston, TX 77064
Shop Houston Outlet
Coming Soon:
San Antonio Outlet
12651 Vance Jackson Rd. #125
San Antonio, TX 78230
VIRGINIA
7665 Sudley Rd
Manassas, VA 20109
Shop Manassas Outlet
WASHINGTON
19800 44th Ave. W
Lynnwood, WA 98036
Shop Lynnwood Outlet
WISCONSIN
Coming Soon:
Brookfield Outlet
12575 W. Capitol Dr.
Brookfield, WI 53005