NEVER MISS OUT ON DEALS AGAIN – JOIN OUR TELEGRAM WHERE WE POST DAILY!
Who's ready for awesome deals at Kroger!? These Kroger Weekly Ad deals are available from September 27th through October 3rd. We've included coupon match-ups and rebate rewards to lower your out-of-pocket cost! There are great savings storewide, and SO many digital coupons!
We love to see your hauls so please join our Kroger Couponing Group and share which scenarios you do! Happy Shopping!
Don't forget to submit your receipts to Fetch Rewards for points and Ibotta rebates! Join Fetch Rewards FETCH Join Ibotta HERE!
MAKE SURE TO SCAN SCAN SCAN! Use the Kroger App to scan items to check prices and coupons attach before heading to the register!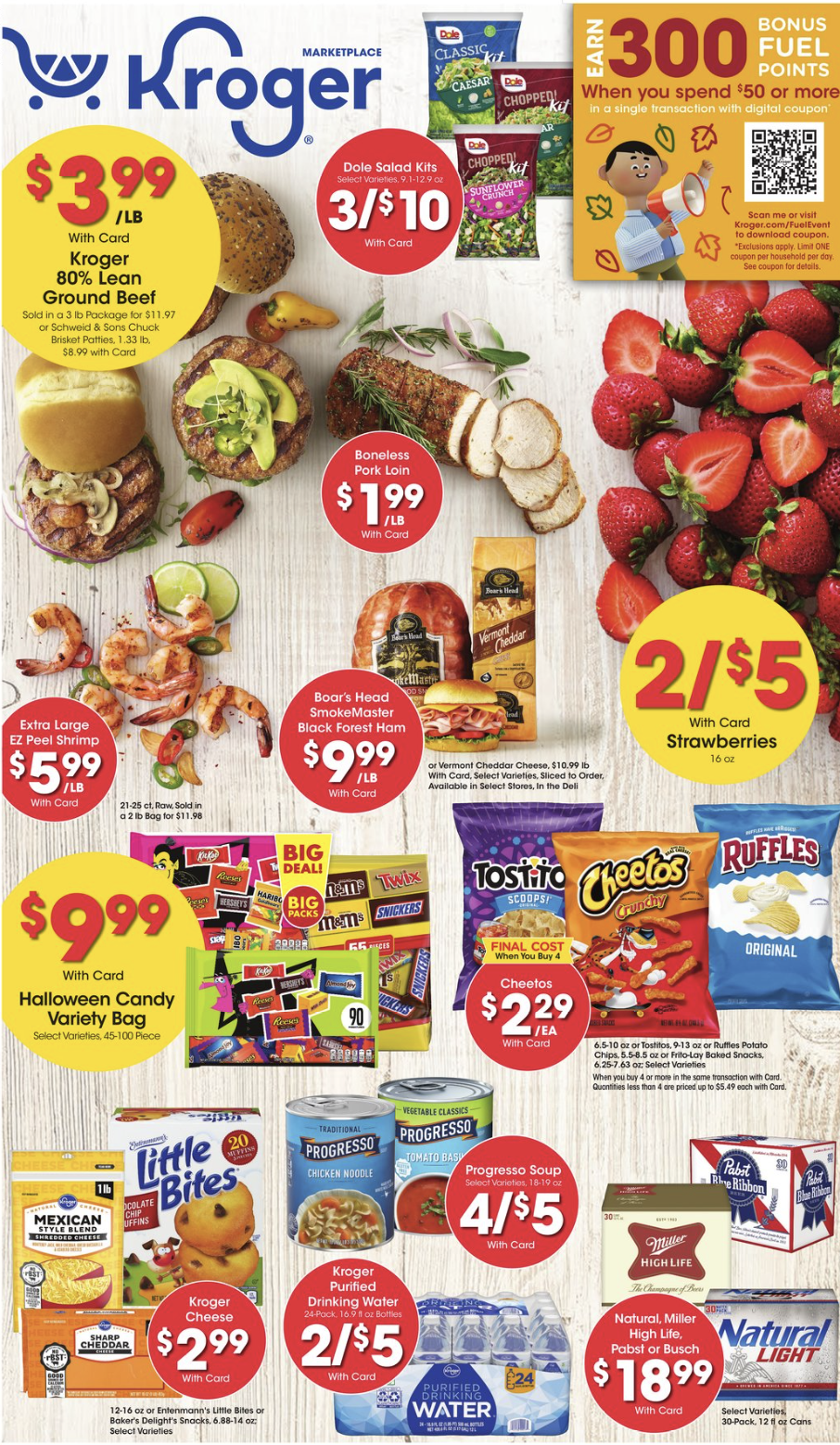 Beef & shrimp deals! $3.99/lb beef & $5.99/lb shrimp. Score Dole Salad Kits 3/$10, and strawberries 2/$ 5! Stock up on chips while Ruffles, Tositios, & Cheetos are $2.29 each WYB4, and $9.99 Halloween candy! PLUS earn 300 bonus fuel points when you spend $50 before 10/3 in one transaction & earn 4x fuel points on pet items through 10/10!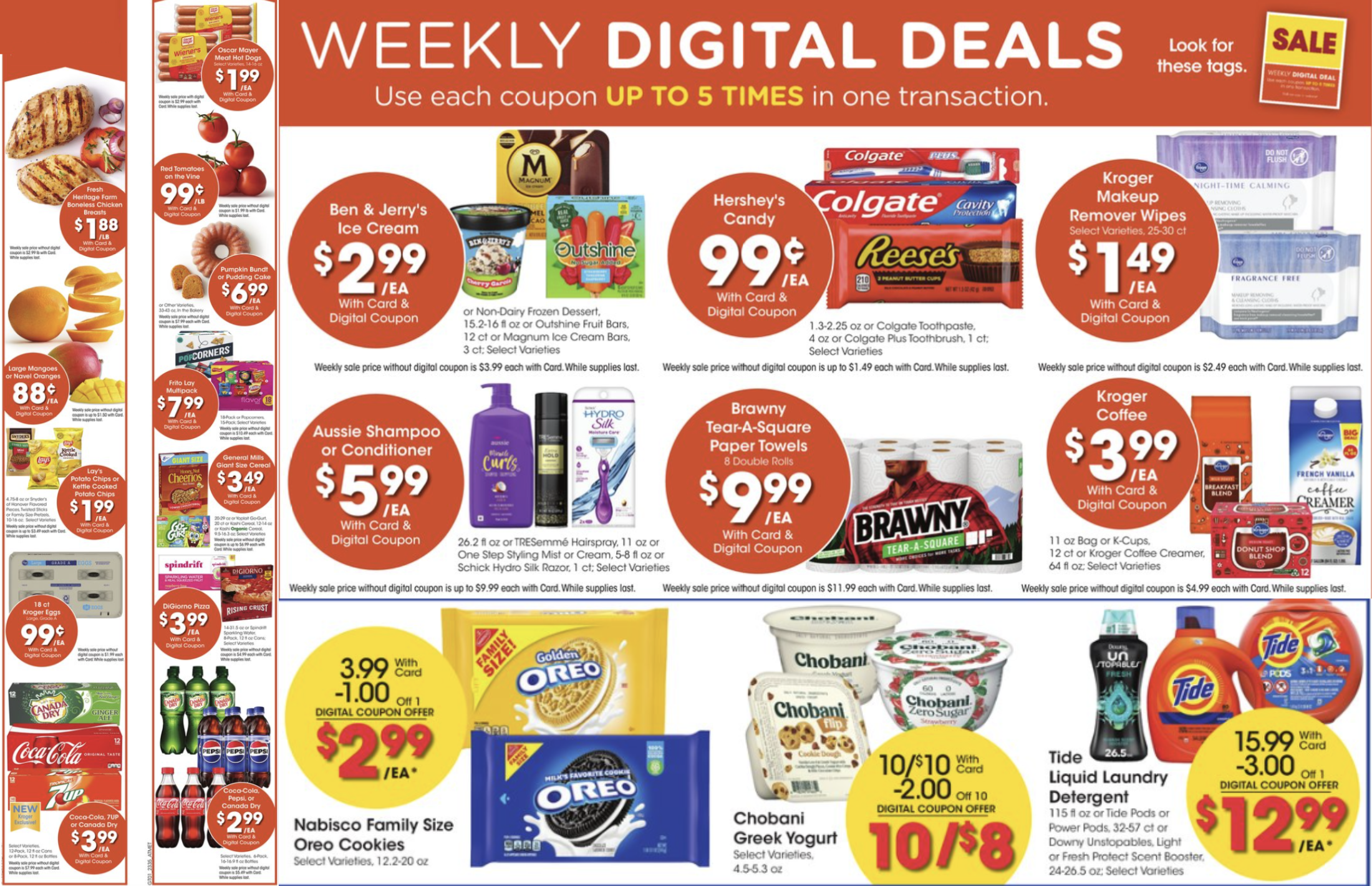 You can score these weekly digital deals up to 5 times in one transaction! Once you use the coupon, it's gone. This week's deals include $1.99 Oscar Mayer hot dogs, $0.99 18 Ct Kroger Eggs, $3.99 each Coca-Cola, Canada Dry, & 7Up including the Kroger Exclusive 7UP Tropical!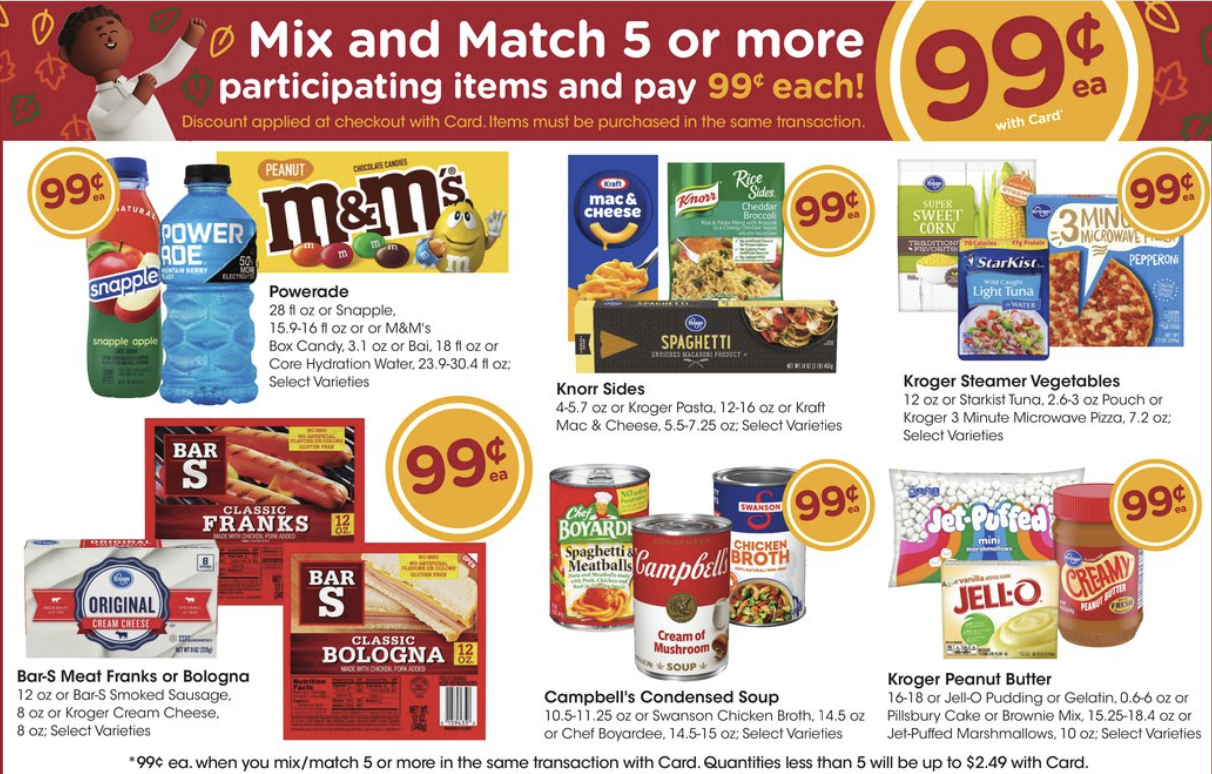 Tons of 99¢ items this week WYB5: M&M's, Knorr Sides, Campbell's Soup, & more! Some items included are regularly OVER $3, and you just have to buy 5, mix & match to get them for $0.99!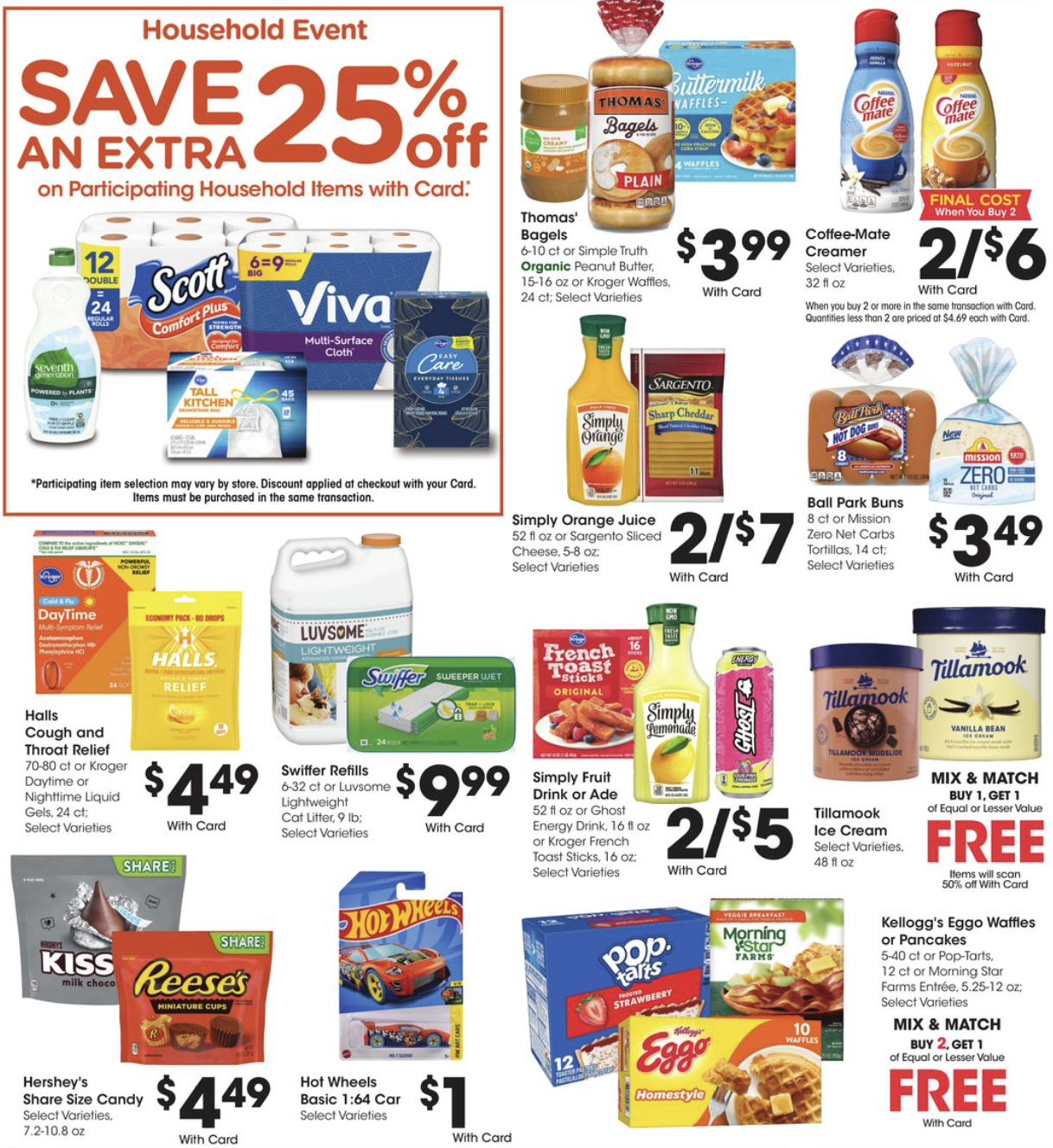 Score an extra 25% off lots of household items! Plus BOGO free Tillamook ice cream, $1 Hot Wheels, & $4.99 Hershey's Share Size Candy! Kellogg's Eggo Waffles, Pop-Tarts, or Morning Star Farms entrees are buy 2 get 1 free!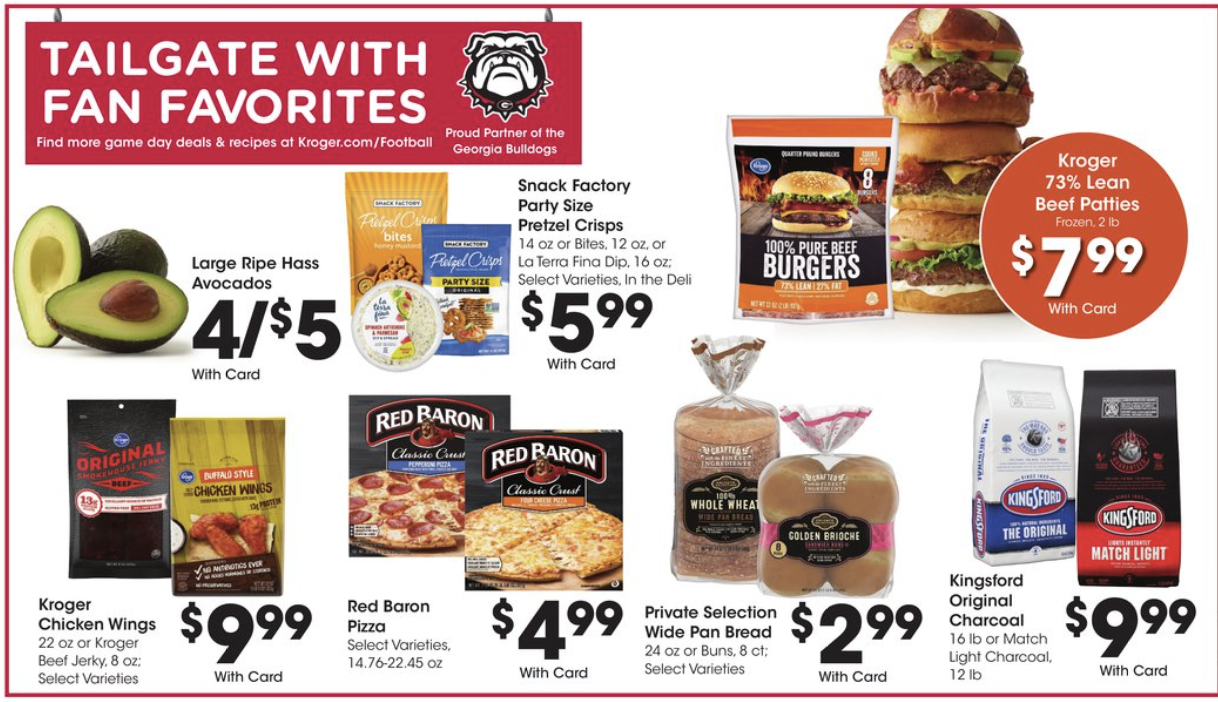 Great deals on tailgating favorites! Beef patties only $7.99, $9.99 charcoal, and tons more!
Gamers, check out points rewards plus! Earn rewards for things you buy anyway, and trade them in for games, groceries, electronics, gift cards, & more!

Save $15 on your first pickup or delivery order of $75+ through October 30th!
HALLOWEEN DECOR IS HERE!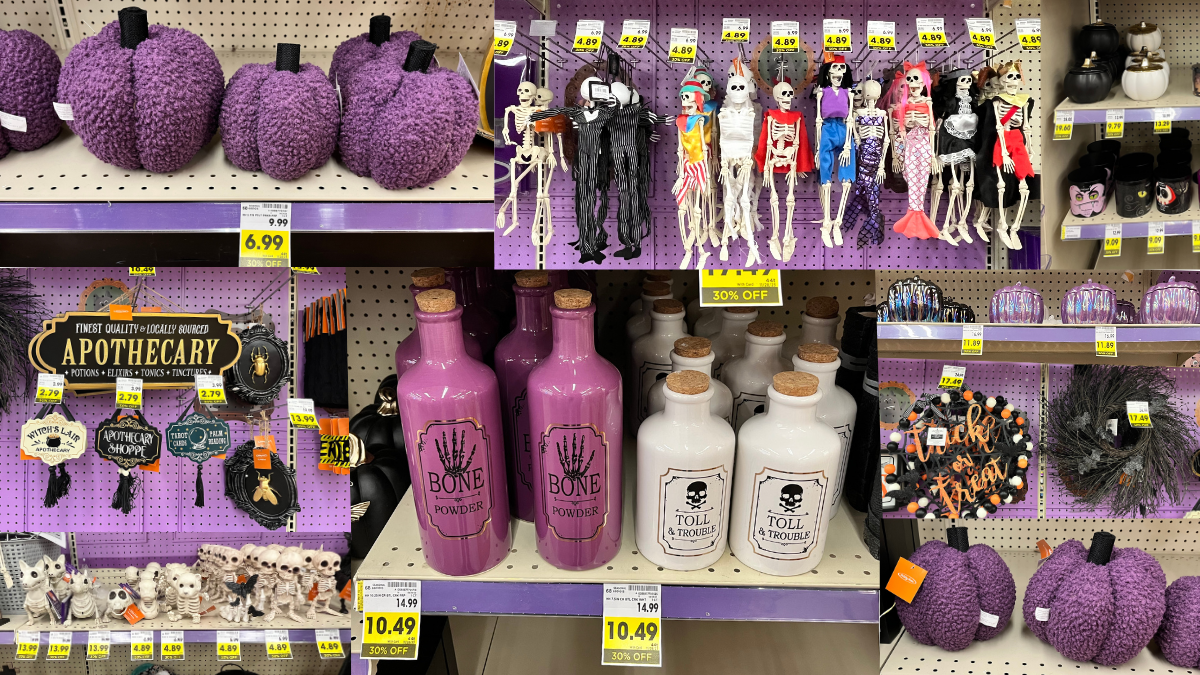 We spotted so many cute finds for Halloween 30% off! Felt pumpkins, hanging skeletons, wreaths, adorable decorative bottles, fun signage, tons of candles, creepy cute figurines & more!
COUPON MATCHUPS!
BUY: Lysol Air Sanitizer $8.29
CLIP: Save $3.00 on any Lysol® Air Sanitizer Exp 09/30/2023
PAY: $5.29
SUBMIT: $3.00/1 Lysol Air Sanitizer Ibotta Rebate
FINAL COST: $2.29
BUY: Annie's Classic Mac N Cheese $1.79
CLIP: SAVE $0.50/1 Annie's™ Mac & Cheese  Exp 10/14/2023
PAY: $1.29 plus tax!
BUY: General Mills Cereals 8-12oz $3.99 x 2
CLIP: Save $2/1 General Mills Cereals (Exp 10/03/2023) – limit 5
CLIP: Save $1/2 General Mills Cereals (Exp 10/14/2023)
FINAL COST: $2.98 for both – just $1.49 each!
*Check your Fetch Account for possible 950 points too! 
BUY 2: Purezero Shampoos or Conditioners (12 oz)  $4.99 each (Reg $5.99) 
PAY: $9.98
SUBMIT: $6/2 PureZero Hair Care Ibotta Rebate
FINAL COST: $3.98 – just $1.99 each
BUY 3: Progresso Soups $1.49 ea wyb 6 participating items
CLIP: Save $1/3 Progresso Soups (Exp 10/14)
FINAL COST: $3.47 – just $1.15 each
BUY 2: Little Debbie Family Snack Packs 2/$5 (Reg $2.69 each) 
PAY: $5
SUBMIT: $0.50/2 Little Debbie Ibotta Rebate
FINAL COST: $4.50 total – just $2.25 each
BUY: Maxwell House Iced Latte with Foam 6 ct $6.99 (Reg $8.49)
PAY: $6.99
SUBMIT: $1.50/1 Maxwell House Iced Lattes Ibotta Rebate
FINAL COST: $5.49
BUY 2: RoTel Tomatoes 10oz 99¢ wyb5
PAY: $1.98
SUBMIT: $0.25/2 Rotel Tomatoes Ibotta Rebate
FINAL COST: $1.73 – just 87¢ each
BUY: Kraft Mac & Cheese 99¢ wyb5
PAY: $0.99
SUBMIT: $0.15/1 Kraft Mac & Cheese Ibotta Rebate
FINAL COST: 84¢ each
*The Black Panther one also has a 25¢ Ibotta and there are multiple 15¢ offers so you can stock up on this deal. 
IN-STORE CLEARANCE!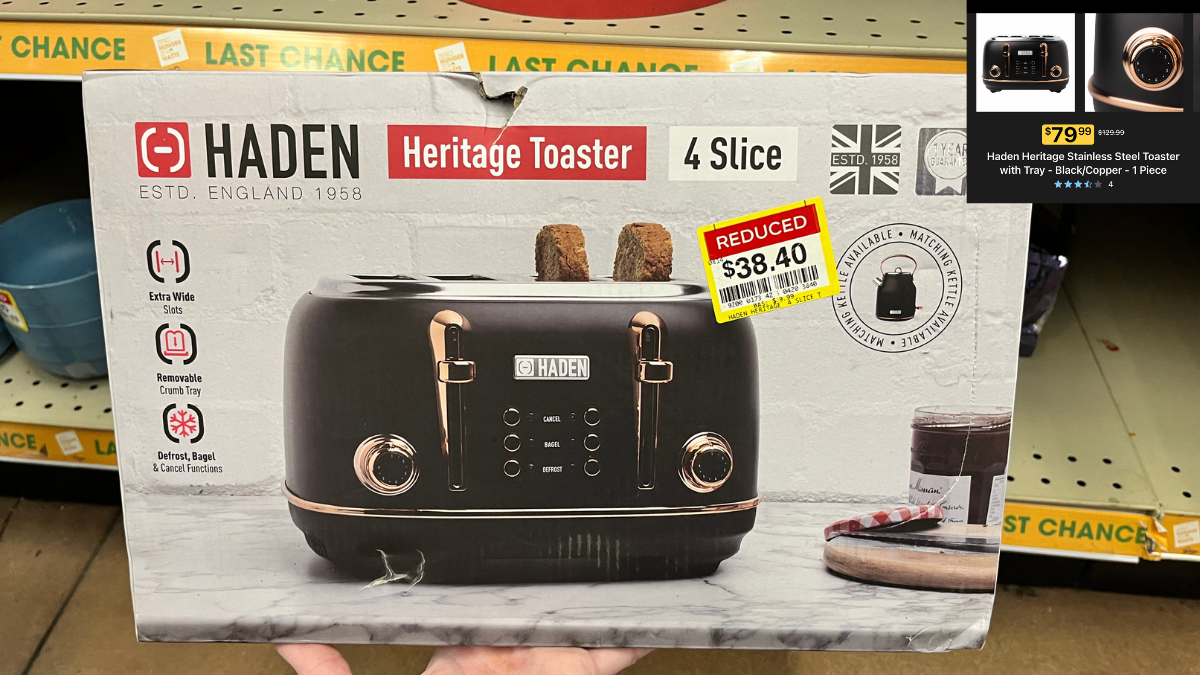 This Haden Heritage Stainless Steel Toaster with Tray in Black/Copper was only $38.40 at my store (Reg. $129.99)!
As always, YMMV with clearance, let me know if you score! Drop some pics of your hauls in our Kroger Couponing group, or in our telegram where we post deals all day! It really helps others score too!
Not all stores carry the same products. Some stores may be out of stock on certain items. Some prices vary by location.

Some coupons may be no longer available to clip or may not work as intended. Please be kind to the cashier if a scenario doesn't work as planned.