YESSS! Hobby Lobby has their Easter items on clearance for 80% off. My store had a ton of stuff to pick from too. They have decor, basket fillers, and more – pretty much the entire Easter line.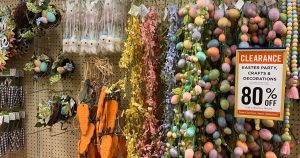 Since most stores have been closed for a few weeks we were a little unsure what to expect. My state is slowly starting to open things back up and I wanted to see what I would find at Hobby Lobby. I was shocked to see almost the entire Easter Line on 80% off clearance. SCORE!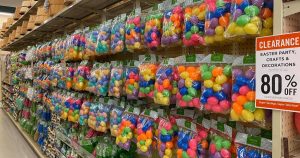 Keep in mind these will drop one more time in price if its to follow the typical Hobby Lobby Clearance – and we will update you once this all goes down to 90% off!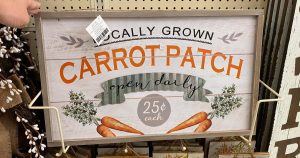 Carrot Patch Easter Decor Sign (Orig.$21.99)
UPC: 5258694 – 80% off taken at checkout.
Final Price: $4.40
Remember if you head out shopping during the current coronavirus pandemic to take all proper precautions and heed the guidelines by your local leaders.
Store openings, hours, and procedures do vary state to state and location to location.