Tips and Tricks for the best Michaels Grab Bags!
Michaels Grab Bags are the best deal for anyone creative- it is by far my favorite way to score some amazing items from Michaels Clearance. The only thing is that it only happens a few times a year and they sell out fast.

When these come available –  don't walk- run to your local Michaels store!

Y'all know I love a good deal and a grab bag from Michaels craft store is one for the books.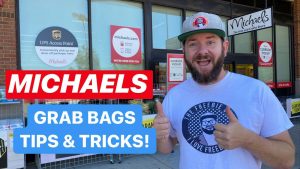 Who is a Michaels Grab Bag For?
Are you creative? Looking for that next original, one of a kind creation to decorate your mantle? Then this Craft Store Deal is your answer.

You won't believe some of the deals that I have gotten from a Michaels grab bag. Check out my YouTube video here where I open the bags that I purchased after Halloween.

I saved hundreds of dollars (really- watch it here) all from taking advantage of this super sweet deal. I seriously got so much stuff from this awesome event to decorate my house with, make goody bags, and donate to my favorite charities.

Want to know how I saved so much money and got things that I can actually use? Keep reading to learn my super-secret to grab bag success…


What the heck is a Michaels Grab Bag?

Michaels Craft Store will take their fun clearance items and put them in boxes and bags. These boxes and bags are then marked VERY cheap (which is the best- right?!).

When I say cheap, I mean super SUPER cheap. In most stores for June 2020, a grab bag was $5 and I got over $100 worth of items easily.

Here's the catch- you don't know what is inside of them until you purchase them.

For an innovative person like yourself- this Michaels promotion is a dream come true. I mean, these grab bags and boxes can have literally anything inside of them.

Anything? Yes- ANYTHING.

What are you waiting for y'all?

This super awesome deal typically has seasonal items, crafting items, and more for only $5. We're talking Holiday decorations and super expensive crafting tools for practically nothing.

Of course, I use my awesome trick to help me find the very best grab bags. Read below and try it for yourself!

When can I expect the Michaels Grab Bags to be available?

This awesome deal at Michaels Craft Store is a few times a year- typically after a major holiday to clear out room for the next holiday.

Every June, Michaels takes their Spring clearance items (think Easter, gardening, and the occasional Valentines Day item) and essentially dumps them into bags and boxes for those on the hunt for a deal to check out.

For 2020, the spring bags were released on June 8th.

They go quick (I told you these deals are amazing!) so don't wait.

Where can I find this awesome deal?

The grab bag deal is so incredible that it is in stores only.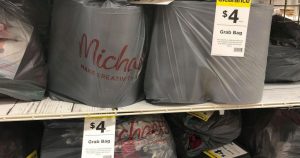 Why is Michael's doing this? I mean, it sounds too good to be true.

Michaels craft store is making room for their new inventory for the upcoming season.

Which is great for you! You could walk out with hundreds of new items for only a few dollars- woohoo!.

We are talking items for
– Christmas
– Easter
– Halloween
– Birthdays
– Teachers Gifts
– Rainy Day ActivitiesI

These bags will definitely have your inner crafter screaming YAAAAASSSSSSSSS

How Do You Pick A Good Bag?

When I originally went to check out the Michael's Craft Bags, I thought that there would be some sort of secret area where the bags were kept and I would just get whatever the employee handed me.

Boy was I surprised.

Michaels wants to sell these bad boys so they place all of the grab bags toward the front of the store for the customer to select as they please.

This is great news for us, ya'll.

You can take your time and really observe the grab bags. Pick them up, feel around, maybe try to see through some of the plastic. You can even see in my YouTube video how I could see through the top of my Michaels Grab Bag so I sort of knew what I was getting.

This will help you really choose a clearance bag that can help you get what you want.

You can be smart about this and really enhance your craft supply area or maybe your birthday gift box for super cheap.

A great example is the coffee mug. The coffee mug is a very popular item in the Michaels grab bags. Do you need another coffee cup? Whether your answer is yes or no, feel around the bag before placing it in your cart to see if it has what you need.

Okay y'all, here it is- my trick to a successful shopping haul every single time there are Michael's grab bags….

The Freebie Guy's Secret Trick to a Successful Grab Bag Haul

I am sharing my Michaels Grab Bag number one tip and trick for a successful grab bag haul because it is GOOD.

I always say that to be successful in clearance endeavors, we must persevere and prepare. So having a game plan before you go shopping for your grab bags is always a good idea so that way you can use whatever you end up buying.

One or two days before Michaels sells their grab bags, I will go to the store and check out their clearance sections and look for the items with pink, yellow, and red tags. Those are the things that will be in the grab bags.

In my YouTube video, you can see I went to two different Michael's stores the day before the grab bags dropped. The first store had a lot of items, but not items that I necessarily needed. The second store, however, had many items that I knew I could use to decorate, donate, and save for holidays for the upcoming year.

Can you guess which store I went to for some of the most amazing deals?

That is it- do your research and let me know what deals you end up with! Go get your grab bags- Y'all don't want to miss this awesome clearance sale at Michaels stores!