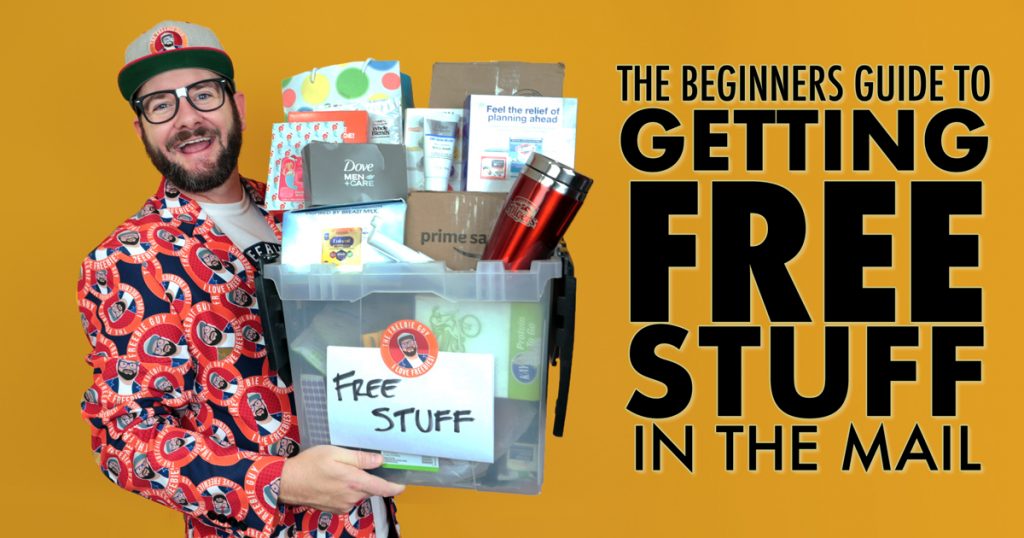 Getting Free Stuff by Mail is something The Freebie Guy has been helping thousands of people get for years. What companies send free samples? Are these freebies real? How long does it take to get my free stuff in the mail? This article was another way to help you and others get into claiming Free Samples and Freebies.
What companies offer Free Stuff by Mail?
Tons! Big companies like to send out free stuff by mail of their new products to market to you. With the hope that once you try the new product, you'll be more likely to purchase the full size product in the future. Smaller companies also send out Free Samples to get their name out there. In the past we've seen Free Samples from companies like Tide, Pampers, Keurig and tons more. A lot of companies have started partnering with companies that send sample boxes in exchange for honest reviews. Sites like Pinch.me, Sampler, and BuzzAgent are great places to get signed up for. Samples can go FAST so make sure you're following The Freebie Guy's Facebook page and Instagram to get alerted as soon as a new sample becomes available.
Are Freebies/Free Samples a Scam?
This is a very common question we hear. Is this a scam? The answer to that is mixed. There are always a few bad apples in the mix that are just an attempt to collect information. But, there are plenty that are offering REAL Free Samples and Freebies.
What Can I do to Protect Myself From Scams?
The most important thing you can do to keep this from happening? Follow a page like The Freebie Guy where we do our absolute best to weed out the Freebies and Free Samples that aren't legitimate. Another way to protect yourself is to create an alternate email account and burner phone number. (we recommend google voice or any other free phone service that gives you a phone number.) And of course, never ever provide your credit card number. A legit free sample will never require more than your name, email, phone and shipping address. Though you will run into a handful that have a small questionnaire as well.
Are Free Samples Really Free?
100% YES! Free Samples and Freebies are always FREE no credit card or shipping fee required. If you find that a freebie has a shipping fee, the fee was likely added after it was posted to the site. Contact us via social media so we can get it removed.
Will I get a Bunch of Spam When Signing up for Free Samples?
This goes back to the first question. Companies that send out free stuff by mail are attempting to market to you. So yes, you will get a lot of emails from the companies that were offering the free samples. We suggest creating a new email account to use when applying for samples or use something like Unrollme to mass unsubscribe from emails and keep your personal email clear.
How Long Till I Start Receiving Free Stuff by Mail?
A general time frame we go by is 6-8 weeks, but some may take up to 10-12 weeks to arrive. It depends on the company. If you signed up for a sample and don't receive it, it's okay! It doesn't mean that the Freebie was a scam. Things get lost and damaged in the mail all the time or the company ran out of samples before they could close down the form.
We hope you found this post helpful! Join our Freebies Facebook Group to get up to date alerts of new free samples and share the Free Samples you get in the mail. Check out the other posts on Getting Started Sweepstakes, How to Penny Shop, How to Spot a Scam Email and Instant Win Games: Beginners Guide.