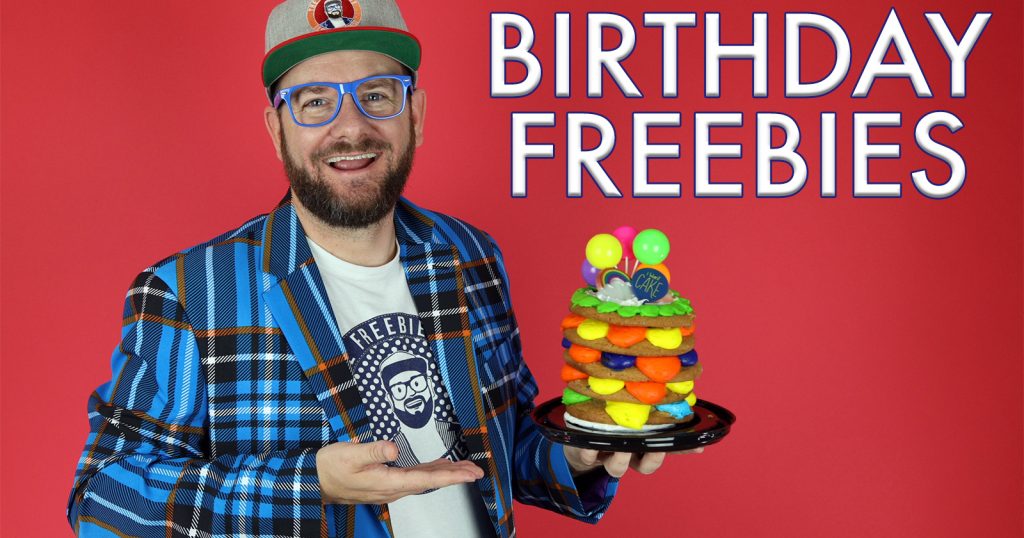 Free Birthday Stuff
What if we told you that there are tons of companies that offer up Free Birthday Stuff you can snag on your big day? Companies know that everyone has a birthday, and everyone loves celebrating their birthday. They have turned this into a marketing opportunity for themselves, and for the savvy shopper – you can turn this into a free stuff windfall for yourself. You can view all of our current freebies here.
We have put together a list of companies that we have found offering birthday freebies! Click through the links below and sign up for the offers you are interested in. Keep in mind that most of these companies will email out their birthday goodies ahead of time – so make sure you are signed up well in advance!
Know of companies offering birthday freebies that we may have missed? Let us know so we can add them!
| Companies | Birthday Freebie |
| --- | --- |
| AMC Theaters | Free Popcorn on your birthday |
| A&W All American Food | Join the mug club to get a free root beer float on your birthday |
| Abuelos | Get a free gift on your birthday, your anniversary, and one just for signing up |
| Ace Hardware | Sign up and get a $5 coupon for your birthday |
| Applebee's | Free dessert on your birthday and Free Cheesesticks at sign up |
| Arby's | Free sandwich for signing up, free milkshake on your birthday |
| Au Bon Pain | Free lunch on your birthday and a Free travel mug for signing up |
| Auntie Anne's | Free Pretzel on your birthday |
| Aveda | Sign up and get a free gift on your birthday |
| Backyard Burgers | Free burger on your birthday |
| Bakers Square | Free slice of pie on your birthday, plus a free entrée when you sign up |
| Bare Essentials | Free customized gift on your birthday |
| Barnes & Nobel | Free cupcake from our café for all your children's birthdays |
| Baskin Robbins | Free Ice Cream on your birthday |
| Bath & Body Works | Free annual birthday gift |
| BD's Mongolian Grill | Free entrée on your birthday |
| Benihana | Free complimentary $30 Benihana Birthday Certificate during the month of your birthday |
| Bennigan's | Free dessert for your birthday, plus a buy 1 get 1 free coupon for an entrée |
| Black Angus Steakhouse | Free dessert for signing up, free steak on your birthday |
| Boston Market | Free surprise on your birthday |
| Buca di Beppo | Free pasta on your next visit and a FREE $20 birthday gift |
| Buffalo Wild Wings | Free dessert on your birthday |
| California Pizza Kitchen | Free dessert during your birthday month and a free small plate for signing up |
| Captain D's | Free meal on your birthday |
| Carrabbas | Free appetizers |
| Charlie Brown's Grill | Free voucher to use on your birthday |
| Chick-fil-A | App download, freebies are at the discretion of the franchise owner, so check with your local store for details |
| Chicken Salad Chick | Free Original Chick meal on your birthday |
| Chili's | Free brownie Sundae on your birthday. Free chips just for signing up |
| Chuck E Cheese | Free tokens for signing up and free tokens on your child's birthday |
| Cinnabon | Free minibon for signing up and a free gift for your birthday |
| Cold Stone Creamery | Free ice cream on your birthday |
| Corner Bakery | Free surprise on your birthday |
| Cracker Barrel | Free dessert on your birthday |
| Culvers | Free value basket for joining, free treat on your birthday |
| CVS | Get $3 on your CVS ExtraCare card on your birthday |
| Dairy Queen | Free ice cream treat on your birthday |
| Dave and Busters | Sign up for $10 in free gameplay |
| Del Taco | Free grilled tacos for signing up and a free shake on your birthday |
| Denny's | Free Grand Slam breakfast on your birthday. Show ID for this one |
| Dippin Dots | Free dippin dots on your birthday |
| Disney Movie Rewards | Get 100 free points on your birthday |
| DSW Shoes | Free $5 certificate for your birthday |
| Duck Donuts | Free Donut on your Birthday |
| Dunkin Donuts | Get a free beverage on your birthday by signing up for the DD Perks Rewards Program |
| Einstein Bros | Free bagel on your birthday |
| El Chico | Free fried ice cream on your birthday |
| Famous Daves | Free meal on your birthday at Famous Daves |
| FamousFootwear | Free $10 Coupon on your birthday |
| Firehouse Subs | FREE medium sub of your choice |
| First Watch | Free buy one get one coupon when you sign up |
| Flat Top Grill | Free dessert on your birthday |
| Friendlys | Free Sundae on your birthday |
| Fuddruckers | Sign up and get a free treat on your birthday |
| Genghis Grill | Free stir fry bowl on your birthday |
| Godiva | Free treat on your birthday |
| Gold Star Chili | Free meal on your birthday |
| Gordon Biersch | Free birthday surprise |
| Great American Cookies | Sign up and get a free cookie on your birthday |
| Hallmark | Free Card and 20% OFF |
| Hard Rock Cafe | Free dessert on your birthday |
| Hooters | Free wings on your birthday |
| Houlihans | Get $10 just for signing up and a free dinner on your birthday |
| IHOP | Get a free meal for signing up, a free meal on your birthday, and a free meal on your 1 year anniversary of joining |
| Jack in the Box | Free dessert on your birthday |
| Jason's Deli | Free $5 off coupon for your birthday |
| Jersey Mikes | Free sub and drink on your birthday |
| Joe's Crab Shack | Free treat on your birthday, free appetizer for signing up |
| Johnny Rockets | Free hamburger for signing up and a free hamburger on your birthday |
| Kendra Scott | Get 50% off one Fashion Jewelry item and/or 25% off one Fine, Sterling Silver or Home Collection Item |
| Krispy Kreme | Free doughnut and coffee on your birthday |
| La Madeline | Free pastry for your birthday |
| Longhorn Steakhouse | Free dessert on your birthday |
| Macaroni Grill | Free dessert on your birthday |
| Maggiano's | Free $10 certificate for signing up and a free $10 certificate for your birthday |
| Marble Slab | Free ice cream for signing up. $5 Off reward on your birthday and anniversary |
| Marie Callendars | Free piece of pie on your birthday |
| Medieval Times | Free admission on your birthday when you sign up for the King's Court |
| Menchie's | $5 credit when you download the app |
| Mimi's Cafe | Free muffins when you join and free entree for your birthday |
| The Melting Pot | Free chocolate fondue on your birthday |
| Moe's Southwest Grill | Free Burrito on your Birthday |
| Noodles & Company | Free meal on your birthday |
| Nothing Bundt Cakes | Free bundtlet on your Birthday |
| Not Your Average Joes | Free gift on your birthday |
| Old Navy | Get a FREE surprise on your birthday |
| Outback Steakhouse | Free dessert on your birthday |
| Panda Express | Free offer on your birthday |
| Panera Bread | Free pastry on your birthday |
| Papa Johns | Free cookie for your birthday |
| Perkins | Free slice of pie on your birthday |
| PF Changs | Free appetizer or dessert on your birthday |
| On the Border | Free queso for signing up, free gift on your birthday |
| Olive Garden | Free appetizer or dessert when you sign up |
| Pinkberry | Free small yogurt on your birthday |
| Qdoba | Free Chips & Salsa or a drink for registering, free gift on your birthday |
| RedBox | Free movie rental on your birthday |
| Red Lobster | Free gift for your birthday. Likely either an appetizer or dessert |
| Red Robin | Free hamburger on your birthday |
| Rita's Ice | Free birthday treat |
| Ruby Tuesday | Free Burger on your Birthday |
| Sbarro | Free slice of pizza for signing up and free slice of pizza on your birthday |
| Schlotzsky's | Free small sandwich on your birthday |
| Sephora | Free gift during your birthday month |
| Shoney's | Free Hot fudge cake on your birthday |
| Smashbox | Free gift for your birthday |
| Sonic Drive In | Free treat on your birthday after you sign up |
| Sonny's BBQ | Free meal on your birthday |
| Souper Salad | Free meal during your birthday week at Souper Salad |
| Spaghetti Warehouse | Free dessert when you sign up & free meal on your birthday |
| Sprinkles Cupcakes | Free cupcake on your birthday |
| Starbucks | Free drink on your birthday |
| Steak N Shake | Free gift for your birthday |
| Subway | Free 6 inch sub and drink on your birthday |
| Taco Cabana | Free Fajita Taco for joining and a FREE Flauta on your birthday |
| TCBY | Free treat on your birthday |
| Texas Roadhouse | Free appetizer on your birthday |
| TGI Fridays | Free dessert or appetizer for signing up, and free dessert on your birthday |
| The Body Shop | $10 Birthday Credit |
| Tony Romas | Join the email club for a free gift on your birthday. |
| ULTA | Free Gift during your birthday month. (Varies month by month.) |
| Victoria's Secret | Free $10 gift for your birthday |
| Waffle House | Free waffle on your birthday |
| Weinerschnitzel | Free hot dog for signing up, free hot dog on your birthday |
| Which Wich | Free regular sandwich for your birthday |
| Wing Stop | Free seasoned fries on your birthday |
| World Market | Surprise Gift on Your Birthday |
| Yankee Candle | Free birthday treat when you sign up for their Fragrance Family |
| Zaxby's | Free Nibbler on your birthday |