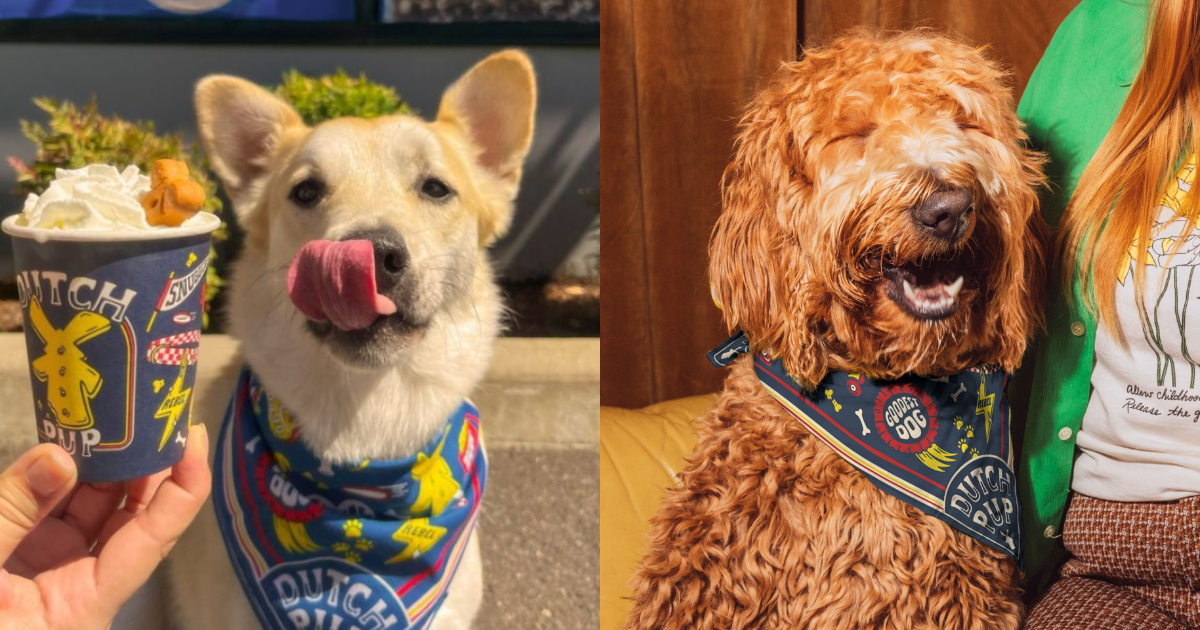 National Dog Day is on August 26th and Dutch Bros is celebrating the best way they know how!! On August 26th starting at 3pm, Dutch Bros is bringing 'Yappy Hour' to all your furry friends! Order any of their delicious drinks, and you'll get a pet bandana for your loyal companion (while supplies last) + they are also launching a brand new Dutch Pup Cup design, specially crafted to make treat time a breeze for your adorable four-legged pals!
See below for what drink you should order based on the type of doggo you have!
Dalmatian – Tuxedo Freeze

This spotted furry friend is a sight to see just like the Tuxedo Freeze! Featuring our decadent blended coffee with white chocolate and dark chocolate, topped with whipped cream, it's the perfect drink to celebrate the special day!

Golden Retriever – Blended Ray of Sunshine Lemonade

A Golden is sure to put a smile on your face! The Ray of Sunshine lemonade is a mix of our signature lemonade blended with blackberry, peach and grapefruit that's guaranteed to brighten your day!

Cocker Spaniel – Hot Vanilla Chai Tea Latte

Dutch Bros' Vanilla Chai Tea Latte is made with vanilla syrup and your choice of milk. A little bit of spice and a little bit of sweet, the best drink to have while cuddling your Cocker Spaniel!

Irish Setter – Iced Aftershock Rebel

Of course we had to pick a red drink to match the beautiful red coat of an Irish Setter! The Aftershock Rebel is a blend of strawberry, blackberry, raspberry + lime syrup to give you all the energy you need while keeping up with this pup!

Dachshund – Snickerdoodle Frost

Full of fun and lots of love, the Snickerdoodle Frost is the perfect match for a Dachshund! This blend of cinnamon, chocolate macadamia & white chocolate w/ whipped cream + cinnamon sprinks is the ultimate treat!

Labrador Retriever – Iced Golden Eagle

This loyal dog always has your back, just like the Golden Eagle! A creamy breve featuring bold espresso, half and half, vanilla syrup and caramel sauce, then topped with whipped cream and caramel sauce drizzle. There's a reason this one is a fan fave!

Doberman – Kicker Nitro Cold Brew

This Kicker® Nitro Cold Brew features our smooth and creamy Nitro Cold Brew with Irish cream syrup and half and half to deliver serious energy. It's the ideal drink to have in hand while out with this loving companion!

Poodle – Marmalade Soda

Strawberry, orange and grapefruit in our exclusive sparkling soda water topped with whipped cream is the bright and bubbly drink you need! Full of spirit, it's the best match for a poodle!

Bernese Mountain Dog – Cocomo Freeze

Cool down with the Cocomo Freeze! A mix of coconut syrup and our exclusive chocolate milk come together with our blended coffee beverage to create a drink that everyone knows and loves – just like a Bernese Mountain Dog!
Never miss another HOT RUN DEAL, SWEEPS OR FREEBIE AGAIN! Join my Telegram Group where I post tons of online deals at 70-80-90% off!