What is a FREE Kids Workshop Kit at Home Depot?
So you're here to find out more about the Home Depot kids workshop events, right? We've got all of the details!
Every 1st Saturday, take your kids to Home Depot for a free in-store craft event! Make sure to register so they reserve a kit for your kiddos, then show up anytime from 9-12 and score your free craft kit. Your kids can then build and decorate it right there in the store. Keep in mind that most stores will start offering the kits to those who forgot to register as it gets later, so your best bet is to arrive earlier.
Register here for the October 7th workshop to reserve a kit for your kiddo!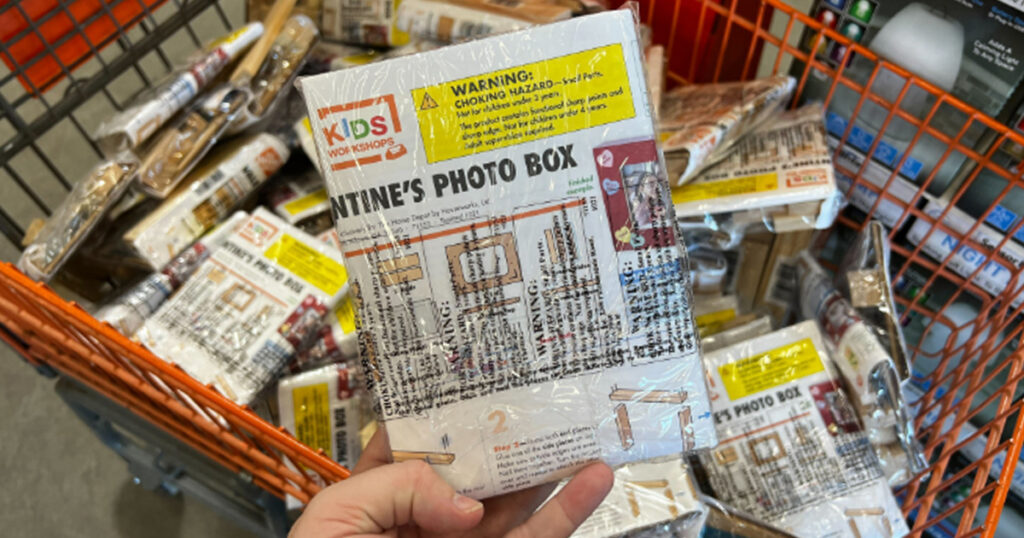 How can you get a FREE Home Depot Workshop kit? 
It's easy! Simply register for your free kit(s) and then stop by the customer service desk on the first Saturday and find out where they are hosting the event for the day!
Here is the Home Depot Kits Workshop Kit Schedule for 2023: 
So far, these are the events that have already been released, and the newest upcoming ones as well. I will add any new event details as I find them!
January 2023 – Snowball Game (January 7th, 2023)
February 2023 – Valentine's Vase (February 4th, 2023)
March 2023- Pinball Game (March 4th, 2023)
April 2023 – Poolside Bird House (April 1st, 2023)
May 2023 – Flower Planter (May 6th, 2023)
June 2023 – Putting Green (June 3rd, 2023)
July 2023 – Fireworks Bean Bag Toss (July 1st, 2023)
August 2023 – Treasure Chest (August 5th, 2023)
September 2023 – Microscope (September 2nd, 2023)
October 2023 – Rescue Floatplane (October 7th, 2023)
November 2023 –
December 2023 –
January 2024 –
What if I missed a Home Depot Kids Workshop kit that I wanted? 
Missed a kit that you really really wanted? No worries! The Home Depot also actually sells the kits online for just $4.98 with free in-store pick up! Each craft kit includes: the craft kit, certificate, pin, and an apron! You can purchase the Home Depot Kids Kits right HERE.