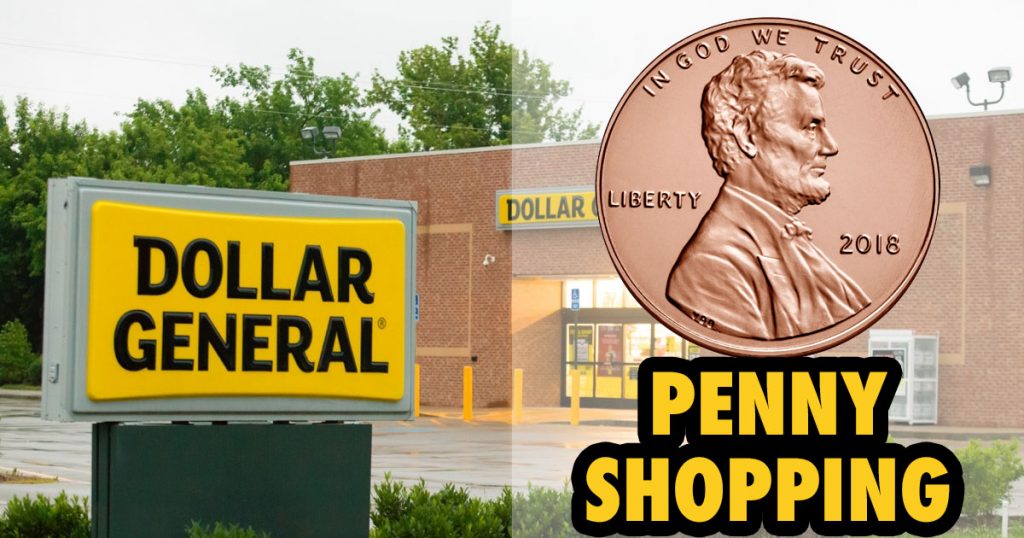 What is Dollar General Penny Shopping?
Many folks do not know but there is actually such a thing as Dollar General Penny Shopping! It can take a little bit of work, but if you are down to spend a bit of time studying up and are ready for a scavenger hunt, you may just be rewarded with a haul of items from Dollar General that just cost 1 penny!
IMPORTANT: DO NOT ASK DG EMPLOYEES ABOUT PENNY ITEMS! They WILL NOT help you find them! These items are supposed to be removed from the floor.
What kind of items can I get Dollar General Penny Shopping?
They vary! Food to clothing, think of the things that are sold at DG and that will give you a tip of what to expect. Often it is seasonal items that penny out – but there are also some core items that penny out as well.
Dollar General Penny Finder Tips from our Group
If you haven't joined yet, make sure you head over and join our Dollar General Penny Shopping group on Facebook. We have over 500,000 members and its a great resource for all of your penny shopping questions. Make sure you search the group and read read read so that you have all the information you need for a successful Penny Shopping trip BEFORE you head to the store.
This is probably one of the best places to learn out to Penny Shop at Dollar General.
TIPS FOR LEARNING TO PENNY SHOP:
Just as Dollar General Penny Shopping is a scavenger hunt, in some ways learning to penny shop there is as well! Read up all different sources of information
READ ALL THE GROUP POSTS. Read all the most recent posts in the group. Read the comments too. Its a great way to learn exactly how all of this works. The more you read in the group, the better prepared you will be when you go in the store.
ANOTHER GREAT WAY TO LEARN?? YOUTUBE!
I have a YouTube account with tons of videos on Penny Shopping at Dollar General to help people learn to Dollar General Penny Shop. We have some haul videos (which also have information on how to Penny Shop) and we have a great Quick Start Guide that will show you how to get started quickly with the basics! Hit the Subscribe button below!
MAKE SURE YOU DOWNLOAD THE DOLLAR GENERAL APP!
This really is an invaluable tool. You can price check items with the app and if you find a penny, the app will show it as $0.01. When I first started penny shopping there was no app, it was all about memorizing the list and what the items looked like!
USE THE PENNY LIST VISUALS!
Every time there is a new penny list at Dollar General I try to put together visuals. I am a visual learner, and I found they helped me with penny shopping when I was creating them for  myself – and decided to start sharing them with other penny shoppers as well. They were a hit so this is something that I put together each week. You can always see the visuals posted on The Freebie Guy Instagram Account
Why are some items at Dollar General a Penny?
One of the things you should know before staring up is the WHY. Dollar General Penny Items are 1 penny after they clearance or after Dollar General no longer carries that item. They are all items that are supposed to be removed from the shelves. Many people who partake in the hobby of "penny shopping" keep a close eye on the clearance items.
When the Dollar General employees do not remove the items from the shelves and you find them, they will ring up just 1 penny!
TIP: Most items that are removed from shelves after they clearance out are just thrown in the dumpster. If you are a dumpster diver, the Dollar General dumpsters can be a great place to find some good stuff. Just be sure to follow local laws and keep yourself safe it you do choose to do this.
How do I find Dollar General Penny Items?
Finding Penny Items at Dollar General WILL take time. This isn't some easy way to just get a bunch of stuff for next to nothing. Think of it more like a treasure hunt or scavenger hunt. With that said, here are some tips on how find them.
TIP: Make sure you research before you go and have an idea of what you are looking for. 
Look at what other people are getting. This is one of the best way to find items. Keep in mind that Dollar General Penny Items that you find must match EXACTLY the SKU and everything that others have verified as found. To see what others are getting, make sure you join our Dollar General Penny Shopping Facebook Group.
Follow on our Dollar General Penny Items list. We try to keep this updated and make sure the information stays up to date. We add as new items come available, so this page is good. Works best in conjunction with a group (like the one above).
Subscribe to our Dollar General Penny Shopping Newsletter. We will deliver the new penny lists as they come out, right to your inbox. This is a free service btw (as if that wasn't clear from our name!).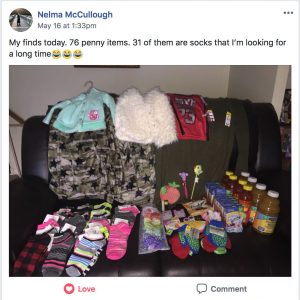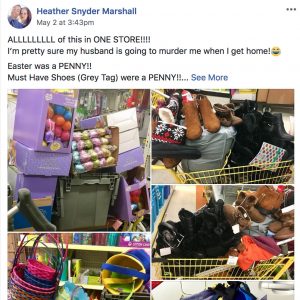 Here are some Dollar General Penny Shopping tips from the pros:
Be prepared! Study Group & screenshot if needed before heading out! – Keisha W
Don't be afraid to dig! Get in there good – look behind things and in random places. Just PLEASE don't trash the place! – Danielle
Do your homework. Penny shopping takes alot of effort to accomplish. From studying post's and reading comments. Using screenshots to memorize merchandise. Google photos of the new pennies and take alot of notes. This step is crucial to penny shopping. – you have to travel to numerous stores, spending hours searching high and low, in and behind stuff. This treasure hunt takes time. But never give up. – Kiki M
Be nice to the employees! – Dee B
Don't make a mess!!…. I overheard a manager say he was gonna make it his duty to remove all penny items coming from the manager that also told me he leaves them out instead of throwing them away. Reason customers came in and destroyed an aisle and it took them 3hrs to fix… – Cindy V