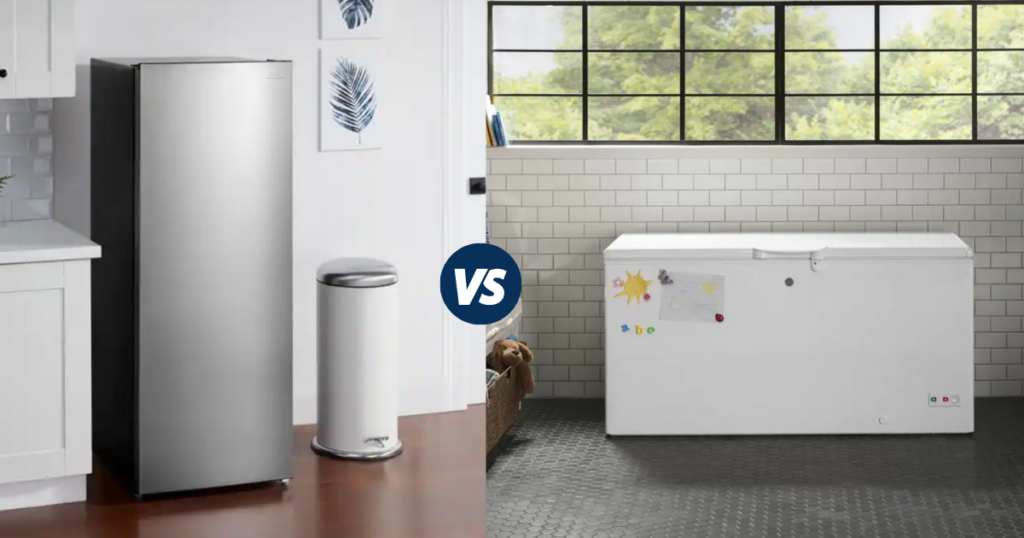 We decided to dive into a question a lot of people have…what is better? A deep freezer or upright freezer?

With everyone trying to save money on groceries these days, one thing that does come in handy when you find a great price on meat or other freezer foods, is to have space to store them. Standard refrigerators just really don't have a lot of freezer space and often a separate one is very nice to have. Storing and piling up food stock for months in that space is much more convenient since you can store the freezer in your garage, basement, or whatever space you like. Having an additional freezer is a blessing because of the ample storage that your normal refrigerator is not able to provide.
We are going to break down the pros and cons of each style of freezer for you. Hopefully this will help you with your decision making!
Deep Freezer vs Upright Freezer
Considering all the characteristics of both freezers, here is a brief comparison between them.
| | | |
| --- | --- | --- |
| Attributes | Upright Freezers | Deep Freezers |
| | | |
| Price Range (14 cu. ft.) | $250–$5,400 | $199–$2,000 |
| Appearance | Overall vertical, front-opening door with shelves | Lower to the ground with lift-up door like a chest, baskets |
| Capacity | 3.0–22.0 cu. ft. | 5.0–22.0 cu. ft. |
| Width | 19.5–33" | 32–36" |
| Height | 33–72" | 28–74" |
| Depth | 20–29" | 21–33" |
| Leading Manufacturers | Frigidaire, GE, Maytag, Kenmore | Amana, GE, Danby, Whirlpool |
| Installation Costs | $100–$300 | $100–$250 |
| Maintenance | Requires less maintenance | Work and time-intensive if manual defrost |
| Noise | Noisier | Less noisy |
| Lifespan | Around 14 years | Around 14 years |
| Energy | Uses more energy | Uses less energy |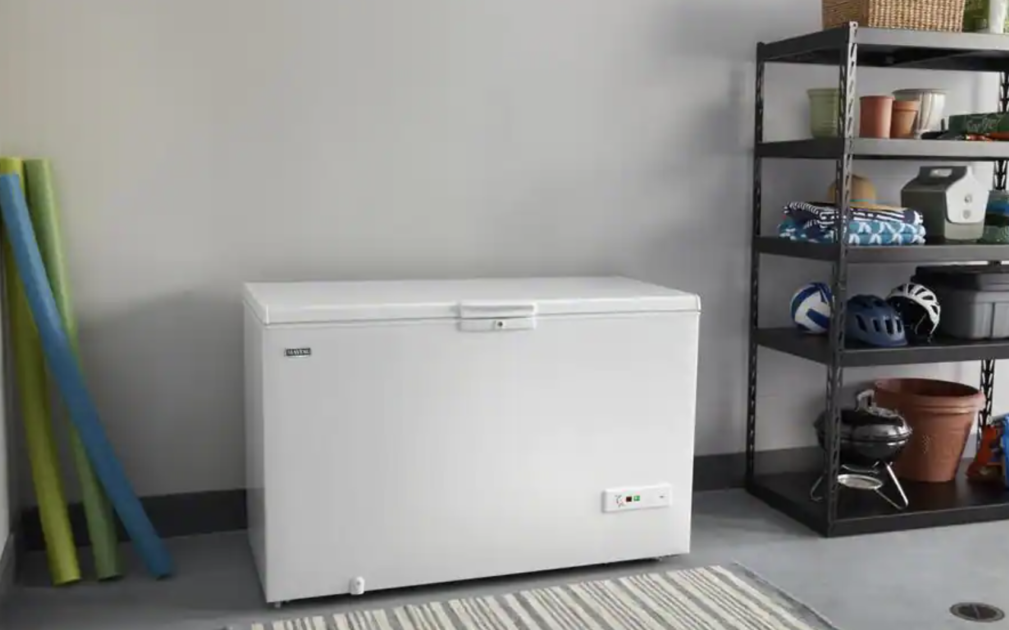 Features
Deep Freezer (Chest Freezer)
The deep freezer has its name chest freezer because of the way it opens up like a treasure. It is placed on the ground and is more horizontally arranged compared to the upright freezer. Since it is lower to the ground, it covers up more ground space.
The chest freezer comes with at least one wire basket to help you sort your items in the freezer. For better classification of food items, you can use cardboard boxes to separate them. It stores a lot more food compared to the upright freezer, say, about 20% more. Food items of any shape can fit in the freezer, especially large items.
You'll need to bend deep in the freezer to pick out the item you want, which requires a lot of bending and searching for the items. Some models of chest freezers have a bottom drawer that you can use from the outside, but other than providing convenience, it uses space and adds to cost.
Pros
Has more storage capacity
Is more energy-efficient
Longer lifespan compared to the upright freezer
Keeps food fresh for a longer time during a power outage because the temperature stays consistent (2 -3 days)
Comes with removable baskets
Quieter
More affordable than an upright freezer
Prevents freezer burn better than an upright freezer
Less expensive to run
Cons
Takes up more floor space, and needs enough headroom
Difficulty in reaching the food and food often gets buried and it's difficult to see what you have.
Requires a lot of bending
Cleaning is not an easy process
Less organized compared to the upright freezer
Manual defrosting is time-consuming
Upright Freezers
Upright freezers looks more like a mini-fridge that is in a vertically arranged manner. The front door opens up and you'll see interior shelves which provide far more convenience in organizing food items. The shelves add stability and ease by rotating the food items to keep them frozen.
It's easier to access food items you're looking for in an upright freezer. Some models have versatile storage systems consisting of shelves, baskets, bins, sliders, removable doors, and more. If you want an upright freezer, make sure your room or the place you want to keep it has enough space for the door to swing open.
Upright freezers can be easy to clean but there's sometimes a limit to what shapes you can store. It's hard to store large items in the freezer, and it might be costly compared to a deep freezer. If you wish to store a large turkey, then it could be a tricky.
Pros
Easier to organize and store food
Has more organization accessories
Easier to clean
Doesn't require much floor space
Has auto-defrost feature
Usually, comes in a variety of finishes
Cons
Difficulty in storing larger or weird shaped food items
Not enough energy-efficiency
Pricier compared to chest freezer
Shorter lifespan
Shelves take space so less storage capacity compared to deep freezers
Not very kid-friendly (keep open by accident)
Food may spoil quickly during a power outage
Noisier
Higher chances of freezer burn
Characteristics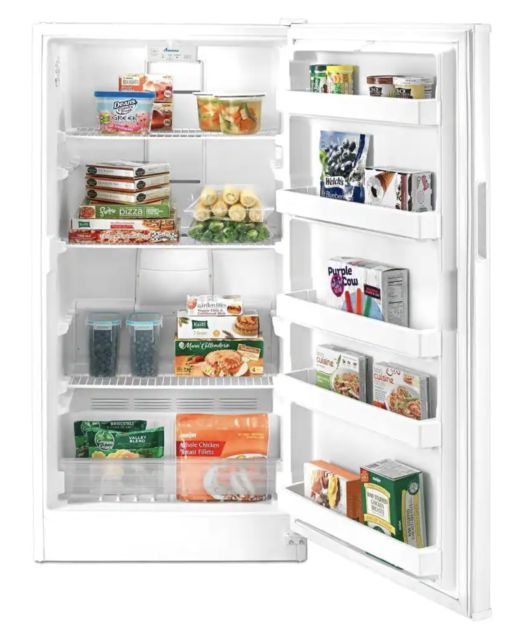 Let's look at a little more in-depth comparison between the different attributes of both freezers. This will help you identify which freezer works best for you.
Appearance
There's a lot of difference in both freezers when it comes to the looks. You can easily tell both freezer types apart; the upright freezer stands tall like a refrigerator and consists of a swinging-open door, while the chest freezer looks like a treasure box on the ground with lift-up doors.
You can find upright freezers in a variety of different models, shapes, and colors. The deep freezers, on the other hand, are mostly available in a standard shape and white color. But you can find it in a black finish, or bright red colors as well. different styles look well with different surroundings like vintage, classic, etc. So based on appearance, we think upright freezers probably look a little better.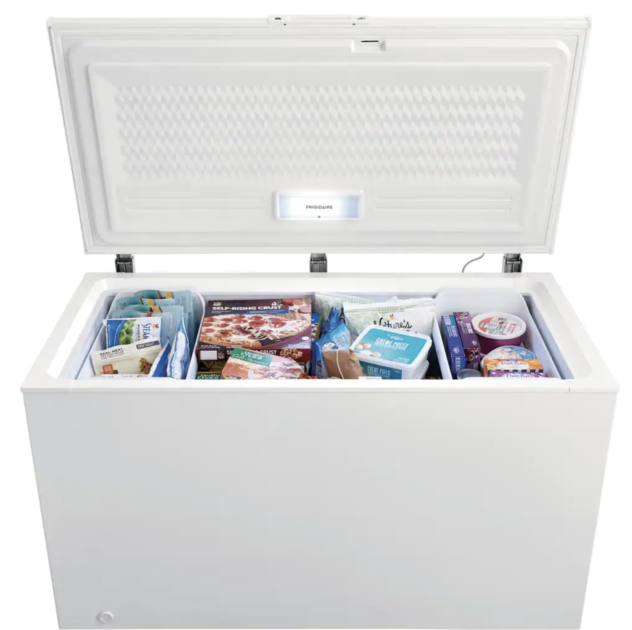 Sizes & Storage
Generally, both have an average of 5 to 25 cubic foot sizes with a difference in heights and widths of both types. Since the size varies, it means there's an impact on the storage of both freezer types as well.
Upright freezers are known to store food items in an organized manner, which means there's a limit to what type and shape of food you can store in this freezer. The deep freezer comes in handy when you need to store large items, so it works best for storing almost any type of food. Therefore, we think that deep freezers are best when it comes to storage.
Upright freezer seamlessly fits well in a kitchen or other living spaces because of the variety in their appearances. The deep freezer works best for storage in basements, garages, or other spaces that are not much lively.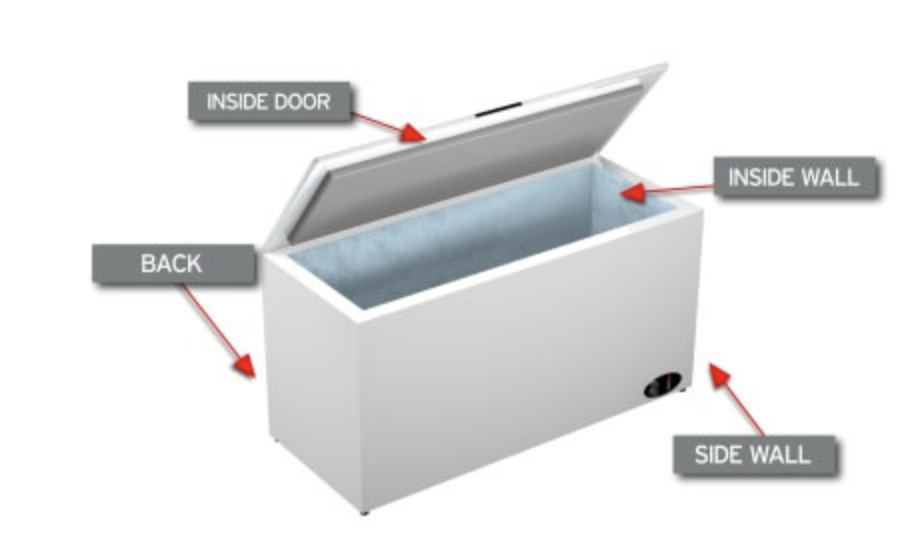 Maintenance
Most chest freezers come with a manual defrost option, which means it doesn't have an automatic defrost feature. Some new models, however, might have the automatic defrost feature embedded in them. Having a manual defrost system means it will eventually require maintenance from time to time.
The upright freezers are famous for self-defrosting and they have their hoses, heating elements, etc. You don't need to worry about manually defrosting the freezer. We think that an upright freezer seems to have a little less maintenance.
Noise
Because of the manual defrost system in deep freezers, they are generally less noisy compared to upright freezers. Although you might hear some noises because of the high-speed and powerful compressors, it will still be less. This noise is only because of expansion and contraction in the system of deep freezers.
The automatic defrosting system in an upright freezer is constantly working, which increases the noise. The cycling process creates different types of noises like whooshing and whining, while the compressor makes noise as well, which eventually adds up. This might keep you from placing the upright freezer in a public or lively space in your house.

Energy-Efficiency
It's important to have an energy-efficient freezer in your home to save the planet and some money. When it comes to energy efficiency, chest freezers are the best. They sustain cold temperatures quite well for a longer time; thus, they require less amount of energy to run. Even during a power outage, the deep freezer can keep the food frozen for a long time.
Since the upright freezers have a self-defrost system, they can be a bit pricey and consume more energy. Although the freezer stays free of ice build-up because of this feature, it consumes much electricity to run as well.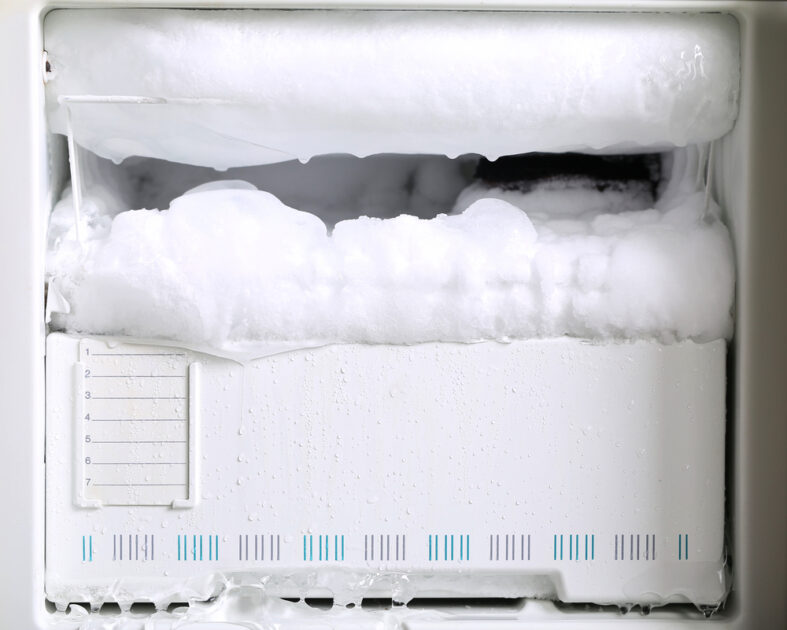 Freezer Burn
Chest freezers usually have less air circulating and no food stored on the doors, so they can keep the food frozen for a long time. This limits the freezer burns to a greater extent compared to the upright freezers.
Upright freezers have food stored indoor storage as well which usually has a higher temperate compared to the interior. Food storage is prone to developing freezer burn because there is a lot of air circulation so the temperature does not remain consistent.
Installation
First, you need to check the amount of space you have for the type of freezer you're willing to buy. The chest freezer requires much ground space and headroom. Meanwhile, an upright freezer requires more height in the room and some width for the door to open. Installers must first check the space if it is sufficient for installation or not.
The plugs in the nearby area, space behind the freezers, and airflow, all these factors need to be considered for installation.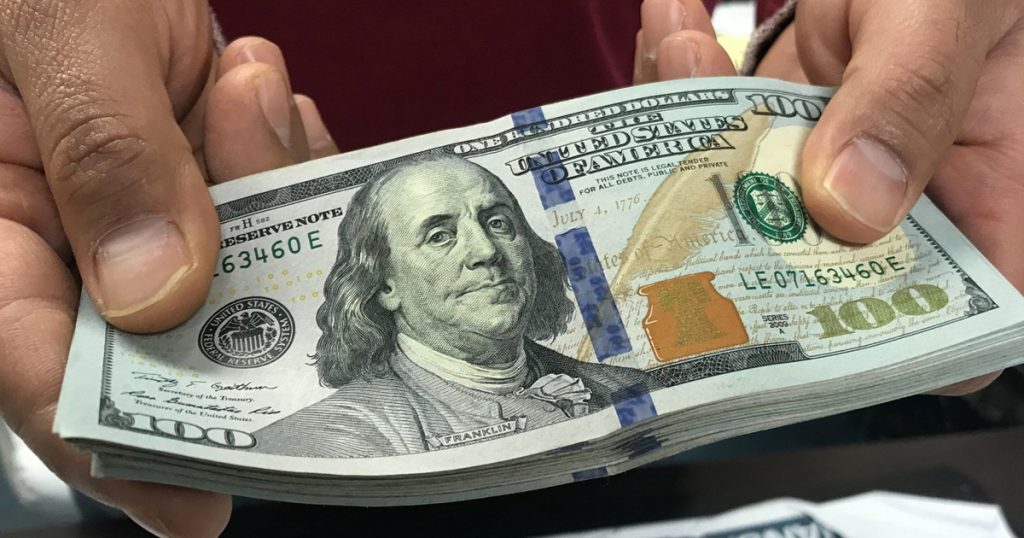 Cost
If you like to have things neat and tidy and organized, you may want to go with an upright freezer. That is if you can go an extra mile to afford the freezer since it is a bit pricey compared to the chest freezer. The reason is simply that upright freezers are easily organized and require time only while organizing – the rest is easy to find and pick.
For someone who needs a lot of storage space and can do extra hard work to organize things in the freezer, a chest freezer is a great option for you! Due to ample storage and the diversity of items you can store in, it's much more affordable to run and buy this type of freezer. Although there will be a little bit of maintenance required once in a while, it is overall more economical compared to the upright freezer.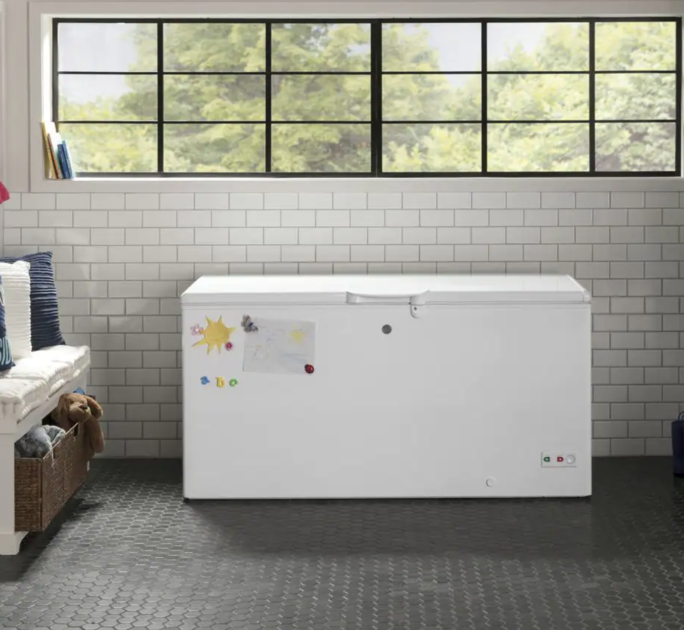 Durability
While you investing in a good freezer, it is important to purchase something that works efficiently and lasts long. Chest freezers are worth owning since they have a longer life span compared to upright freezers. This is because chest freezers have fewer components to function, so they run for a longer time.
The automatic heating elements in the upright freezer can consume much work produced by the freezer so it lowers the durability by causing wear and tear in the elements.
Top Picks
Now that you have finally seen a thorough comparison between deep freezers and upright freezers, we have a list of a few of the best brands you can purchase the freezers from.
Danby: it is famous for selling chest or deep freezers which are energy-efficient and require less floor space. You can find amazing deep freezers here which have insulated interiors.
GE: this brand sells both types of freezers, and they have a special 21.3 cubic foot frost-free upright freezer which has a total height of 6 feet.
Whirlpool: this place is known for selling both types of freezers. The most popular product here is the double door side-by-side Whirlpool SideKicks upright freezer. You don't want to miss this one out!
Frigidaire: the 15.5 cubic foot upright freezer is famous for its smart sensing technology to maintain air circulation for a consistent temperature. They also have an 8.7 cubic foot chest freezer which is the best storage solution for all types of food items.
Crosley: here, the 14.1 Cu. Ft. White Upright Freezer is a favorite for its exterior electronic temperature control, LED interior lighting, turbo freeze settings, and keeping the food fresh and frozen for a long time.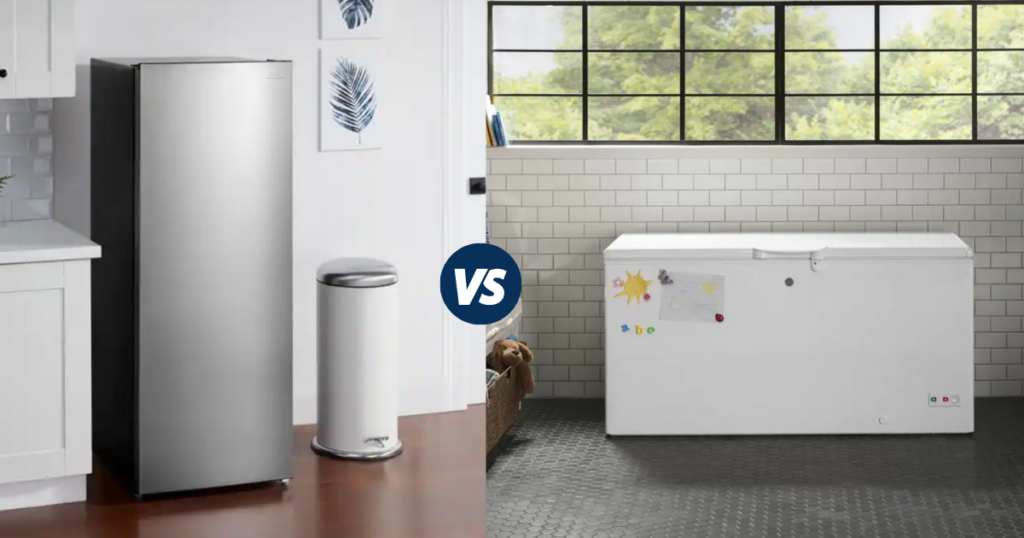 Final Thoughts
Hopefully this laid out a few of the main pros and cons of each type of freezer and will help you make an informed decision. You need to consider some factors: storage space you require, space available in your home, affordability, maintenance load, costs of the freezer, running costs, electricity bills, type of food you want to store, cleaning process, and ease of organizing and searching for items.
We really think you can't go wrong with either choice and it's going to come down to a few deal breakers that you are looking specifically for.