We found the best and most popular Fidget Toys for 2022.
If you're looking for a way to increase your focus at work, school, or home, fidget pop its, fidget rings, fidget spinners and fidget cubes are all the rage. It's often so hard to keep your focus at work during a long meeting or during lectures in class. These situations can often make it very difficult for someone and creates an overwhelming urge to fidget. Some sit there and tap a pencil or pen or tap their feet, which can often be very distracting to the class or meeting. Recently kids and adults have turned to little handheld toys that are created just for this. If this is you, you may want to look into one of these for you or a child and see if it helps. I'm not sure if teachers of school aged kids love these in their classroom or not. If you are a teacher, let us know!

Pop It Fidget Toys – Amazon – $4.99 / 4 pack
Pop It Fidget Toys are all the rage right now and probably the most popular. If you have never seen these, they are just little pieces of what looks similar to bubble wrap. You push down the little bubbles then flip it over to do it all over again. They don't make much noise, but could make a little bit of noise in a very quiet environment. They make them in all shapes and designs and colors now. You can even get really small ones for keychains.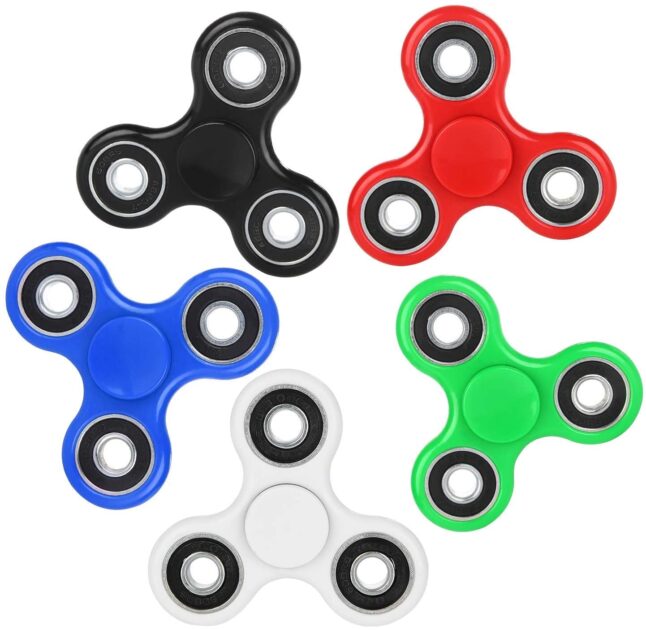 Fidget Spinners – Amazon – $8.49 / 4 pack
Fidget Spinners can be done with one hand and you put your finger and thumb in the center and spin with the rest of your fingers. These typically are very quiet and are some of the first types of Fidget Toys created specifically for this in mind. You can also put them on a desk or table and spin them by pressing down on the center. They also make fun party favors for kids.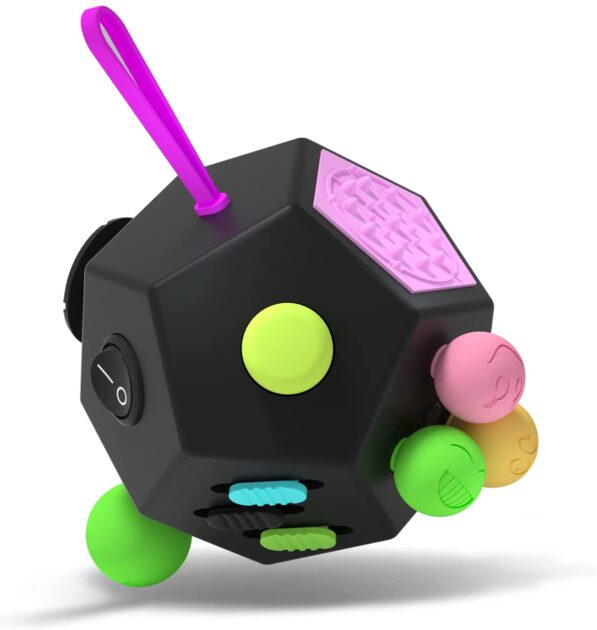 12 Sided Fidget Cube – Amazon – $8.99
A fidget cube is one of the newer fidget toys and is kind of like an all-in-one option. This particular one has 12 sides to it and depending on what you like, you just rotate it from side to side and fidget with the various types. It's perfect for clickers, flickers, rollers and spinners.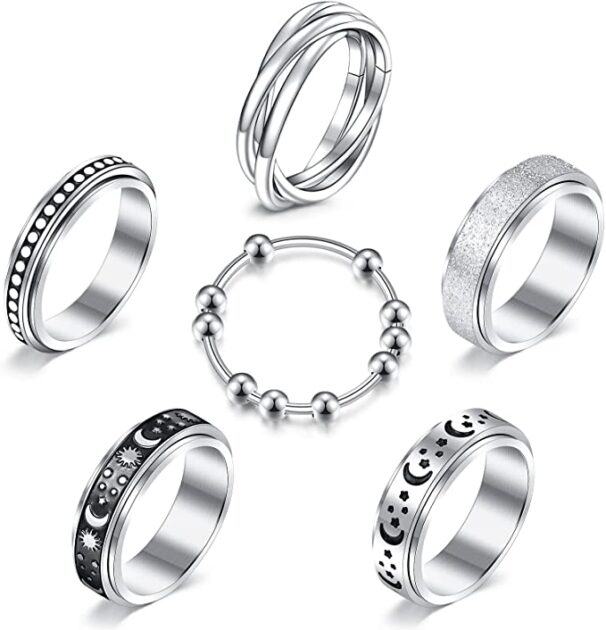 6 Pack Silver Fidget Rings– Amazon – $14
Anxiety rings are kind of a new one too. This pack comes with all kinds; a spinner ring, acupuncture ball ring, texture ring. You can relieve anxiety by pressing on the ring, rubbing it, spinning it. It's something that is easier to hide when you are in a more professional setting.