I LOVED the Basket Market Hobby Lobby Outlet – you will too!
Basket Market is basically a huge Hobby Lobby outlet store. It's a member of the Hobby Lobby Family of Stores and is the official store to find samples, closeouts, unique one-of-a-kind items .
The Basket Market Hobby Lobby outlet was everything I dreamed and more! I'd give it a solid 12 out of 10 stars! Everything was priced around 60%-90% off Serving bargain shoppers in Oklahoma City, the aisles are filled with baskets, silk and dried flowers, ribbons, wedding supplies, and so much more!
Due to this being a sample store with 1 of a kind items, I found Basket Market to have a BETTER selection of items than a regular Hobby Lobby, and stuff was a fraction of the price. If you live in Oklahoma City or ever find yourself visiting, definitely make a stop at the Basket Market Hobby Lobby outlet – its one of those stores to add to the shopping bucket list.
Where is Basket Market?
1501 S Meridian Ave, Oklahoma City, OK 73108 There is only one location in the United States and it's in Oklahoma City, OK.
What are the hours at Basket Market?
Monday – Saturday, 9 a.m. – 6 p.m. Closed Sunday
What kind of things are sold at Basket Market?
Basket Market is a Hobby Lobby bargain shoppers playground. Every aisle you go down has more fun things than you saw on the previous aisle! They have paper crafts, needle art, wall decor, toys and hobbies, party supplies, picture frames, craft supplies, art supplies, home decor, seasonal decor, floral, jewelry making and tons more.
It's kind of like a Michael's meets Hobby Lobby but huge. For example if you are looking for a black vase (I actually bought a black vase there), you will have an entire isle of black vases. See my picture below.
Do hey have clearance items at Basket Market?
Yes! Can you believe it? It's basically like getting clearance on clearance! Sometimes you have to really dig, but there will always be stuff marked down on clearance.

Check out these black and grey pots, pitchers and vases! This was my favorite section! You an find every kind of vase in every color and shape and size and texture. You just have to dig a little bit, and I highly recommend if you find something you like, grab it. It's not the kind of place that has multiple of every item. Some things there may only be one of and they won't be getting any more in. So don't wait if you find what you like.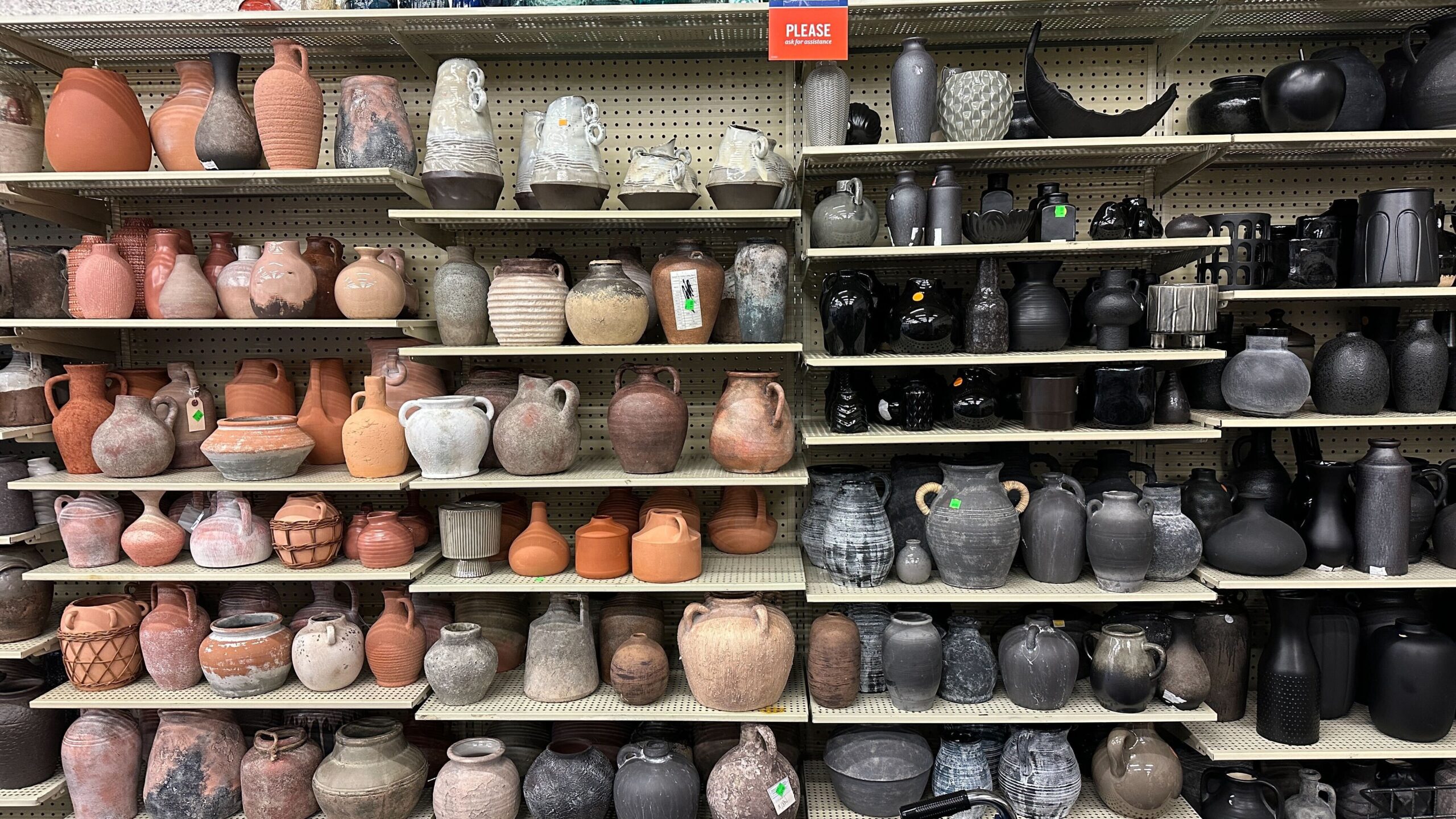 Here you can see that they are all arranged by color and this is just the vase section! This would be a really great place to find home decor at a great price if you were just starting out in a new home, or want to add to the decor you have now. There is definitely something for everyone here!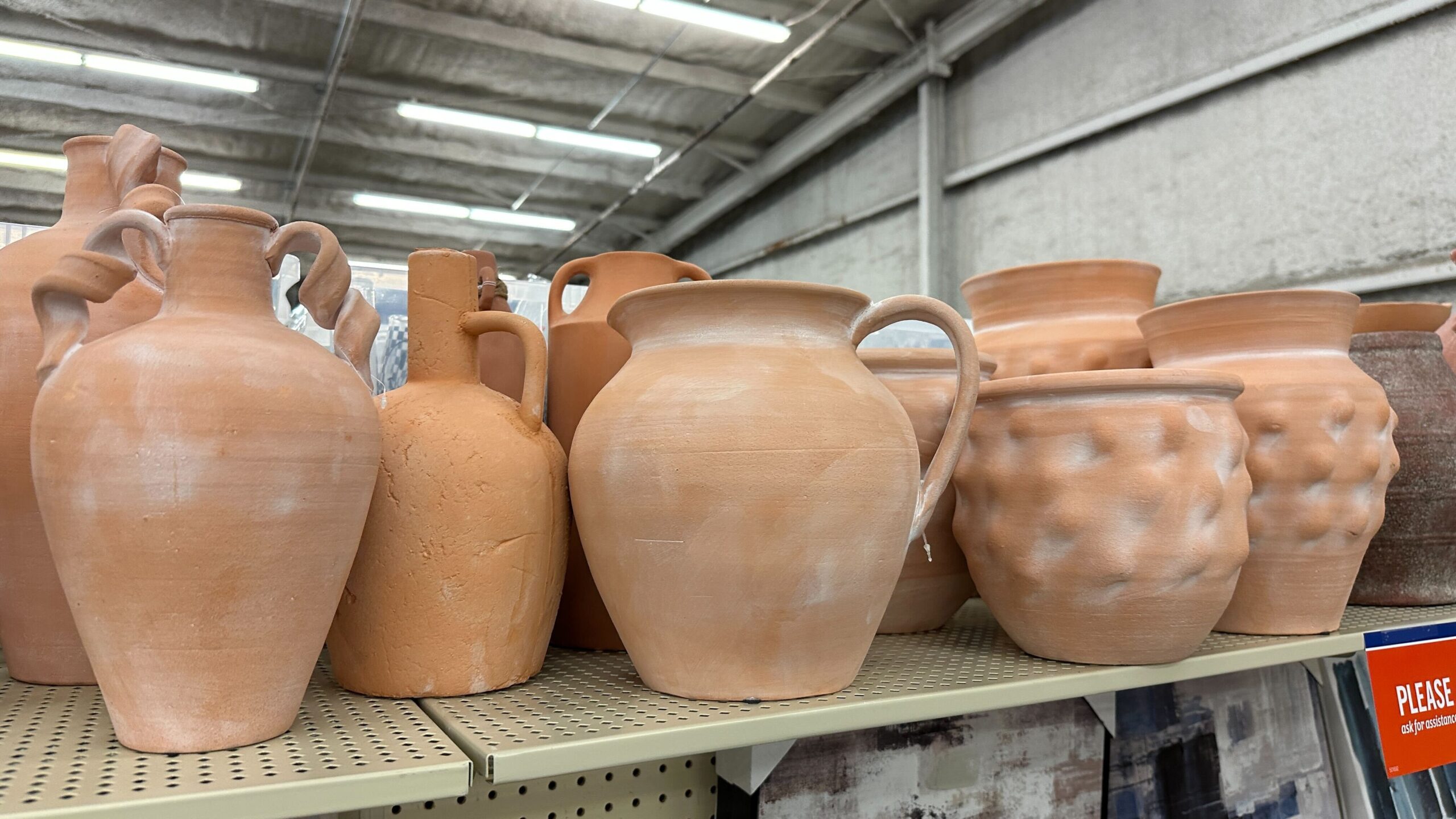 Lots of breakable items all throughout the store, so there are signs all over asking you to please ask for assistance if you need something from up high. The shelves are all packed full and I rarely saw a bare spot in the store. They must get pretty regular inventory to keep these shelves so stocked.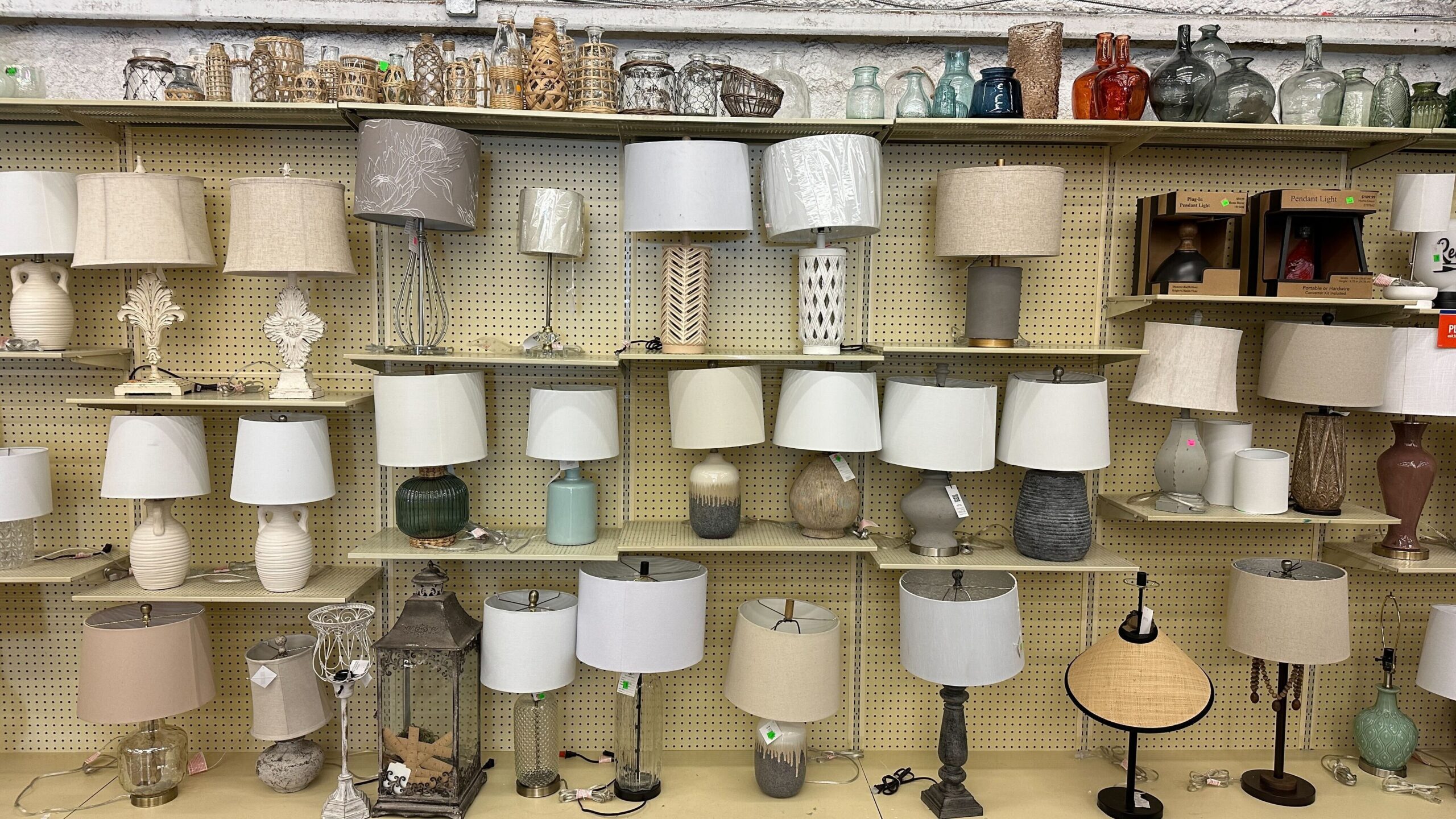 If you need a lamp of any kind, I'm pretty sure you can find it here. There are lots of very unique items and things you don't see at regular stores. Often when you go to your local Hobby Lobby, there are certain designs of lamps at all Hobby Lobby's, but if you are looking for something a little different than what is sold everywhere, I think you can find it here.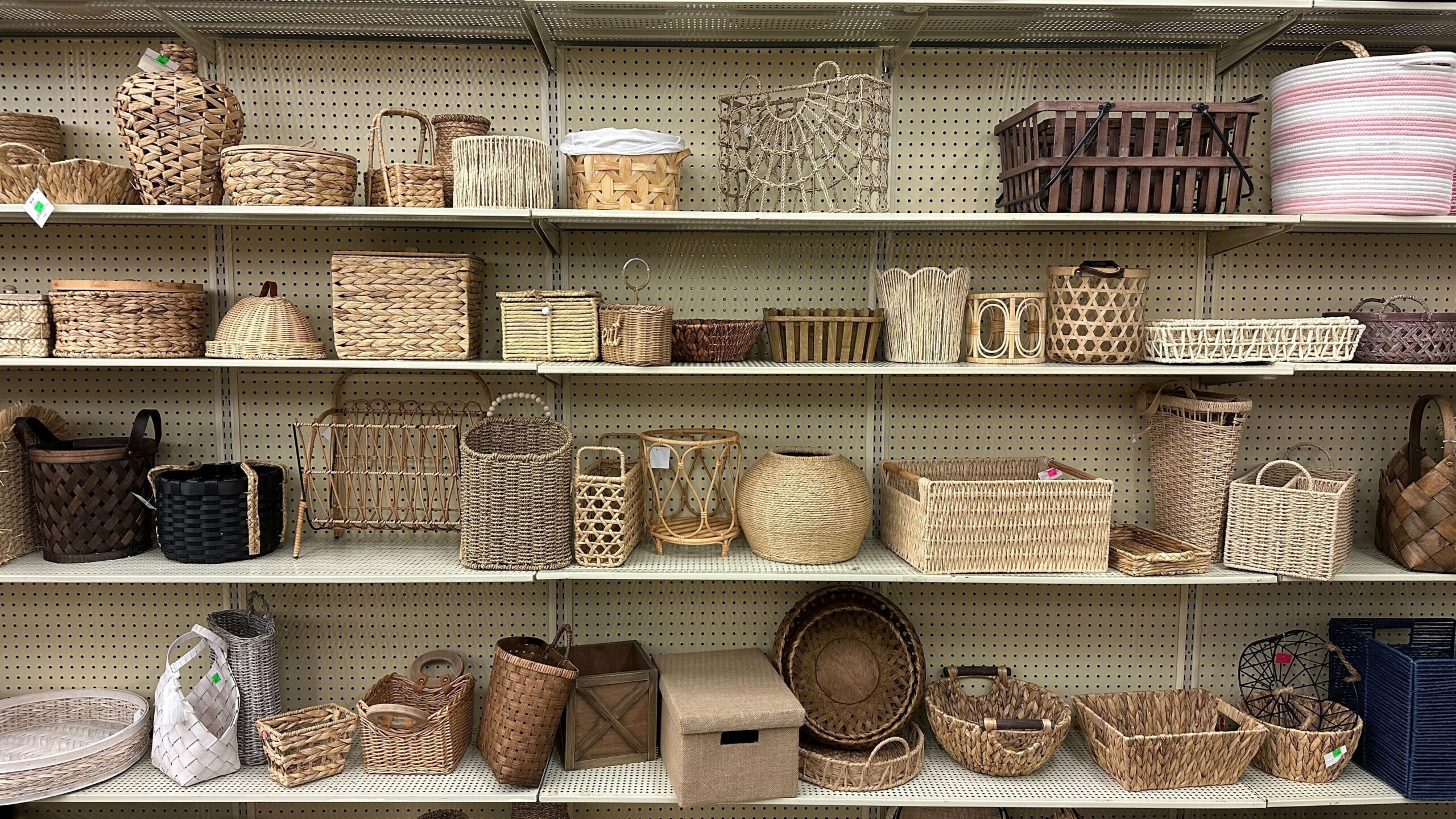 So many baskets. Like walls and walls of every type of basket you could imagine. Every color, size, design and isles were packed with them. Another great place to find some very unique, one-of-a-kind baskets you may not see everywhere in your hometown.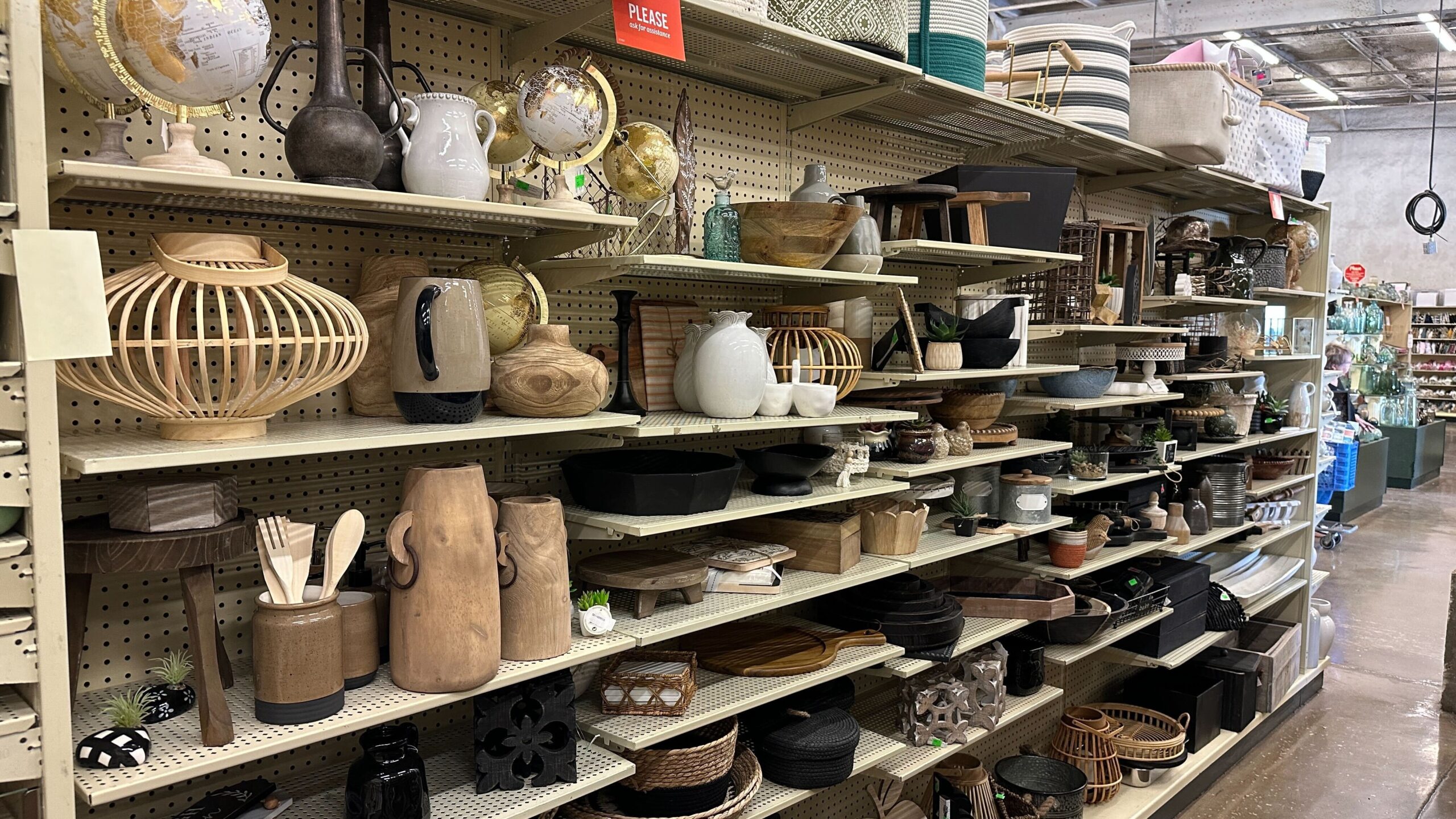 Seriously, everything you would want for your home decor! Lots of random wooden items that could be used anyone in your house. Candle holders, wooden bowls, statement pieces, even every kind of globe you can imagine!
Anyone need throw pillows? Take your pick! Rows and rows of pillows organized through multiple isles by color. Every kind of texture and color you can imagine. I don't think you will find a set of matching pillows there very often, but you sure will be able to find some very unique ones with lots of texture.
This part looked similar to how things are displayed at my local Hobby Lobby. You turn a corner and feel like you are in an actual Hobby Lobby, however it's GIANT! Los of things organized nicely though and not just thrown in bins like you sometimes will find in an outlet store.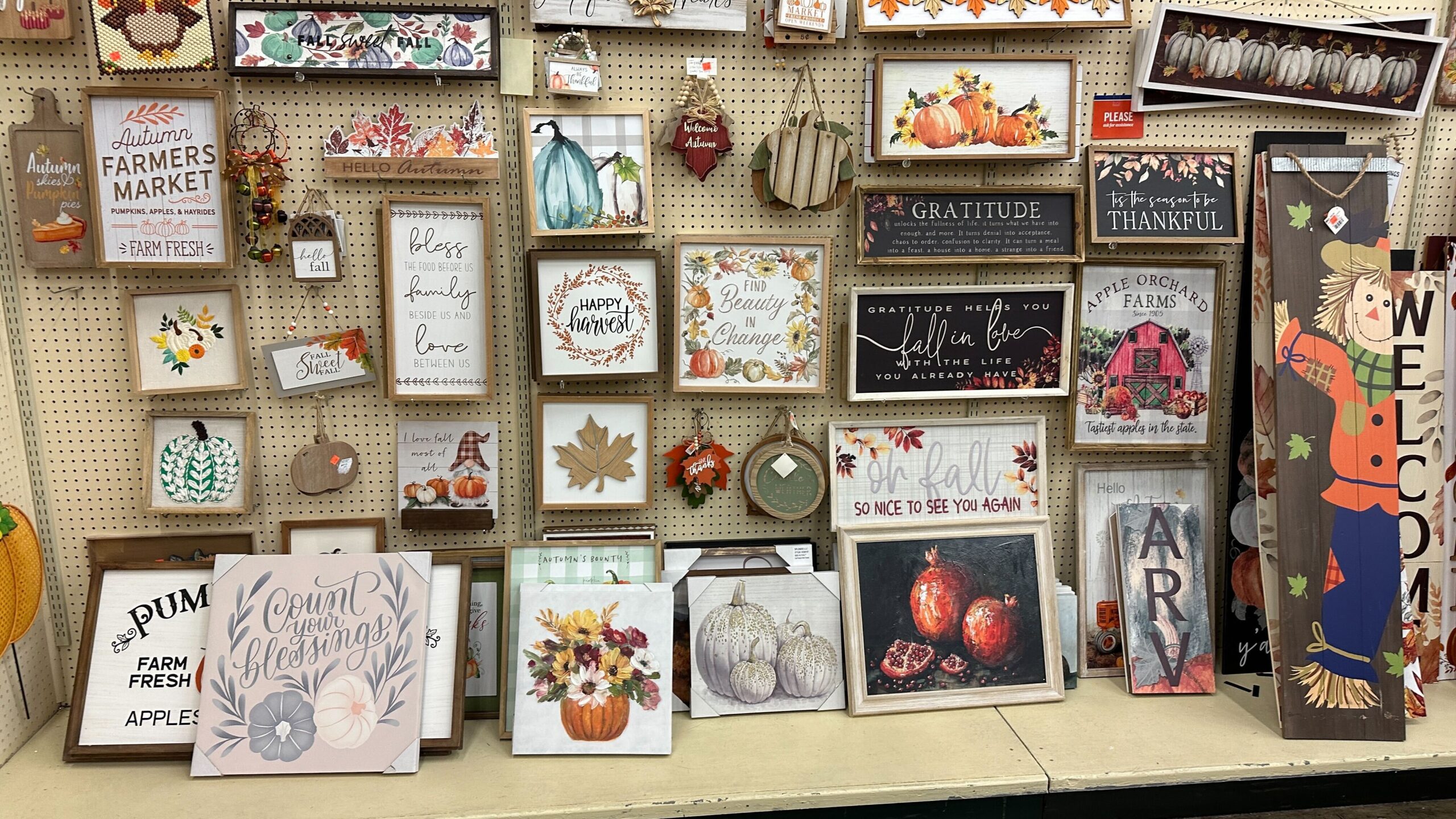 Lots of your typical seasonal decor and wall signs, just like at a regular Hobby Lobby. But the prices are just incredible and pretty much a steal!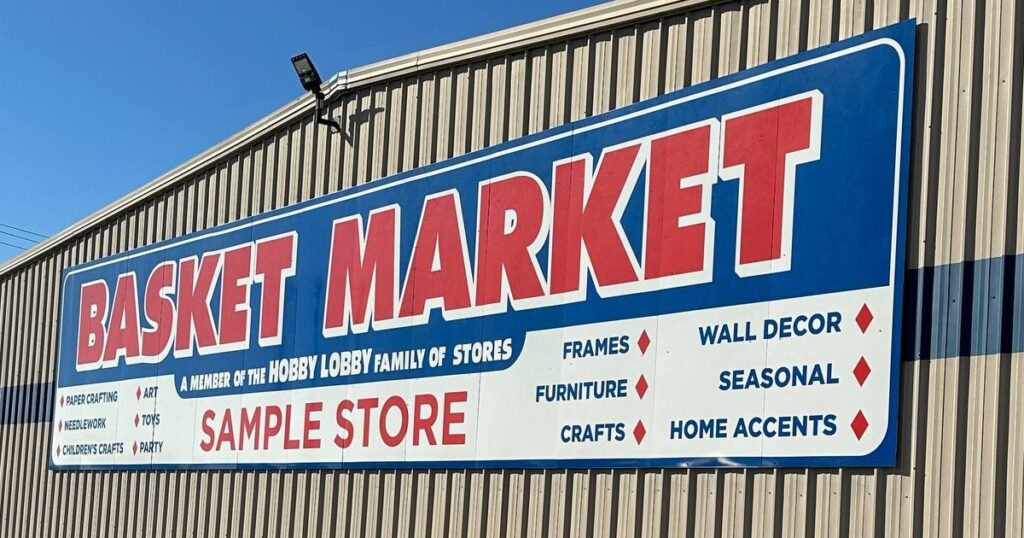 In fact, they have an entire section of the warehouse just for seasonal decor. I imagine this area was pretty full right after Christmas and they probably had some amazing prices. One thing to keep in mind is they do all of their own promotions here and do not follow the sales that are at other Hobby Lobby stores. So if you see a sale on certain items at your Hobby Lobby, don't expect it to be on sale here, because these prices are all already marked down and they maintain their own sales.
Here are some things other people are saying about the Basket Market Hobby Lobby outlet. Reviews are taken from Google reviews.
Kimberly – If you've never been here, this review is your sign to go! Unique items, decor for all seasons sold all year, and everytime I go I never leave empty-handed!

Chelsea – I would move here if they'd let me. If you like Michael's and Hobby Lobby, you 100% need to go here because these ARE those products. But at a fraction of the price. Employees are helpful, the place is nice and tidy and the bathrooms are immaculate.

Ameisha – I absolutely love this place!!! It's clean & not run down. I've purchased several things from this store over the years. Mostly scrapbook things. Even with being a discount store, they have a clearance section!!! So it's pretty much a clearance on sale items! I wish it had more scrapbooking things. Overall, this is a great store that provides a great selection. Check them out!

Trish – I cannot believe that I lived here for so long without knowing this place existed! This is actually a Hobby Lobby Outlet but much quieter and far more personal. A fellow artist told me about this place a few months ago so I decided to drop in and see what it was all about. I spent hours in there. Quality art supplies, crafting supplies and home decor are just the tip of the iceberg. I could spend a whole day in there and still not see everything I wanted to see. There are seasonal sections year- around.. Halloween, Easter Valentine's Day Etc. And if you are a Crafter or an artist then you really need to visit this store. I simply cannot rave enough about this place.
If you end up venturing out and road tripping to Oklahoma City and head to Basket Market, please tag me on social media with your finds! I'd love to see them!