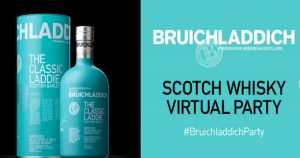 Here is a great new offer from Ripple Street! Right now, they are currently looking for 100 people to apply to host a Bruichladdich Scotch Whisky Virtual Party. After, you will asked to share you experience and feedback.Those selected will receive:
1 $60 AMEX Gift Card
5 100ml labeled glass flasks and lids
5 Gift bags (to place the flasks and postcards in for your guests)
6 Bruichladdich info postcards
NOTE: This event is only open to residents age 21 or older of CO, FL, IL, MA, MI, MN, NJ, NY & WA.