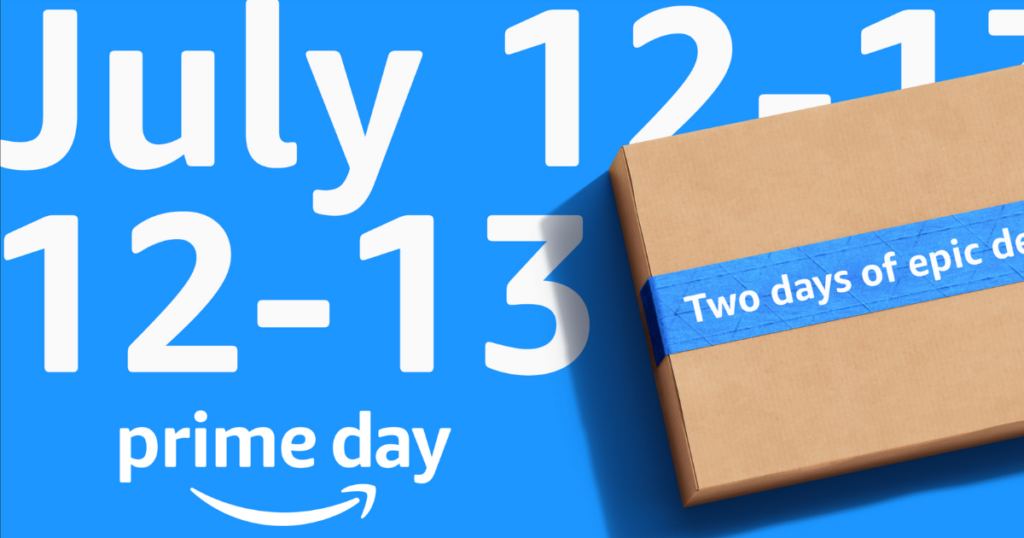 Amazon Prime Day is Confirmed July 12-13th this year!
When is Amazon Prime Day?
Amazon Prime Day is July 12-13th this year! Prime Day will start on Tuesday July 12th and going through Wednesday the 13th. It will most likely start at 12:00 midnight PST on Tuesday. Prime members typically are able to access the deals the day prior at 3pm. Time will tell if it's going to be the same this year, but most likely. The two-day savings event includes must-have brands such as Beats, Casper, ELEMIS, Levi's, iRobot, and SharkNinja; fashion styles from Amazon Essentials and Simple Joys by Carter's; and Amazon's lowest prices ever on select products from Sony, Bose, and GEYou can view all of our Amazon deals here.
What are the best deals on Prime Day?
Typically Amazon has some of their best pricing on all of their Amazon made products like Fire Tablets, Echo devices, Amazon Smart Plugs, Fire Sticks, Echo Dots, Nest Cameras etc. You also typically can find some great prices on TV's on Prime Day!
Do other stores have good prices on Prime Day?
Yes! Typically other similar retailers like to copy the Prime Day promotion and offer up their own hot pricing events and big sales during this time. You can sometimes find the same if not better prices on competitors as they are trying to get your traffic from Amazon. Similar sales usually occur at stores like Target, Walmart and Kohl's during this time. So watch other sites, not just Amazon.
Any other tips for shopping Prime Day?
Yes. Keep your eye out for lightening deals and before they begin, add them to your cart. This will save you a step at checkout as the hot ones go fast.
Another tip is to watch for digital coupons and clip those before you checkout. Many times the price is the same as it normally is, but the savings comes in the digital coupon. However if you forget to check the box, you won't get the deal.
Are the prices always the lowest during Prime Day?

Not always. A good tip is to look up the price on camelcamelcamel and see the price history of the item. You should be able to tell if this price is as low as it usually gets or not. It's not always 100% accurate but usually can give you a good idea.
What is Amazon Live?

Starting June 21st, customers will have an opportunity to shop early Prime Day deals alongside their favorite celebrities and influencers, including Porsha Williams, Joe and Frank Mele, and Lala Kent. On June 28 at 1 p.m. EDT, Hilary Duff will join some of her favorite small business owners who will showcase their products and share inspiring stories behind their brands. To watch, visit amazon.com/liveprimeday or download the Amazon Live Shopping app on Fire TV.
Are there any Amazon Fresh deals?

Save with new Amazon Fresh Stores Prime Benefit: Starting June 29, Prime members will save 20% on select everyday essentials at Amazon Fresh stores across the U.S. Members can enjoy this new benefit year-round by scanning their Amazon app at the register or paying with a credit card registered to their Prime account.

Do you have more info on the new Stampcard from Amazon?
Yep! Earn a $10 Credit Through Prime Stampcard: From June 16 through Prime Day, members are invited to explore the perks of membership to receive a $10 credit toward their Prime Day order or future Amazon purchase. To participate, members collect a stamp for completing each of four Prime activities: stream Prime Video, listen to Prime Music, borrow a Prime Reading or Kindle Unlimited
 book or add one to their library, and make a Prime-shipping eligible purchase. Members can go here to learn more.
Any deals for shopping small businesses?
Yes!
Win Big by Supporting Small: From June 21 through July 11, for every $1 spent on eligible small business products, customers will receive a chance to win epic prizes. In the U.S., this includes a pre-game experience and tickets to Super Bowl LVII, VIP passes to music experiences in Los Angeles and Las Vegas, tickets to a special New York City screening and cast meet-and-greet for Prime Video's upcoming The Lord of the Rings: The Rings of Power series, and a VIP trip to Amazon's first-ever clothing store, Amazon Style, near Los Angeles. Plus, hundreds of thousands of sweepstakes entrants globally will have a chance to win Amazon gift cards. No purchase necessary. Void where prohibited. Must be 18 or older to enter. To learn more about the sweepstakes and to see official rules, go here.
Do you know any of the good deals that will be live yet?
Yep!
Save on Fire TV smart TVs: Starting at just $89.99, save early with Fire TV smart TVs from brands including Toshiba, Insignia, Pioneer, and Amazon.

Insignia 24-inch HD Smart Fire TV: $89.99 (47% off)
Insignia 32-inch HD Smart Fire TV: $99.99 (44% off)
Amazon Fire TV 55-inch Omni Series 4K UHD smart TV, hands-free with Alexa: $299.99 (46% off)
Amazon Fire TV 43-inch 4-Series 4K UHD smart TV: $199.99 (46% off)
Amazon Fire TV 50-inch 4-Series 4K UHD smart TV: $259.9 (45% off)
Amazon Fire TV 55-inch 4-Series 4K UHD smart TV: $284.99 (45% off)
Toshiba 75-inch M550-Series 4K UHD Smart Fire TV: $699.99 (50% off)
Pioneer 43-inch 4K UHD Smart TV: $199.99 (37% off)