You guys already know that I am always looking for the best ways to save. Cash back apps are just another way that I strive to save as much as possible!
It's no secret that I love a good road trip (if you watch my Instagram stories, you know) so while looking for a way to save money at the pump, I started using an app called GetUpside, it's a great way to get cash back on gas! Upon signing up for this app you will receive up to 25¢ off per gallon, every time you get gas. This app is 100% free (with NO hidden fees), with thousands of gas stations available around the country to pick from.
Using code AB25 when you sign up will give you a sign up bonus of 20c per gallon – this means you can get up to 45c off per gallon on your first purchase! AWESOME!
Read on to see how you can save serious cash when you're in your car.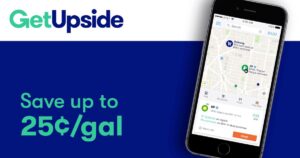 The Upside on GetUpside
The creators of GetUpside have stated that they work with multiple local businesses — which include gas stations, as well as grocery stores and restaurants — to win you over with great discounts tailored to your personal shopping preferences. Put simply: it means with the addition of GetUpside you can earn cash back on items you already love, want, or need.
Available for both Apple and Android users, the app's algorithm is tailored to your own shopping necessities, so you're not putting yourself out on discounts just for the sake of them. (The easiest way to save money is to not spend it, after all!) All you need to do is shop just like normal and watch the rewards roll in.
Another thing: There is no limit to how much cash back you can earn, plus you are to double up and use other coupons, discounts, and loyalty program rewards. Savings, here we come!
Things I love about Get Upside:
Easy to Navigate – you will see offers available near you – with gas prices shown
100% FREE to use – y'all know we love a good freebie!
Hassle free sign up – just enter your personal info and get started.
Save up to 25¢ per gallon every time you pump gas — watch those savings add up over time!
Easy receipt upload or just "Check In" on app for your cash back.
How to get started:
You can use my link to download the app here
Use code TFG20 – this will give you a 20c per gallon bonus on your first purchase!
Enter your personal information so you can get your cash back sent to you
Search for offers near you by allowing Location Services to find closest gas stations near you.
Claim your offer through the app
Pay like normal with your debit or credit card — you also have the option to check in through the app or upload a picture of the receipt from your gas purchase.
Cash out whenever you'd like with multiple cash out options available:
     – E-gift cards
     – PayPal
     – Paper check via snail mail
That's it! It really is that simple!
It's Even Better When you Pair with FETCH:
Scan your receipts with the Fetch App! All Gas Receipts earn 25 points and points can be redeemed for a Visa Gift Card. Helping you save even MORE on gas!
Frequently Asked Questions:
Q.Is it legit & safe?

A.Yes this app is 100% legit.

Q.Why do I need to enter my credit/debit card info?

A.It's a safe and easy way to have your receipts automatically added to app for cash back without you needing to upload a picture of a receipt.

Q.Can I cash out whenever?

A.YES! They do have a $15 minimum that requires a $1 processing fee if you want to cash out before you reach $15
SOME LOCATIONS AVAILABLE: