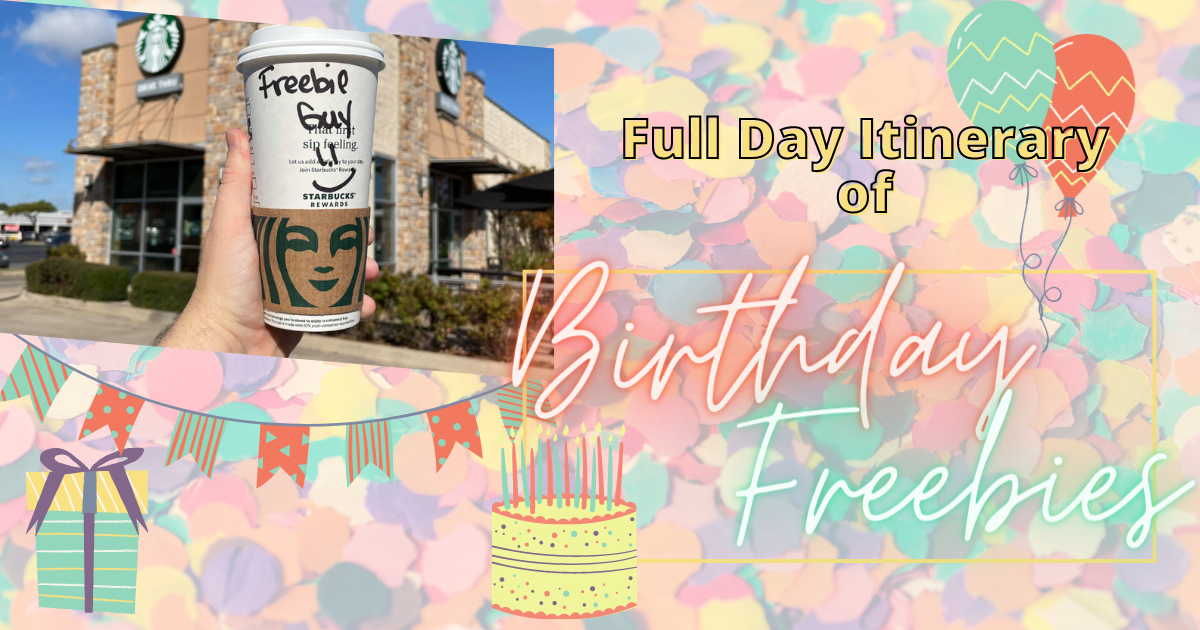 When your birthday rolls around, that is the one day on the calendar where it's all about you. The last thing you should have to do is bust out your wallet and fork over your hard-earned cash.
So when you blow out those candles this year, don't blow your budget — The Freebie Guy has you covered. We've analyzed all of those "birthday freebie" lists and picked the best deals for a full day of free stuff.
Read on to see how you can save cash while you celebrate big on your birthday.
Morning Routine with Caffeine
Wake up bright and early and smell the savings! This day is all about you, but you won't have to sacrifice to save yourself some money.
If your first step every morning involves the word "caffeine," you are in luck. Both Dunkin' and Starbucks have generous birthday promos. Both coffee giants offer app users a free drink of their choice on their big day, but they differ slightly. With Dunkin's DD Perks program, you are limited to a medium sized drink — but it is good for up to a week after your actual birthday. Starbucks Rewards, however, gives you the freedom of extravagance for your big day — but it's got to be your actual calendar day.
Have Yourself a Budget-Friendly Birthday Breakfast
Once you get your coffee fix, it's time to have the "most important meal of the day:" Breakfast.
Luckily, two of the biggest quintessential breakfast spots want you to dine big on your day: IHOP and Denny's.
In the case of Denny's, you can knock this one right out of the park with a free Grand Slam breakfast — and all you need to do is sign up for the Denny's loyalty program Denny's Rewards.
Meanwhile, with IHOP, you get the triple treat: You don't only just get a birthday meal for free, but once you join their loyalty club myHOP — "the Pancake Revolution" — you will get another meal just for signing up, and yet another meal on your sign-up anniversary date. Free is for me, and they'll make it three!
Load Up on a Lunch That is Light on the Wallet
When it comes to free lunch options on your birthday, you have some serious options.
All of these freebies follow a simple premise: If you're a loyalty rewards member, you dine on their dime. If you're dying for a burrito, Moe's Southwest Grill has you covered. On your birthday, a reward for a free burrito should pop up pre-loaded into your app, ready to redeem.
If burgers are more your speed, Red Robin will celebrate you with any burger of your choice — and that reward is yet another that doesn't need to be immediately redeemed on the actual day of your birth. Just be sure to sign up for the Red Robin Royalty program.
If subs are more your speed — or hoagies, depending where you live — both Jersey Mike's myMike's program and Firehouse Subs will celebrate you with a sandwich all your own as long as you're a loyalty rewards member.
Save Your Cash While You Snack
If you're not stuffed from your big breakfast and colossal lunch, in the mid-afternoon you can swing by a number of retailers to earn yourself a free birthday sweet snack.
Baskin-Robbins may be known for their "31 flavors," and when it's your birthday a scoop of any of them can be yours for free. If FroYo is more your speed, don't fret — Pinkberry offers a free frozen yogurt for Pinkcard rewards members too.
Don't Forget About a Deal-Friendly Dinner
Many restaurants will offer you free appetizers and desserts for your birthday dinner — too many to count on this list alone — but we are focusing on the "Big Kahuna" of birthday freebies: a totally free meal.
If you're in Ohio or New York, you are in luck — The Spaghetti Warehouse, a regional chain in those two states, offers diners a free dinner on their birthday.
Otherwise, time to get hungry for some hibachi — since the "Holy Grail" of birthday dinners comes from Benihana. Any members of their loyalty program The Chef's Table can score a $30 Birthday Certificate to spend during the month of your birthday.
Don't Forget a Free Romantic Dessert
Even if you're probably pretty full from your earlier meals, make sure to leave enough room for a romantic evening dessert.
The Melting Pot has just the thing to celebrate — all birthday rewards members earn a free chocolate fondue for two, which is a perfect way to end a birthday evening. Be sure to sign up for their Club Fondue rewards program to earn your promo.
The Wild-Card: The Birthday Waffle
So reliable that there is an entire disaster scale based around if it's closed, Waffle House is an institution. For die-hard waffle fans, they also want to celebrate with birthday waffles.
Depending on what kind of day you're having, you can redeem your free Waffle House birthday waffle as part of your big breakfast — or if you just redeemed some more birthday freebies from your friends at the bar in the form of some drinks, this reward is still good even in the late night hours.
What's a Birthday Without a Cake!
By far the most popular Birthday Freebie! If you have Nothing Bundt Cakes nearby, make sure you sign up for the Nothing Bundt Cakes e-club, and every year you will score an offer for a FREE Mini Birthday Bundtlet, sent via email, to help you celebrate your special day!
The Bottom Line
The bottom line is simple: Sign up for the restaurant rewards, and do it early. Many restaurants, even the ones not mentioned here, are streamlining the birthday process and keeping it simple by basing it through their apps.
Some restaurants are requiring patrons to sign up early — some more than 60 days before their actual birthday — in order to redeem.
So if you're planning to save some serious cash on your birthday, the trick is simple: Sign up now, and celebrate!